Global teams looking for ways to reach a wider audience can do so by translating YouTube videos into multiple languages. This not only makes your content accessible to a global audience but also helps increase engagement and viewership. In this article, we'll go over how you can translate YouTube videos quickly and with optimal results.
1. Download your video file from YouTube
First, you are going to want to export your video files from YouTube or have them ready.
Video files will usually be in an mp4 or, sometimes, wav. file. Go to your YouTube channel and then to YouTube Studio. Now select the video you'd like to download.
Next, in that video screen, click on the menu button (three vertical dots) on the top right side of the screen and select Download.
Once file download to your computer is complete, you'll be ready to get it transcribed.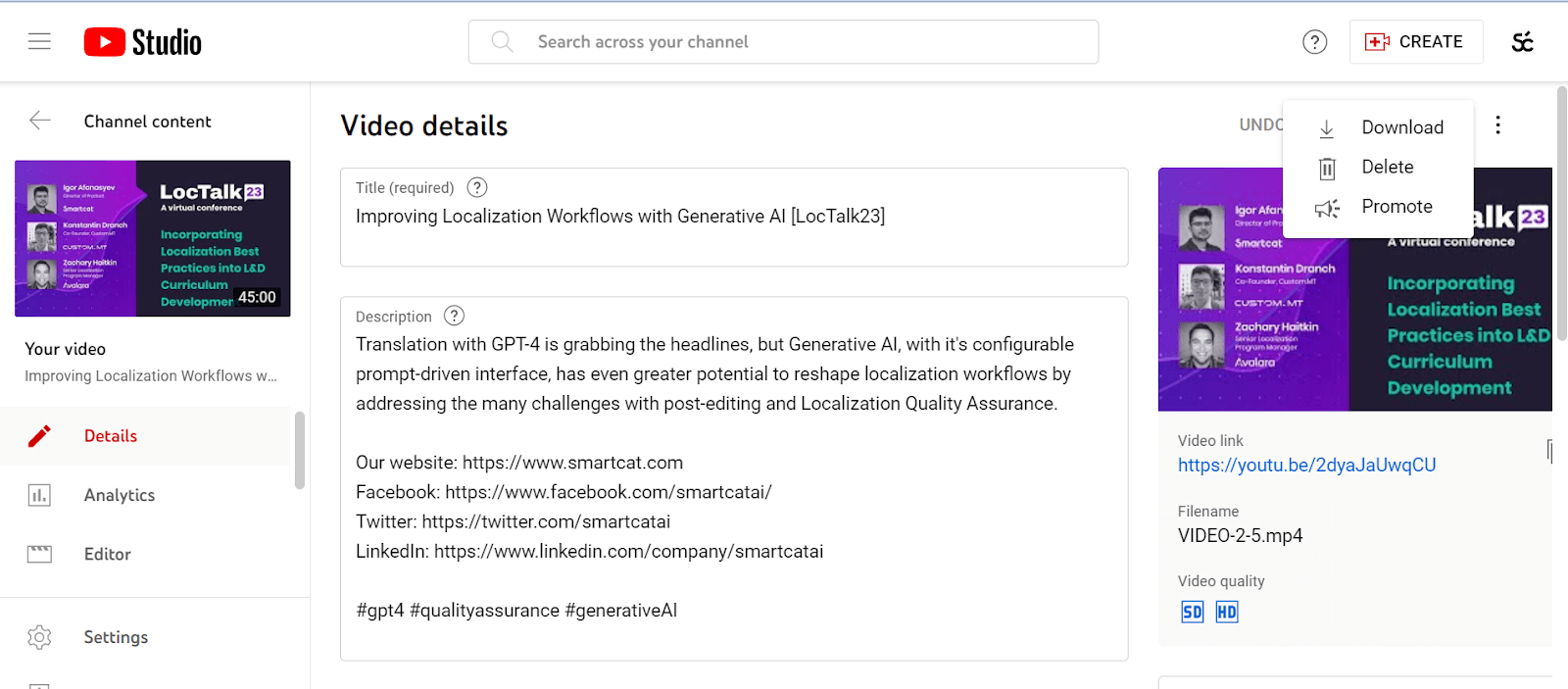 You're going to want to get the transcript extracted from the video and for this you'll need a transcription or OCR tool.
You'll also want to choose a tool that's made for translation and localizing as a means to keep the quality of your translations high, as well as ensure consistent use of your brand's tone of voice and terminology.
What is OCR?
OCR (Optical Character Recognition) technology transcribes spoken words from videos into written text, making video content accessible, searchable, and suitable for various tasks. It enhances transcription accuracy and supports multiple languages, benefiting archiving, accessibility, and data-related automation.
3. Use a dedicated video translation tool
You may have experience with video translation, i.e. transcribing the subtitles with a tool, translating them, and then applying them to your videos by a video editing team.
This approach requires a lot of steps and various layers of communication and project management. An easy alternative to centralize and manage video transcription, subtitling, and even AI voice over is with the Smartcat AI translation platform, which manages all these steps described above for you under the hood.
You merely need to upload and verify the subtitles and download your videos with the subtitles burned in. By "burned in", we mean that they are automatically rendered into the video.
Alternatively, you can also get the VTT or SRT files as well.
4. Create an account on Smartcat if you haven't already
The setup process for a Smartcat account takes about three to five minutes.
An account on Smartcat will allow you to not only translate videos but any other file format in addition to websites, designs, user interfaces, courses, and much more.
You can run contextual and high-quality AI translation that understands your brand voice, style, and terminology and delivers 85%+ accuracy from the start, which quickly builds up to 95%+ as you use the Smartcat platform more.
You can also hire freelance linguists within the Smartcat platform via Smartcat Marketplace – the world's largest network of vetted professional linguists and language professionals (500,000+), to perform the translations or post-edit your AI translation for accuracy.
5. Select the "Translate a document" shortcut on your Smartcat workspace
The Smartcat workspace is where you and your team get one clean overview of your translation projects, linguistic assets, clients, reports, team, etc. Think of it as your central command center where have it in one central place.
Next, upload your video file and select your target languages. You can choose up to 280 languages for this.
Smartcat AI will automatically transcribe the audio from your video.
This transcription will serve as the basis for the translation. In addition, it will generate translations in seconds. Your content is saved securely on your own central record of content in your Smartcat account, which is data-protected by SOC-III level security.
Smartcat AI learns from your content and can use it in future cases with our AI Content Generator to generate even more content assets.
6. Review the translations
Once the translation is done, you can review the results in the Smartcat Editor, the Smartcat computer assisted translation (CAT) tool which is available to you on your Smartcat workspace. There, you can make adjustments to the source text as well as translations in a side-by-side view of the original and resulting languages.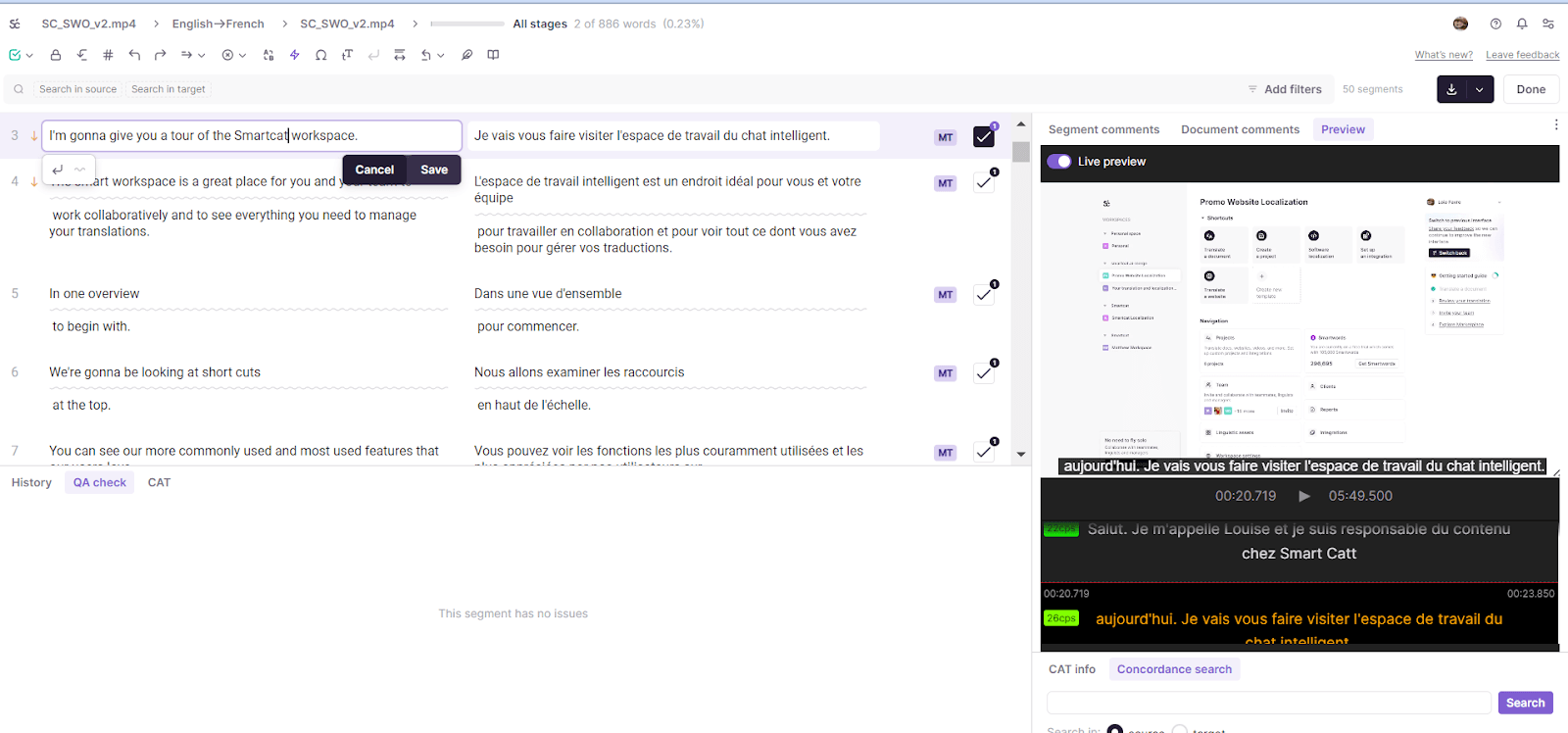 You also have a panel to view the video in real time with the corresponding subtitles.
You can invite collaborators to Smartcat to edit the video subtitles for you. There is no limit on the number of collaborators you want to add to your projects, as Smartcat doesn't charge for additional user seats. Many companies have in-house subject matter experts who can easily review the subtitles right in Smartcat.
You can also choose to collaborate with professional human translators. Smartcat has a marketplace of qualified translators that you can hire directly through the platform. The AI sourcing tool will match your content, language, and various project needs with linguist profiles and present vetted linguists that match what you need. You can also search through the Marketplace manually and use the various search and filtering tools to find the right match.
7. Export the video with subtitles burned in
Once you're satisfied with the translations and subtitles, you can select export with subtitles burned in and the videos will download with the subtitles aligned perfectly to the audio in the video. On the other hand, you can also download the SRT or VTT files if you require these as well.
8. Upload your translated video to YouTube
Next, you can upload your ready-to-go video with translated subtitles included directly to Smartcat.
Make sure to add the appropriate language tags and descriptions to improve discoverability. With that said, you might also want to create different playlists per language or a whole new YouTube channel dedicated to a specific target group.
You can keep the name of your company paired with the language or country in question, for example, like Smartcat France, Smartcat DACH, Smartcat Latin America, Smartcat Spain, as an idea.
9. Upload subtitles to an existing YouTube video
If you want to upload subtitles to an existing YouTube video, this is also possible with the SRT or VTT file that you can easily download from Smartcat as well. However, it's worth noting that this isn't the most intuitive way of doing it as the YouTube editor offers a limited, minimal user interface with which to work.
We recommend only uploading a video on YouTube when you already have the subtitles ready to avoid having to add them later. That way you can create local versions of videos for each demographic.
But, if you already have a video on YouTube and you really need to add subtitles, it's possible to go this route. First, go to the subtitles section for the video in question.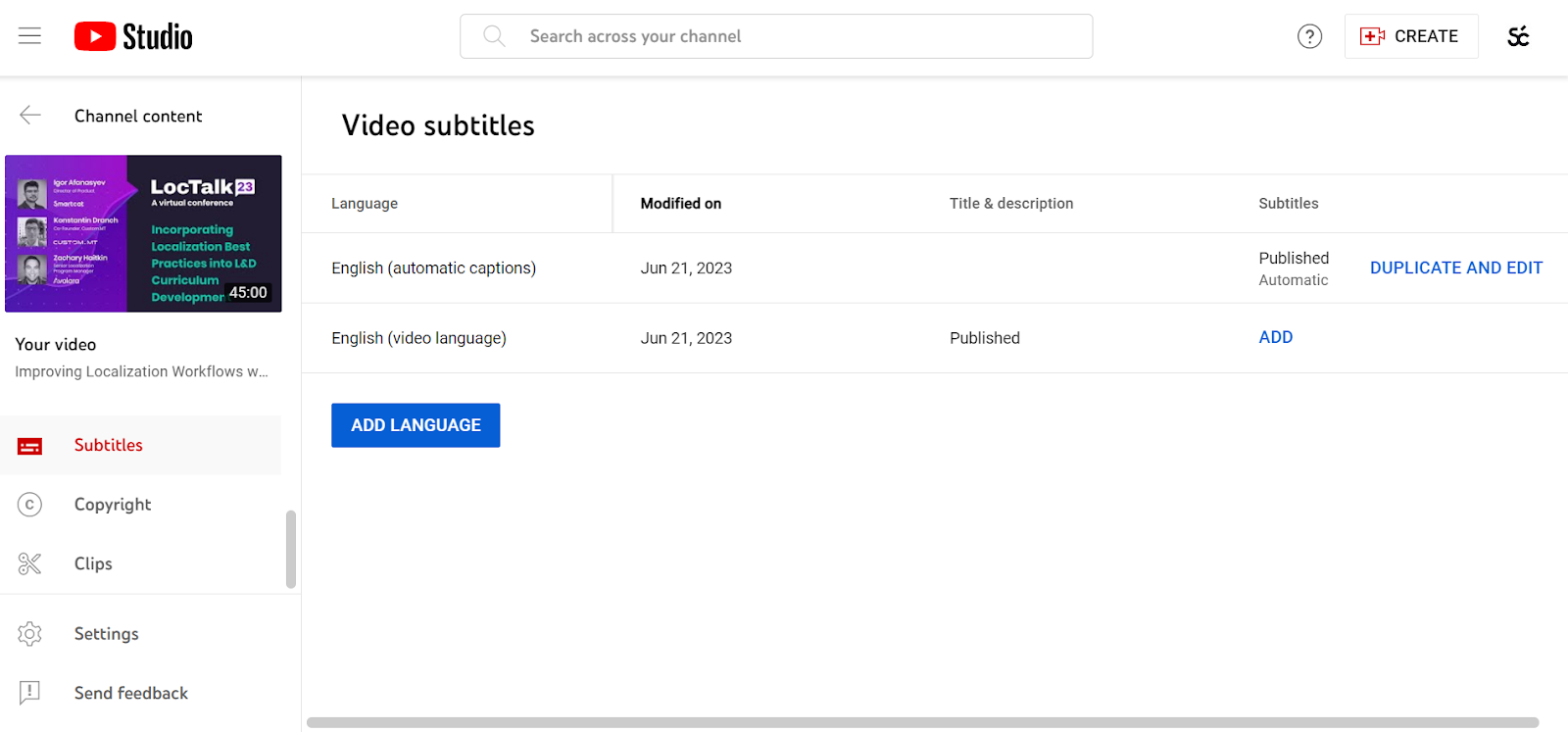 Select "Add language". In this example, we select French.

Then, click "Add" under subtitles. After that, you'll want to click "Upload file," followed by "With timing." Here you can choose a VTT or SRT file.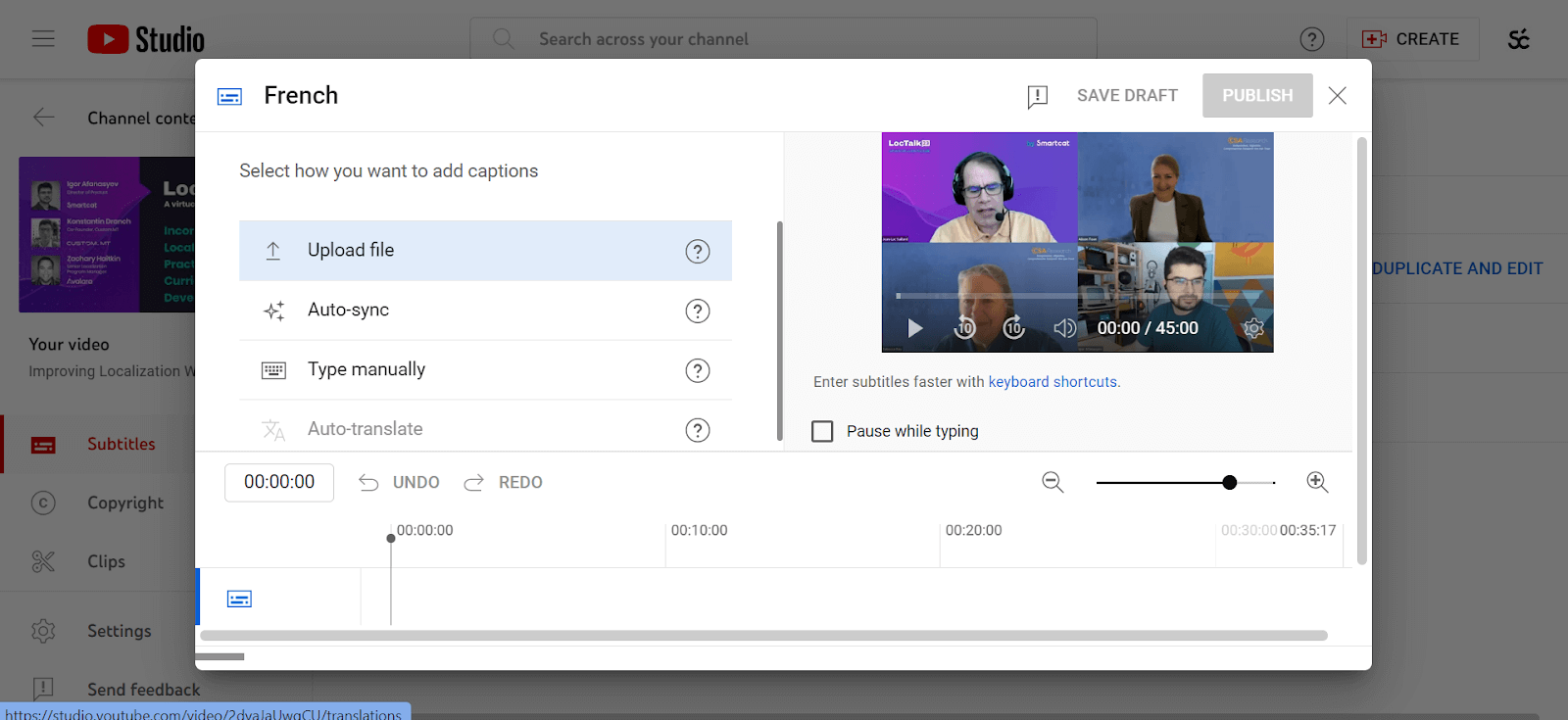 You'll then see the subtitles in a sort of editor that allows you to go through them. You will need to double-check that they align. You can choose to edit the subtitles in two different ways: Edit as subtitles and edit as text.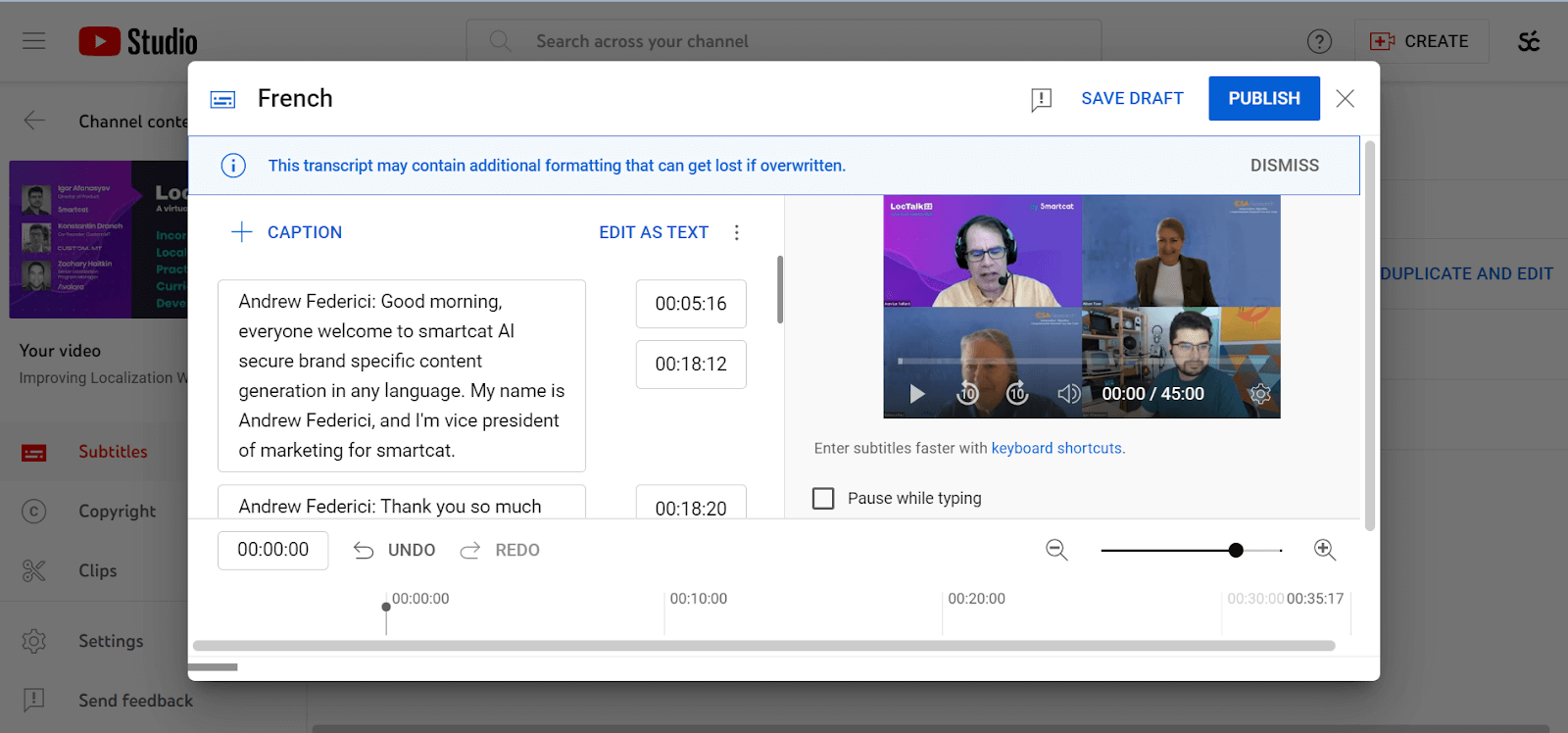 Once you're done, you click Publish to have them added. When someone watches your video, they'll always see the subtitles in the language for which their YouTube account or PC is set up.
Editing on Smartcat vs. on YouTube
While you have two options for editing subtitles for YouTube videos, there are differences to be aware of:
Smartcat Editor offers a more user-optimal and updated user interface and fully transparent overview of your subtitles.

It picks up on language inconsistencies that YouTube doesn't, such as spelling and grammar mistakes.

You can collaborate with your team as well as vetted linguists to ensure quality is high.

You can leverage first-class AI translation to get your subtitles extracted and translated in seconds, all with your brand voice and terms synced.

Your content is saved in your own data-secure central repository of multilingual content. The AI on Smartcat learns from this content and generates more precise translations.

YouTube may be good for shorter videos or if you want to upload subtitles on an existing video, but for longer ones, you might get lost in the editor native to the video channel.
Benefits of Using Smartcat AI Translation Platform
Smartcat AI enables many benefits.
Efficiency
Smartcat streamlines the translation process by automating tasks like transcription and initial translation, saving you time and effort.
Accuracy
Combining AI-powered translation with human expertise ensures accurate and culturally relevant translations.
Wide language support
With support for over 280 languages, Smartcat allows you to reach a global audience.
Ease of collaboration
You can collaborate with linguists as well as your team of in-house subject matter or local experts directly through the platform, ensuring the highest translation quality. Unlike the translation industry norm, you also get full visibility of linguists – and transparency of their identity, experience, monetary rates, and client reviews – that you hire through Smartcat Marketplace and you can communicate with them directly.
High customization levels
Smartcat allows you to customize translations to match your unique content and style.
The essential AI language tool for the global enterprise
And for any company that understands the high return on investment of localizing with global audiences in their local languages.
Smartcat is the ultimate solution for global enterprises facing challenges in maintaining consistent brand communication across languages.
When it comes to translation in general, organizations frequently encounter frustrations such as slow turnaround times, budget constraints, and inconsistent translations. For instance, AMPP, a global infrastructure protection organization, saw its translation times drastically reduced with Smartcat, saving them from outdated materials and suboptimal processes.
Expondo, an eCommerce giant, overcame its administrative nightmares with Smartcat's centralized platform, ensuring uniformity in terminology. Stanley Black & Decker achieved substantial cost savings, enabling more translations.
Smartcat's AI translation offers speed, quality, consistency, and scalability, making it the ideal choice for global enterprises seeking effective, efficient, and consistent multilingual communication.
What you get with Smartcat:
One centralized platform for collaboration with your internal stakeholders, subject matter experts, linguists, and vendors – unlimited users permitted!

Smartcat's unique offering is a combination of AI adaptive learning algorithms, which take advantage of our company's terminology and brand voice to produce the most accurate and high-quality results.

Smartcat AI content generator uses your existing content library and creates new assets (blogs, whitepapers, emails, web page copy, etc.)

User-friendly editor to verify translation quality

A Marketplace of 500,000 linguists with AI sourcing to find the best match instantly

30+ integrations with third-party platforms and 80+ files supported for quick translation
Let video be your driving force in the world
Expanding your YouTube channel's reach by translating your videos into multiple languages is a smart strategy in today's globalized world. Smartcat AI Translation platform simplifies the process, making it more accessible and efficient than ever before.
By following the step-by-step guide provided in this article, you can leverage the power of Smartcat to connect with a diverse and international audience, ultimately boosting your content's popularity and impact.