The gaming industry has been growing steadily in recent years, but 2020 has exceeded all expectations. Lockdowns all around the world have boosted video game sales everywhere and localization providers are struggling to keep up with the pace.
But the challenges presented by the need for speedy production lines are not recent phenomena. The growing demand for software and video games during the pandemic has simply made these challenges more prominent and harder to ignore.
Why are localization providers struggling to step it up? Mainly, because localization — the translation and adaptation of products to a specific language and culture — is often added to the production workflow as an afterthought, when release dates are looming and the scope of work is underestimated. The outcome? In many cases, significant delays and compromised translation quality.
If you know anything about gamers, you know they aren't forgiving when it comes to bad translations. Because of this, localization is finally starting to get the attention and recognition it deserves. Companies are now looking for technological solutions to help keep up with the demand while ensuring standards remain high. Mugen Creations is one such company. We caught up with CEO Taylor Matthews to talk about the company's growth, motivations, and collaboration with Smartcat.
Game localization and more
Taylor Matthews was a game planner at the Japanese video game developer Bandai Namco Studios, when he decided it was time for him to create his own business — what eventually became Mugen Creations in 2014. Fast forward to 2021 and his company has now over 30 full-time staff members working all over the world.
He started small, with only video game localization, but now Mugen Creations offers a whole range of services including website, manga and, app localization, as well as market research and social media management.
Taylor is one of those lucky guys whose work looks a lot like play:
I'm obsessed with technology, games, anime, and the entertainment industry as a whole, so being able to work with people I admire and with IPs [Intellectual Properties are icons like Mario, Zelda, and Naruto] that I love makes it so that I'm not really working but enjoying my hobby every day.
He believes that the company's mission is perfectly suited to the current times:
The more people know about the creative ventures happening overseas, the more we can support creative work going forward. Considering the way the world is now, I believe we can all use a moment to escape from reality every now and then.
A specific problem in need of a specific solution
With demand for localization intensifying and product release cycles becoming shorter and more time-sensitive every day, Taylor knew that Mugen Creations needed a tech solution with a solid infrastructure to scale localization. They needed a translation platform that could handle a constant flow of content coming in — and make sure that the translations would be sent out just as quickly!
One of the major challenges when processing more content is that there are more repetitive tasks involved. Taylor wanted to automate these simple tasks with a platform's API that could tie into their own API and take over (a lot of this was tedious copy and pasting). He also wanted a CAT tool that everyone at Mugen Creations could use for free, so that everyone could communicate easily and work together in sync.
What first attracted Taylor to Smartcat was that it was free, but he immediately liked how intuitive it was. When the time came to look for a specific solution to scale he found that other platforms had a paid monthly subscription for a fixed quantity (number of characters or words, or a certain number of users) so choosing Smartcat's API solution was a no-brainer.
Seeing how projects can start and stop and people need to be on standby or the project requires multiple people but isn't insanely profitable, none of the other platforms made sense. That's where Smartcat's strength is — and it's why I have continued to use it all these years.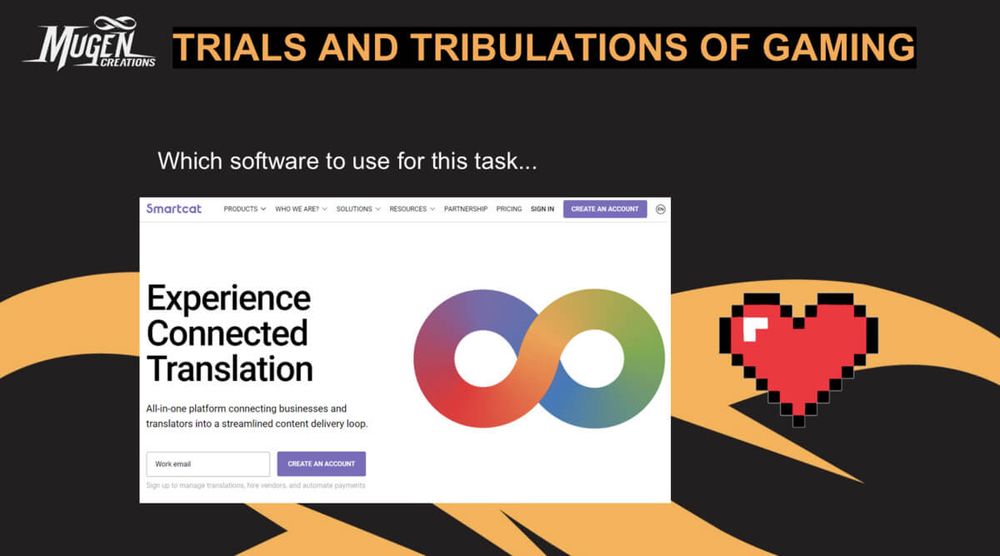 Taylor Matthews' presentation slide for LocFromHome in September 2020
Everyone knows how challenging change can be and adopting new software is no different. Some of the stumble blocks customers face when introducing new tech solutions are inevitable, but it's always in the provider's best interest to make the transition as smooth as possible. Taylor's experience seems to reflect this:
Using Smartcat is very intuitive so onboarding wasn't a problem. Using the API was also very easy for our engineer to understand and so programming for it wasn't an issue either.
Improved quality, easier collaboration, and simple payments
Smartcat has all the features you'd need for a typical CAT tool, without being overly complicated, so we were able to use it quickly and notice quality improvements immediately.
Taylor likes that Mugen Creations can use Smartcat with all their translators, all of the time, wherever they are. The adaptability of the platform is what he believes sets it apart from its competitors.
As a plus, Taylor appreciates that all the translators (and there are many!) can be paid on the platform itself. The company saves a lot of time and it's easier to establish lasting working relationships with translators and other collaborators everywhere:
This has made working with people around the world extremely easy.
Working on the video game Sekiro
If you caught Taylor's LocFromHome presentation in September 2020, you'll know Mugen Creations helped Activision and FromSoftware make the video game Sekiro: Shadows Die Twice.
Because of the nature of the collaboration between Activision and FromSoftware to make the game, they needed translations of bug reports from English to Japanese and translations of comments from Japanese to English — every day, twice a day!
Mugen Creations bravely took on the challenge despite the very specific requirements and logistical considerations:
They had to use Jira Software (Activision's requirement),

Not all bug reports and comments needed translating,

They couldn't just copy and paste (too time-consuming and prone to human error),

They needed to be able to scale the translation team as more work came in,

Translations had to be imported back to Jira, and

They had to work through a virtual private network (VPN) for increased security.
Taylor says that "Smartcat was the only logical solution".
Using both Jira's and Smartcat's API, Mugen Creations was able to set up a systematic five-step process — from importing the original text into Smartcat all the way through to importing the translations back into Jira
It took a few weeks to develop but the amount of time that it saved us was dramatic.
Mugen Creations did such a good job getting the reports and comments translated quickly and effectively that they were asked to translate the in-game text as well. The result? 10,000 reports and over two million characters/words (English and Japanese) translated!
But perhaps the best outcome — or most rewarding for Mugen Creations — was that Sekiro: Shadows Die Twice ended up winning "Game of the year" at The Game Awards in 2019.
Watch Taylor's full LocFromHome presentation: Trials and tribulations of translating in the game industry.
Sometimes you've just got to try things
Since working with Smartcat, Mugen Creations has worked with over 2000 native-speaking translators and translated over five million words and eight million characters to over 40 languages (from English and Japanese). By harnessing the power of technology to scale sustainably, Mugen Creations has become an established global localization partner in the gaming and tech industry.
As for Taylor's choice in translation technology partner, he has not regretted putting his trust in Smartcat. He encourages other businesses looking for similar solutions to simply try it.
It's very intuitive and since it's free — why not?