No matter what your L&D content needs – be it corporate onboarding or a health & safety training course – the process of creating, organizing, and delivering high-quality educational materials is a challenge that needs to be conquered. Luckily, in today's tech-driven landscape there is plenty of help at hand. From instructional design platforms and recording software, to interactive product adoption and mobile-friendly courses, modern L&D professionals have a litany of tools to take their learning initiatives to the next level.
To help you navigate the various software tools and applications in this space, we've selected five of the best instructional design tools to enhance your L&D efforts.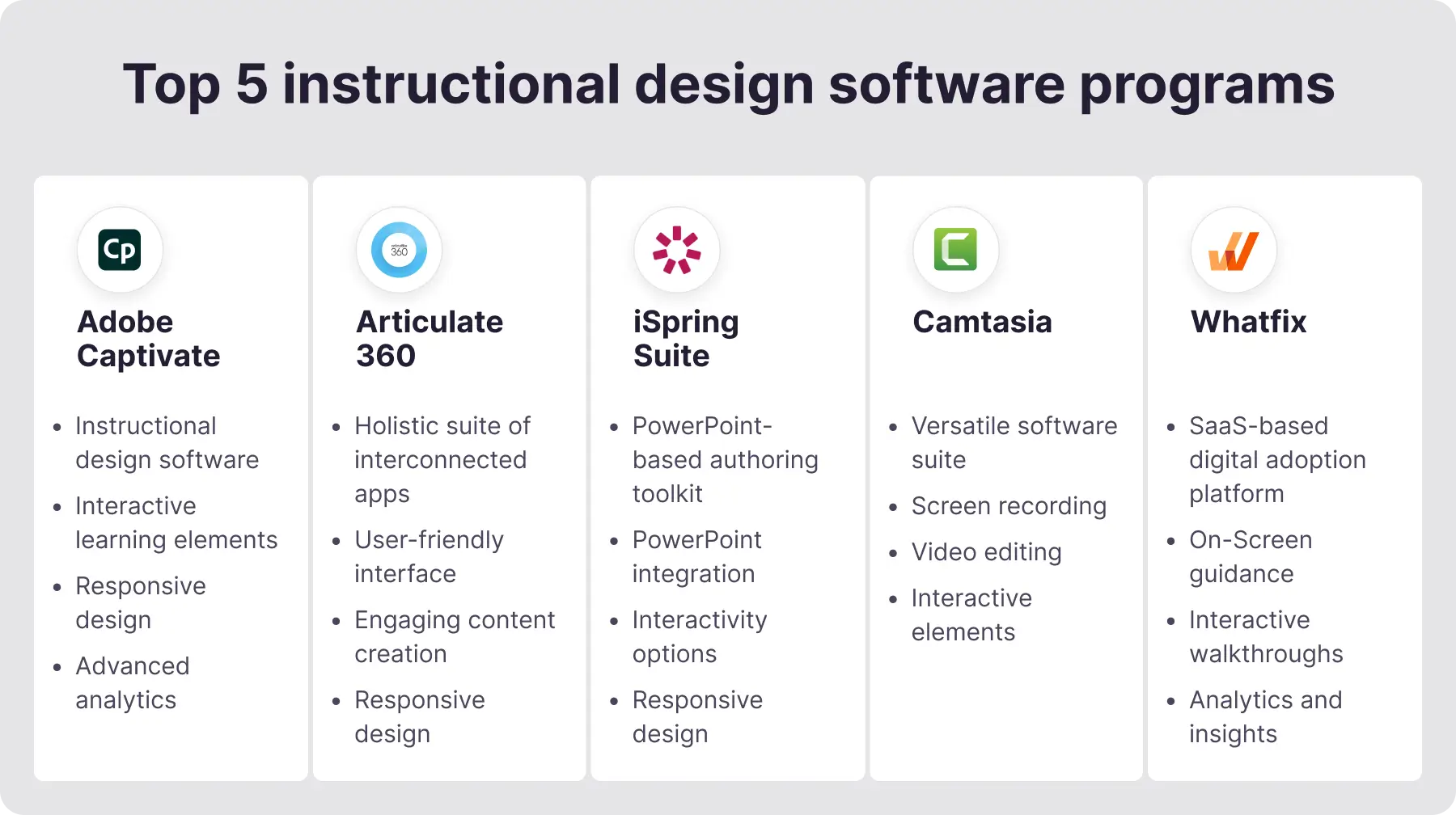 Scroll down to see the full descriptions
This popular instructional design software is trusted by instructional designers for its ease-of-use, powerful features, and versatility. Used for creating engaging learning experiences – such as software demonstrations, software simulations, and randomized quizzes – Adobe Captivate is an intuitive and comprehensive solution.
Designed to simplify the process of developing elearning content, while ensuring its effectiveness, the tool's interface allows designers to author a wide range of learner-centric content leveraging virtual reality and 360° media assets.
Highlights:
Interactive Learning Elements: Users can add branching scenarios, quizzes, drag-and-drop interactions, and advanced simulations to make learning more engaging, immersive, and comprehensible.

Responsive Design: Adobe Captivate's responsive design capabilities allow you to create fully-responsive elearning content, without programming, that automatically adjusts to different screen sizes and orientations. This enables a seamless learning experience across all devices.

Advanced Analytics: The tool offers insightful analytics and reporting capabilities so that L&D professionals can take a data-driven approach and easily track learner progress, assess quiz results, and gain insights into learner behavior.
Articulate 360 is a holistic suite of interconnected apps (each serving distinct purposes in the instructional design process) that includes Storyline 360 and Rise 360. The tool has gained recognition for its user-friendly approach to elearning content creation.
Storyline 360 is a cloud-based authoring tool for instructional designers that enables the easy creation of interactive eLearning courses. The tool supports screen recording, simulations, assessment, and more. Rise 360, on the other hand, is a simple app designed for responsive, web-based content. It simplifies the process of developing attractive, mobile-friendly courses without the need for advanced technical skills.
Highlights:
User-Friendly Interface: Both Storyline 360 and Rise 360 feature drag-and-drop functionality and templates that streamline the content creation process. The intuitive user interface leads to a focus on course content, rather than complex software.

Engagement: Storyline 360 offers a wide range of options for creating engaging content, such as triggers, variables, and slide layers. This allows designers to craft scenarios, simulations, and assessments that boost learner engagement.

Responsive Design: Rise 360 is recognized for enabling the creation of content that both looks appealing and works seamlessly across various devices – a key asset for increasing learner interactions.
iSpring Suite is a PowerPoint-based authoring toolkit that enables the development of online courses for any training scenario with a single tool. From creating slide-based courses and screencasts, to video lectures and other interactive learning materials, the tool makes course authoring both simple and effective.
The toolkit features twelve powerful features designed to save time, effort, and money. These include extensive LMS compatibility, an online collaboration tool, and an adaptive player.
PowerPoint Integration: This integration enables users to add interactive elements, assessments, and multimedia to their existing presentations – transforming them into dynamic experiences that improve knowledge retention. This ability to work in a familiar environment makes course creation quicker and easier.

Interactivity: iSpring Suite offers a range of interactivity options, allowing users to create more engaging learning programs. It supports the creation of interactive quizzes, surveys, and assessments, as well as the integration of dialogue simulations and interactions to reinforce learning concepts.

Responsive Design: The toolkit ensures that elearning content is responsive and accessible across various devices. This responsive design capability enables learners to access the material on their preferred devices at their convenience.
Camtasia is a versatile software suite, enabling the creation and recording of video tutorials and presentations via screencast, or via a direct recording plug-in to Microsoft PowerPoint. The tool is recognized for its simplicity and effectiveness in producing high-quality educational videos and interactive tutorials.
With Camtasia, users can record on-screen activities, add annotations, and edit videos to produce professional-quality content. Other multimedia recordings may be recorded at the same time or added separately.
Highlights:
Screen Recording: Camtasia effectively captures on-screen activities, making it a choice tool for creating software tutorials, demonstrations, and interactive walkthroughs. Users can record their screen actions along with voice narration to explain complex processes or concepts.

Video Editing: The professional-quality video editing suite allows users to enhance and refine their recordings. Users can smoothly add text overlays, callouts, animations, and effects, to make instructional videos more engaging.

Interactive Elements: Camtasia enables the integration of interactive elements, such as quizzes and clickable links within videos, to boost learner engagement and provide a more dynamic learning process.
Whatfix is a SaaS-based digital adoption platform that provides elearning professionals with a no-code editor to create in-app guidance and self-help support on any application that looks 100% native. By facilitating simple on-screen guidance and interactive walkthroughs, the platform improves educational experiences by ensuring learners can effectively navigate and utilize the software.
Whatfix can be used to create context-sensitive guidance on any web-based enterprise application. A valuable tool for instructional designers looking to leverage step-by-step instructions and interactive tooltips, as well as streamline user onboarding.
Highlights:
On-Screen guidance: The platform's core feature is its ability to deliver on-screen guidance to users within the software itself. This feature simplifies complex processes and workflows, making it easier for learners to complete tasks.

Interactive walkthroughs: Whatfix also allows elearning professionals to create interactive walkthroughs that guide learners through specific processes or tasks step by step. These can include text, images, videos, and interactive elements.

Analytics and insights: By providing analytics and insights into user interactions with the software, Whatfix empowers educators to identify pain points, areas where users may need additional training and opportunities for improving software usability.
Drive your organization forward with effective elearning translations
Once you've streamlined and enhanced your L&D process with a design software program, Smartcat is primed to maximize your educational efforts with a comprehensive translation platform that delivers high-quality translated content – across all platforms and documents.
By offering a collaborative workspace for translation projects, AI-powered machine translation, simple translation of workplace learning materials of all formats, and much more, Smartcat is uniquely positioned to deliver a cost-effective and high-quality translation of L&D materials.
It took around 10 minutes for us to have an Articulate course translated into many languages. Before Smartcat it could sometimes take a year.