Nowadays you can translate just about anything online – a document, an image, or even a whole e-learning course.
There are plenty of freelancers, and automatic translation tools available to do this for you. However, the wide range of options can make deciding how best to go about it more challenging than you'd like
In this article, we'll explore the pros and cons of each approach so you can make an informed decision when looking for ways to translate files online.
Automated (machine) translation
Automated translation is a popular solution if you need to quickly translate a document and you don't have much time or many resources to get it done.
Machine translation technology extracts text from a file, breaks it up into words and phrases, and replaces it with a translation taken from various databases following specific rules.
Feel free to check out this post to learn more about machine translation and its mechanisms.
As for tools that come with machine translation capabilities, there are many types, but for the sake of simplicity, we'll divide them into three groups:
Machine translation engine providers. These are large companies featuring their own translation technology. Google Translate is the best known example.

Standalone CAT tools. These are smaller solutions that can incorporate machine translation technology but are limited in terms of editing or collaboration functionalities.

Language delivery platforms. These are powerful solutions with a range of integrated machine translation engines that come with comprehensive features like translation quality assurance, project management automation, and even integrated marketplaces.
Regardless of the tool itself, machine translation may be an efficient way for you to translate your documents. Let's look at the reasons for and against.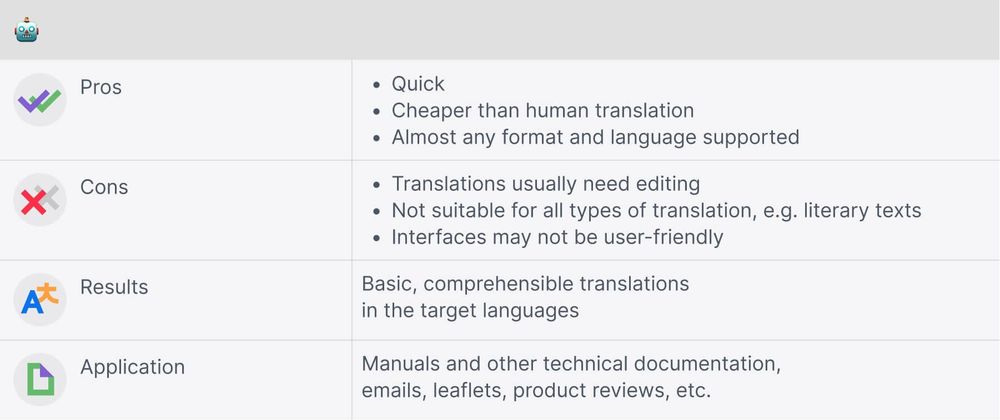 Upload a file

Select languages

Download the automatic translation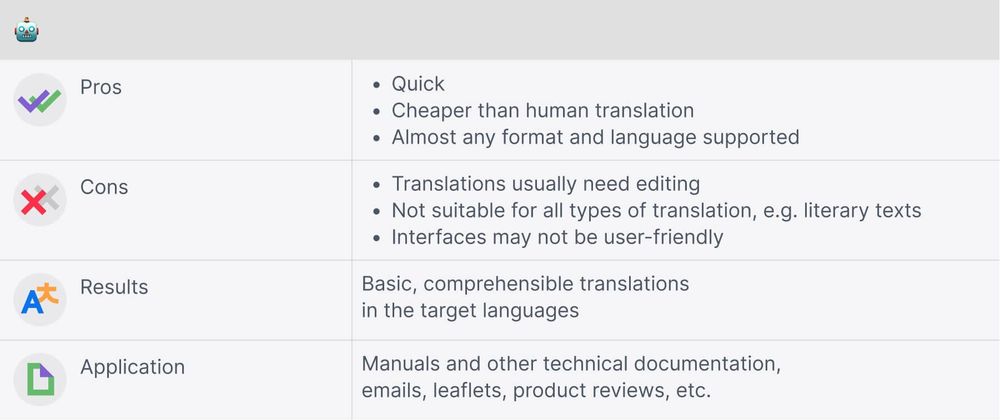 Some tools don't support many formats so you may have to convert your file before you're able to upload it for translation. Limited editing functions within the tool are another disadvantage, as it means you have to keep editing texts manually after the translation process.
The answer is simple - pick a different tool. There are plenty of solutions out there that let you translate any file format, from a Word Document to a PDF, and ensure the formatting remains intact. Here's a blog post comparing the most popular translation software tools.
Some tools charge per language or per user, which means scaling your team and expanding into other languages can end up being very expensive. Avoid this problem by choosing a tool that lets you add as many languages and collaborators as you like at no extra cost.
Freelancer marketplaces
Freelance translator marketplaces like ProZ or Gengo give you access to thousands of individuals competing to take on your projects. Let's take a closer look.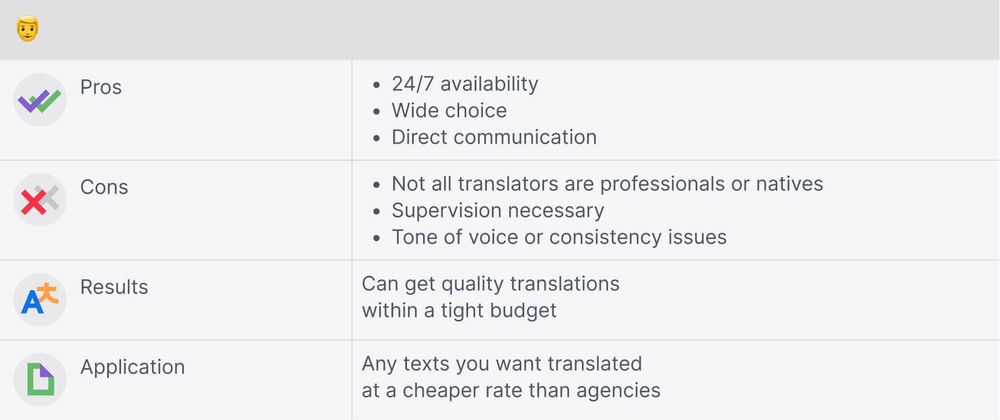 Choose the marketplace that fits your needs

Select the languages

Browse the list of freelancers and filter based on your criteria (e.g. budget or location). You can also post a job and wait for freelancers to apply

Hire the chosen freelancer and send your file

Pay for the service upfront if required

Monitor progress

Review and approve the translation
If you need your file translated right there and then, there's no guarantee you'll find a suitable freelancer that can jump onto the task right away.
To be on the safe side regarding time frames and freelancer reliability, stick to platforms like Smartcat that collect freelancer performance data, like their workloads and average productivity rates.
Despite having someone do the translation work for you, you still have to be the one who checks over everything to make sure the project is going as expected.
Automated translation + human editing
This is a quick and cost-effective way of making the most of machine translation while ensuring you get high-quality results.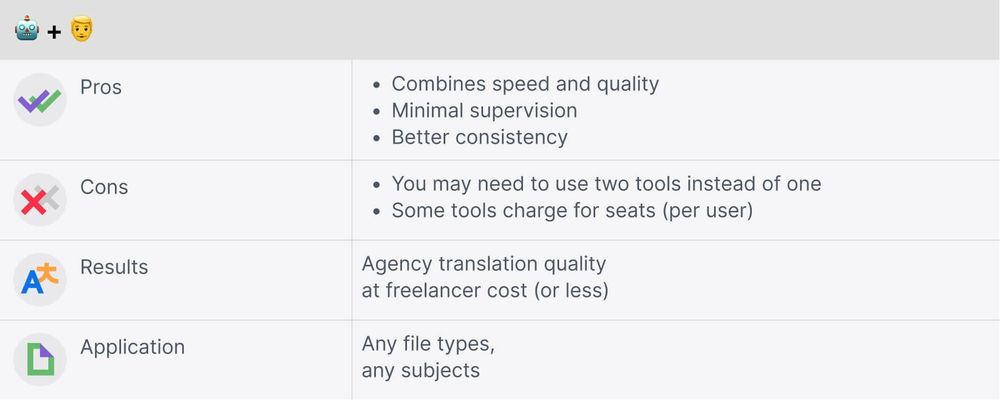 Translate your file online using machine translation

Find a human professional editor and invite them to review your file

Check and approve the final translation
Lack of collaboration options
Ideally, you should be able to automatically translate, hire, and have the post-editing work done all in one place, to save you time, money, and streamline your workflow.
Smartcat makes it possible to do exactly that, offering a mix of intelligent automatic translation and a network of over 500,000 language professionals for projects of all sizes and budgets.
Translate any file format using a translation engine that best fits your needs.
Invite your friends and colleagues to edit translations for free.
Find and hire freelancers without leaving the tool.
Inviting collaborators in Smartcat
If you hire a freelancer on a platform, that platform normally handles all the invoicing and payment processing. But what if you bring in external contractors to work on your translations?
Make sure you find a platform that will take care of that too. For example, with Smartcat you can pay all your service providers, whether internal or external, with one automatically generated invoice.
A good platform would take care of it too. For example, Smartcat allows you to pay all your internal and external service providers with one automatically generated invoice.
Three ways to suit different needs
To recap, we've covered three practical ways of translating a file online in 2022. Just keep in mind that
There's no one-size-fits-all solution.

Combining machine translation and human editing will likely get you the best results: high-quality in a shorter time frame and at a lower price.

All services have advantages and disadvantages, so evaluate your needs carefully and choose wisely to minimize any of the potential pitfalls.
Supercharge your translation productivity today!