In the Food and Beverage industry, training staff is crucial to ensure the service level, as well as health and safety, remain at high levels. Firebirds Wood Fired Grill – a polished, yet casual American restaurant with a new twist on the traditional grill – understands the value of well-trained staff. Based in Charlotte, North Carolina, they provide a wide range of training materials for their staff. They also decided to translate this body of training materials into Spanish to accommodate the predominance of this language among their staff.
With the help of Smartcat's instant AI translations and Marketplace of professional, subject matter expert linguists, they translated 25 extensive courses in a matter of three months.
We sat down with Tammy Calhoun, Vice President of Learning and New Restaurant Openings at Firebirds Wood Fired Grill to discuss the restaurant group's translation journey and results with Smartcat.
Before coming to Smartcat, Firebirds Wood Fired Grill had wanted to translate much of their learning and development courses, training materials, and other types of corporate material into Spanish, but weren't sure how to go about it.
"For a long time, we avoided addressing translation because we thought it was going to be so difficult, take us years, and we had no idea where to start. Until one day we simply said, "okay let's do this."

- Tammy Calhoun, Vice President of Learning and New Restaurant Openings at Firebirds Wood Fired Grill.
Accuracy in the target language was essential
Given the importance of food and hospitality health and safety, it was critical that Firebirds Wood Fired Grill achieve a highly accurate translation of their eLearning materials. Moreover, the company also had to ensure translation precision for training in food and materials stock, recipes, and cooking instructions for their restaurant teams.
A high volume of course content to translate
Another key challenge was a large amount of content for translation. For back-of-house staff training needs, the restaurant concept wanted to translate the following from English into Spanish:
25 eLearning courses

station manuals

job aids

build sheets
Before Smartcat, Tammy and her team estimated that it could "take us years" to successfully translate all of their eLearning courses, which is actually an accurate assumption by traditional translation industry standards.

Translating Articulate files and videos subtitles
Firebirds Wood Fired Grill creates their courses in Articulate, so finding a translation service provider that could translate XLIFF files accurately and efficiently was another stumbling block.
The company also wanted to be able to meet ad-hoc translation needs, such as for video subtitling, so a translation platform that could handle different file formats was important.
Very soon, this led to the Firebirds Wood Fired Grill team finding Smartcat. After trying out the platform's demo account with 100,000 free AI translation words, the company purchased a license and set about translating their entire back-of-house eLearning course catalog.
The Smartcat platform provided an end-to-end solution that met all of the concerns and challenges that Tammy and her team were facing.
Fast turnaround times without compromising quality
Tammy and her team have been able to translate Articulate courses in as little as a few days, compared to months or even over a year with traditional translation industry processes. Smartcat AI constantly learns from their edits and preferences and automatically implements this new knowledge on each subsequent translation.
Each translation has become incrementally faster, with quality also increasing.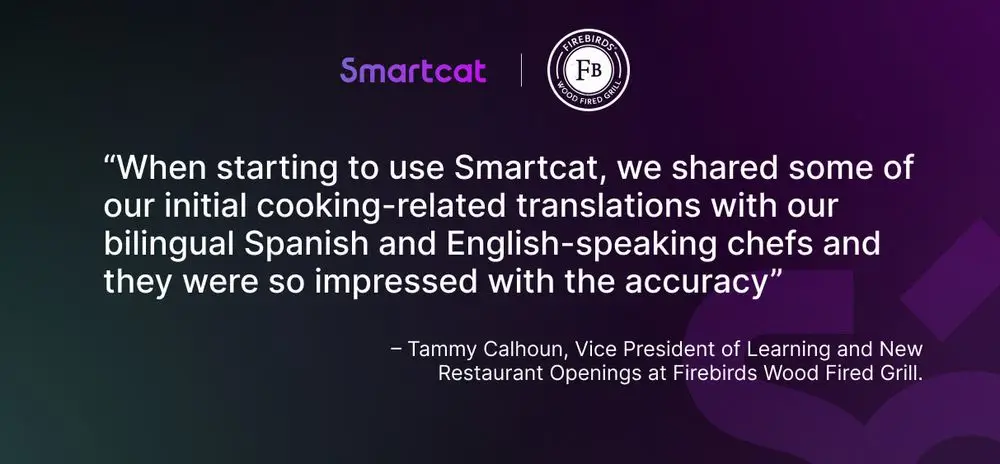 Subject matter expert human translators
With Smartcat Marketplace of 500,000 vetted linguists, Tammy and her team have been able to identify and hire professional translators with expertise in the hospitality industry all within the platform, in just a few clicks. While Smartcat's AI translation engines do the vast majority of the translation work, Firebirds Wood Fired Grill is able to guarantee full translation precision with human post-translation editing.
The direct, transparent nature of Marketplace means that Firebirds Wood Fired Grill have been able to grow professional relationships with a team of external translators, as well as train them in the company's linguistic preferences, style, and tone of voice too.
"What really sped us up was that we were able to use Smartcat Marketplace to hire professional translators to do training manuals for us. It's just been fabulous"
Ability to translate various file formats, including XLIFF
Articulate's XLIFF file format can be challenging and stubborn to work with when it comes to translation. Firebirds Wood Fired Grill has been able to overcome this difficulty with Smartcat's platform, which efficiently integrates with Articulate and accurately renders XLIFF file content, layout, and formatting into the target Spanish language.
Tammy's team has also taken advantage of Smartcat's ability to manage over 80 other file formats, including PDF, video, Doc, and others, for other kinds of translation needs.
Conducive to optimal collaboration
The Firebirds Wood Fired Grill translation team all work within one workspace on the Smartcat platform. They are also able to invite professional linguists from the Smartcat Marketplace on the platform to join their workspace. Here, they can define and assign translation workflow steps, view work stage progress, and discuss the projects directly on the platform, including with their invited linguists.
Firebirds Wood Fired Grill was able to define a streamlined translation workflow in the first three months with Smartcat. During this time the company successfully translated 25 Articulate courses into Spanish.
The company now has a highly streamlined, collaborative workflow across their translation team, with everyone working within the same Smartcat digital workspace.
In terms of cost, Firebirds Wood Fired Grill achieves a per-word-average price of $0.05 compared to the industry average of $0.16. This cost-saving has enabled Tammy and her team to translate 3.2 times more content for the same total cost with a traditional translation service provider, which was a key catalyst in being able to scale their eLearning content to 25 courses in just three months.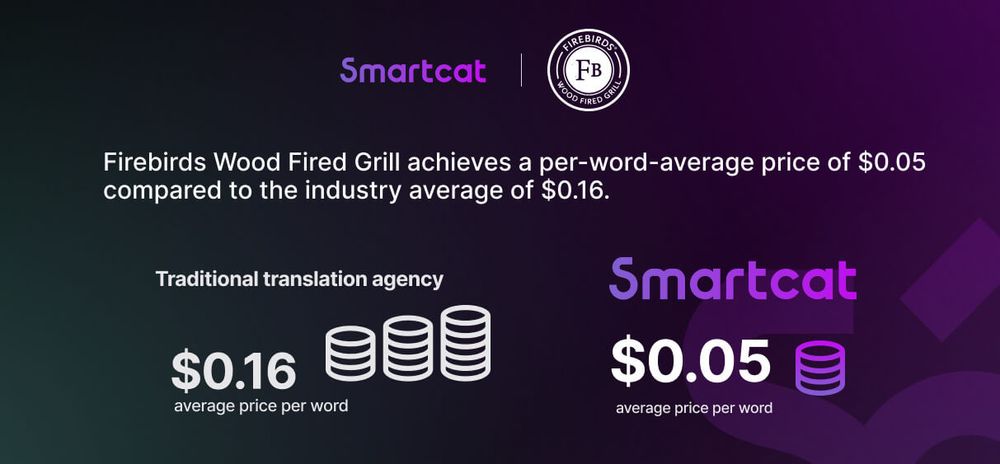 "Translating our eLearning course content has positioned us to empower our workforce to have the skill set to do their job confidently. We're also seeing that retention levels are up, with staff staying with us for longer than before. Smartcat has made this all possible, and we now enjoy a fast, results-driven translation workflow"

- Tammy Calhoun, Vice President of Learning and New Restaurant Openings at Firebirds Wood Fired Grill.
Try Smartcat to get workplace and eLearning translations in minutes.