Localizing eCommerce content for product pages, including product titles and descriptions, requires a solid framework of processes and tools to produce consistent and revenue-generating results. eCommerce localization means strategically choosing the right keywords across languages to align with local buyer search queries. Wunderman Thompson's eCommerce team challenged this not-so-small endeavor head-on by starting with the Smartcat translation platform to radically streamline eCommerce translations, drive results, and keep their clients happy.
Who is Wunderman Thompson?
As a large enterprise, Wunderman Thompson wears many hats: creative agency, consultancy, and technology experts. Their listed areas of specialization are apps, B2B, Commerce, Comms, CRM, Data, and Web3. The company works in 90 markets and has 20,000 employees globally.
We had an opportunity to talk to Gina Groß, eCommerce Team Lead at Wunderman Thompson Commerce Luxembourg, about how she and her team have been using the Smartcat translation platform. They manage the Amazon accounts for around 150 clients in more than nine markets worldwide, thus requiring a tool that will help them satisfy the global needs of their accounts.
The challenge
We asked Gina about the main challenges they experienced in their localization process. She highlighted that the following areas presented friction points for them:
Consistency across several translators
When working with many language professionals, it can be difficult to ensure consistent use of brand voice, tone, terminology, and style.
Meeting tight deadlines
With numerous projects on the go in many languages, deadlines can be missed if there's no process in place for sustainable project management.
Maintaining high-quality standards in post-editing after initial translations and client feedback
When there's a lot of input coming from multiple channels, it can be hard for editors to get all the information they need in a succinct way.
No translation memory tool in place to recycle content
Amazon product descriptions by nature often require the same keywords and information. This can lead to linguists unknowingly repeating the work others have done before them if there is no central content repository that learns and adapts based on edits
"Our content can be quite repetitive, as the same texts are often used for different versions of the same product. Furthermore, we need to reuse previously created content for product updates."
The solution
Wunderman Thompson decided to start working with Smartcat's Language Delivery Platform, which started with an initial migration and then setting up translation memories. Gina said that, after this first ramp-up stage, "the onboarding of the team turned out to be seamless."
Automation enabled by a central, multi-access workspace
One component of instant value to Gina and the eCommerce team was how Smartcat's translation platform enables automation across workflows and processes. This allowed the relatively small team to drive efficiencies overall in localizing eCommerce content in multiple languages.
Consequently, they noticed that the speed picked up significantly for large-scale projects, especially when numerous contributors were involved. These improvements in speed, alignment, and transparency are by-products of working in Smartcat's centralized content repository with a collaborative TMS and automated workflows.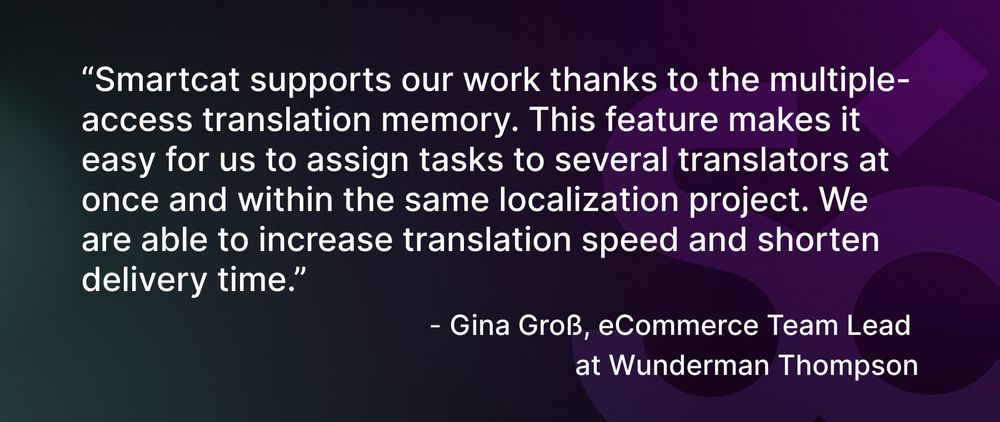 As product titles, descriptions, and keywords tend to repeat across product pages, translating the same words over and over again from scratch doesn't let companies scale as their ambitious goals would dictate. Smartcat's adaptive AI Translation unlock the possibility to reuse previously translated and approved text and makes sure they fit the right context.
"The quick auto-propagation for repeated segments significantly speeds up the translation of repetitive content."
Smartcat's adaptive AI translation, which includes custom glossaries and memories is a unique tool to ensure consistency, the correct use of terminology, and a unified brand, tone, and voice, especially when working with several translators, editors, and managers. They also are key in reliable and systematic quality assurance.
AI-sourcing of linguists to collaborate on the Smartcat project
The small team needs to produce localized content for nine markets, meaning they must find, hire, and onboard translators and proofreaders for all the official languages spoken within these demographics. It was important for them to find translators with a specialization in eCommerce, and to make sure they could work together collaboratively on the platform.
"Smartcat's AI-based sourcing of translators based on content, skills, background and performance makes it easy to find suitable collaborators for our translation projects"
Unified Procurement Platform
When sourcing service providers from the Smartcat marketplace, companies don't need to take extra measures for vendor management. Smartcat offers a unified procurement platform. All suppliers work under one agreement and are also paid with one invoice.
"The easy-to-use Smartcat payment system simplifies the project management and payment processes."
The result
Wunderman Thompson quickly reaped the benefits brought by a central environment, such as:
Managing translations and numerous stakeholders, translators, and editors

Ensuring consistent quality thanks to Adaptive AI translation

Boosting efficiencies and cutting unnecessary wasted time and cost from repeated content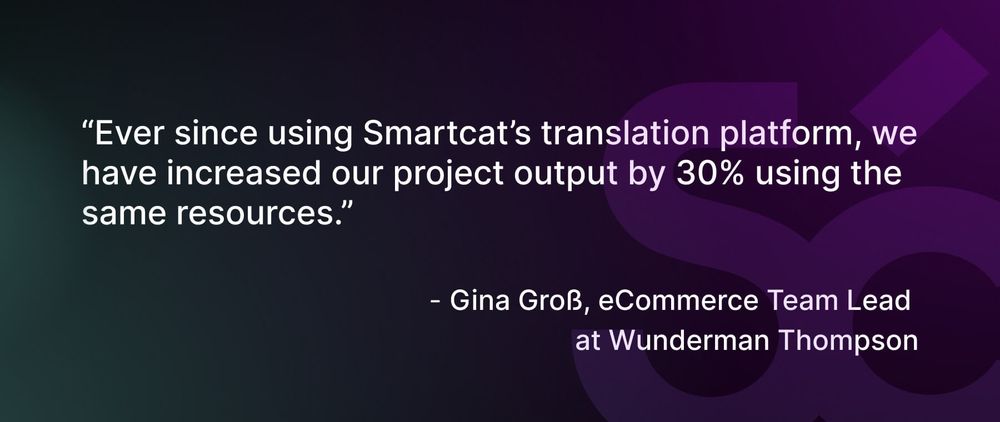 Replicate Wunderman Thompson's increased output and quality by benefiting from Smartcat's Language Delivery Platform