Whether you're a translator, a translation agency, or a business in need of translations, you're likely to be using some form of translation software to improve your workflow. If not, you should definitely look into it. Here are some of the benefits:
Faster translations,

Helps ensure consistency of terms,

Easier quality control,

Less work for localization and project managers,

Easy access to the latest technology,

Reduced translation costs as you reuse translations.
What is Translation Software?
When we talk about translation software we usually mean CAT (computer-aided translation) tools, which should not be confused with machine translation. CAT tools help translators streamline their translation processes, but do not do any of the actual translating for them, unlike machine translation tools.
CAT tools enable users to store and edit translations, translate texts section by section (while preserving the formatting), and add an extra layer of quality control (consistency, spelling, equivalence, etc.).
There are different types of software out there to suit different circumstances and needs:
Downloadable desktop programs you install on your computer,

Cloud-based solutions you work on online.
Some providers even go the extra mile and offer a marketplace of freelancers and translation businesses alongside their CAT tool so you can easily find and collaborate with other professionals.
Let's dig into each type and review some of the best translation software tools in 2022.
Looking for a translation solution? Try Smartcat for free!
Best Translation Software Tools in 2022
Cloud-based Translation Tools
Cloud-based (or web-based) translation tools are programs that you access and use online via a web browser. These platforms are becoming increasingly common in all industries and most translation technology providers are following suit.
Smartcat's translation platform is designed to ensure a quick and smooth translation process for teams and projects of any size. It features everything you need to translate just about anything, whether it's a basic document, a whole website, or an app. On the flip side, since it comes with such a comprehensive set of functionalities, it can be a little daunting at first.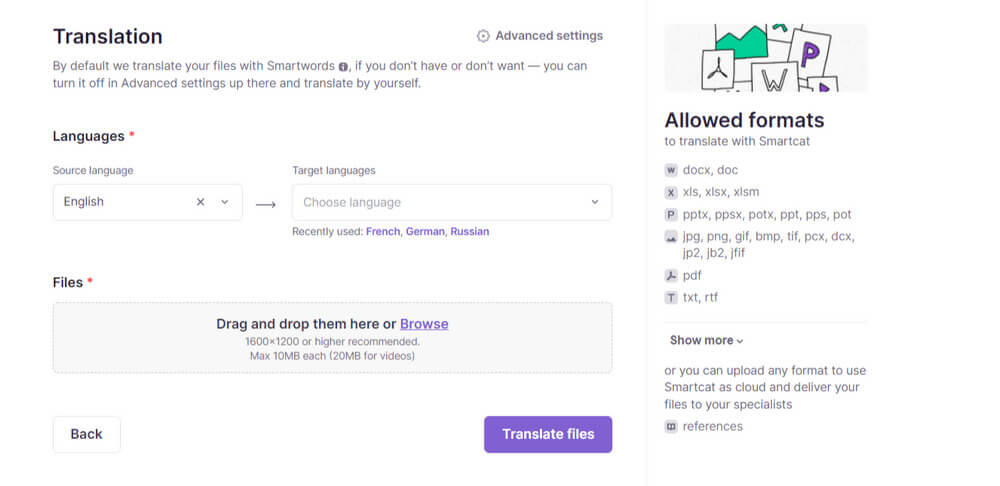 Terminology management

Workflow management

Translation quality assurance

Localisation automation

Integration with a variety of CMSs and developer's tools

Translating via API

Project management automation

Hiring and collaboration+billing
The game-changer: The combination of intelligent, automatic translation, collaborative workflows and a network of 500,000 language professionals to streamline your localization workflow.
I love it when I receive translation jobs from clients (translation agencies) and I don't have to o any configuring or preparing. I can just start translating. Also, when I receive documents that need to be translated, they can easily be converted into a translation file and at the end you can just download the completed translation in the same original file format. Finally, it has been a huge support for me that Smartcat accepts .xliff files and translation memories from SDL Trados.
-
The only aspect of Smartcat which leaves something to be desired is the support, as it takes them a lot of time to respond to emails even though they are always polite and willing to help.
MateCat is a free open source translation tool for freelance translators and businesses. As with Smartcat, there's no limit on the number of users or projects.
As for the downsides, MateCat, has limited functionality, and your translation memories are stored for public use by default. This means that if you're working with confidential documents you need to make sure you make your translation memories private before starting your translation.
Terminology management

Workflow management

WopdPress Integration

Translating via API
The game-changer: You can access a public database of translation memories to use with your projects.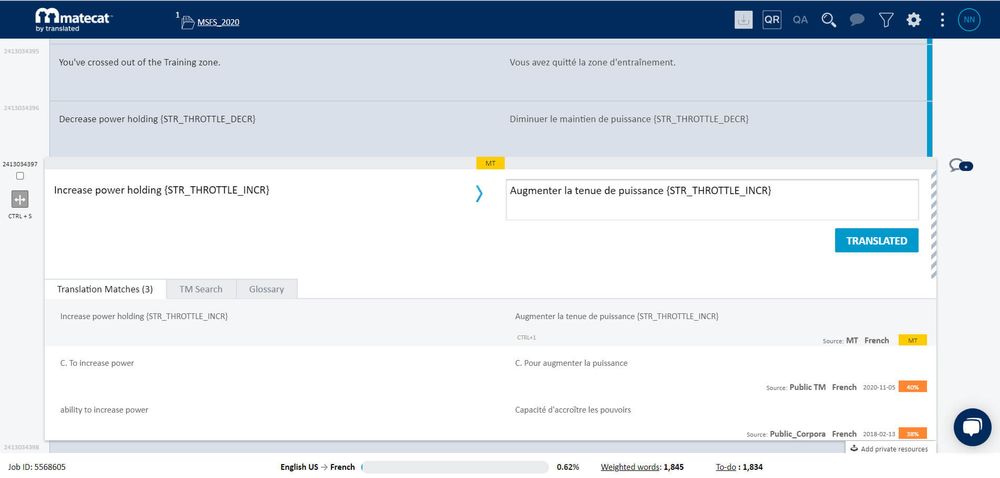 In general, MateCat is handy online CAT tool that is free, relatively fast and reliable. I hope that minor problems will be fixed in the near future and more translators will able to use this tool for their benefit.
The drawback is lack of extra functions (e.g. you can't conveniently merge segments) and viewing options, in contrast to other tools like Fluency. Generally it is very good at maintaining formatting, though sometimes is too crowded with tags.
This is the online version of the offline CAT tools Wordfast Classic and Pro. It is completely free and allows for collaboration with other users. However, the tool's main weakness is that getting to grips with all the tooltips and the interface can take a while.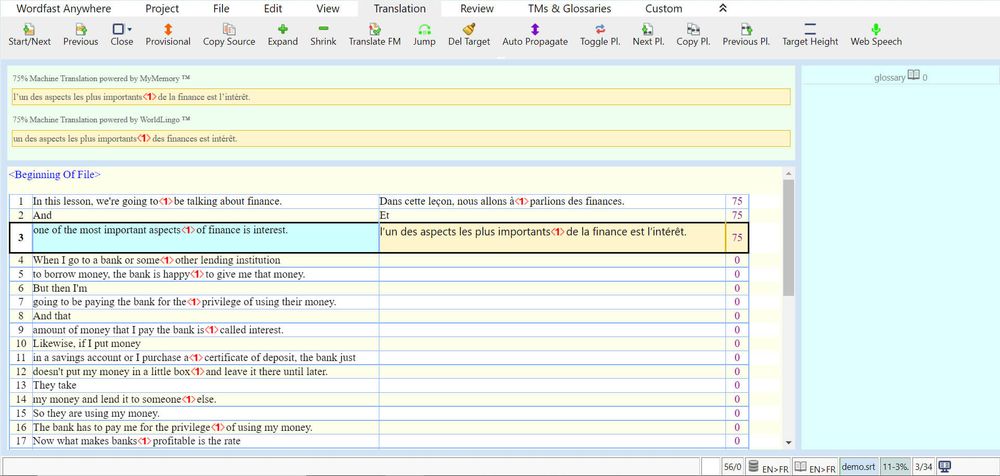 Terminology management

Integrations

Translation quality assurance
The game-changer: It has a desktop version that can be installed on almost any computer, including Linux, and works directly in Microsoft Word, however it's not free.
Affordable yet powerful CAT tool with a user-friendly interface making it quick and easy to learn and to use. It just works!
The software lacks certain features, settings, and customization options available in more advanced, more expensive other tools of its kind, such as SDL Trados Studio.
Memsource is a simple and intuitive translator and editor. However, some translators find it lacks terminology management functionalities and is slow when working on large projects.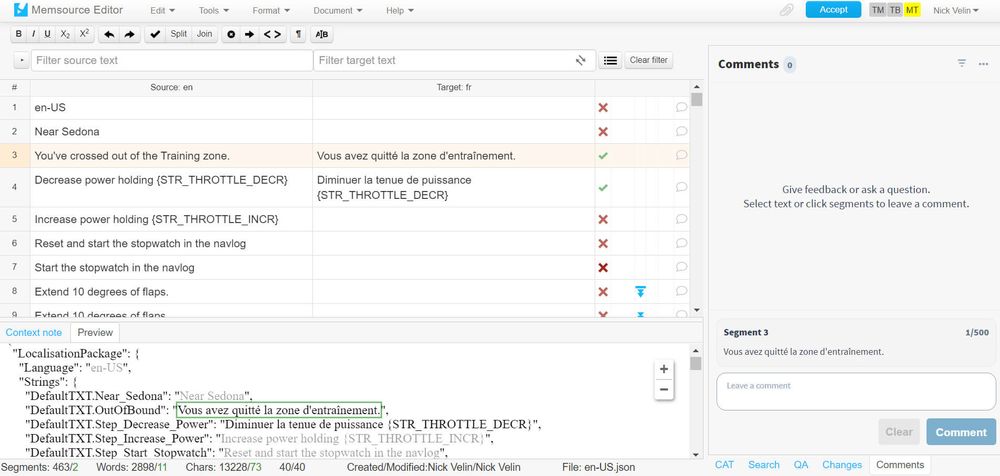 Terminology management

Workflow management

Translation quality assurance
The game-changer: You can work offline.
Nice CAT tool, good for both beginners and experienced users.
Memsource is probably not the tool most power users who are accustomed to more comprehensive translation editors would pick. Managing TMs (in the sense of cleaning and upgrading) is still possible, but does not come with the same benefits more feature-packed solutions like Trados
Studio offer. QA features are solid, but could be improved in the future to avoid the use of external software.
Wordbee is a translation management platform with a basic CAT tool. It focuses on collaboration and works well at the project management level but lacks some of the more advanced functionalities, with speed reportedly an issue.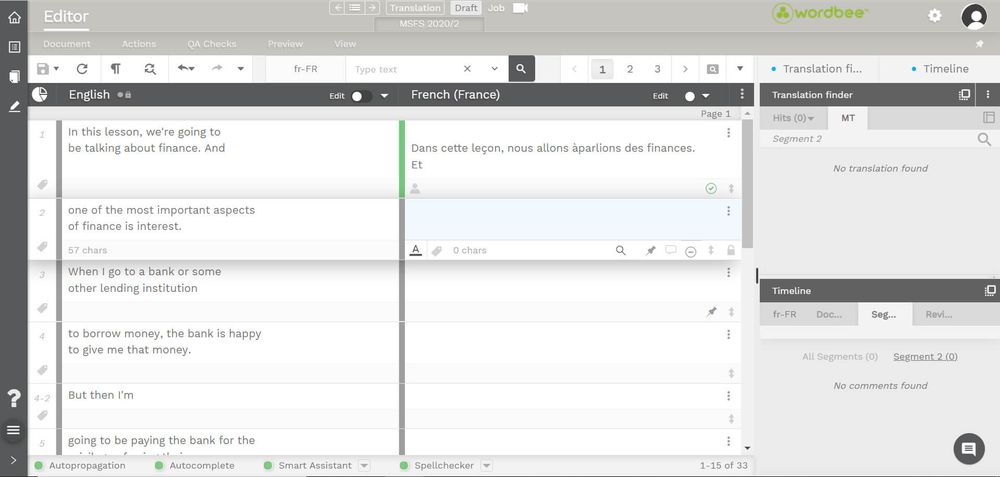 Terminology management

Workflow management

Team collaboration
The game-changer: The tool positions itself as a localization management system, so if you're looking for management functionalities more than translation options, this might be the tool for you.
I love how you can set deadlines and reminders to yourself or a team and a translator can comment inside the translation editor.
There are way to many clicks to do stuff or get stuff; the buttons are all over the place and require to much mouse movement to get between them. The translation automation is severely lacking.
XTM Cloud is a powerful web-based translation tool with all the necessary functions and a solid support team. As for the downside, the tool doesn't support mobile web browsers.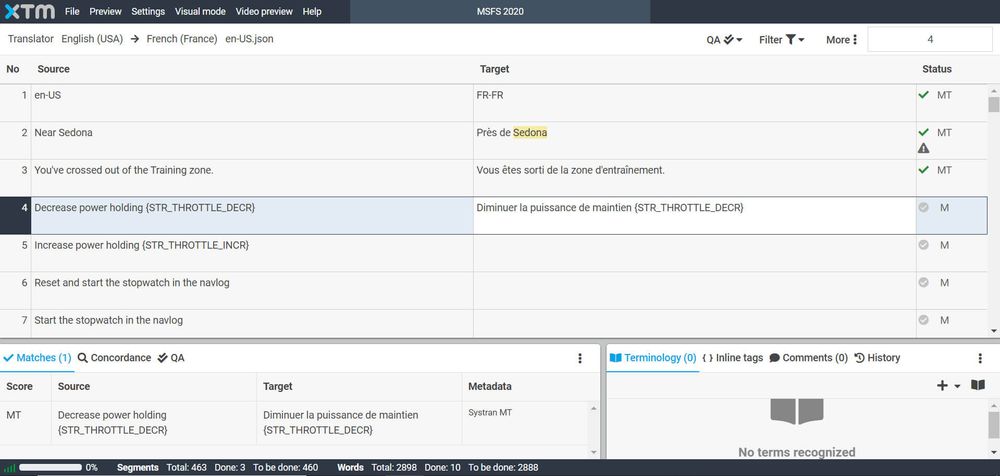 Terminology management

Workflow management

Integrations
The game-changer: XTM Cloud comes with plenty of support and educational video content.
I was afraid I had to learn to use yet another complicated tool, but XTM is super easy to use and intuitive! I can use the licence provided by the client and easily work online. It has a simple and straightforward interface, with everything a translator may need.
Crashes all the time. All quality control options are clunky and too much hassle. Quality control can be shut down per segment, however, as soon as you run an overall QC it switches back on. It is just not build by someone who has any idea about what a translator needs and wants.
Translation Industry Report: get key insights on the global linguistic supply chain
Desktop Translation Tools
Desktop translation software tools are traditional software programs you have to download and install on your computer. Many have been around for quite a while so much of their customer base are translators, LSPs, and agencies that may be reluctant to explore web-based alternatives.
However, most of these desktop translation tools are interfaces that let users work offline but have to connect to the cloud at the end of the day.
OmegaT is a free, open-source translation tool that you can use on Mac, Linux, and Windows. The layout of the source and target segments is slightly different from other tools, but users quickly adapt to it.
A drawback, as is common with open-source software, is that it only provides community support, so using it for enterprise-scale implementations can be risky.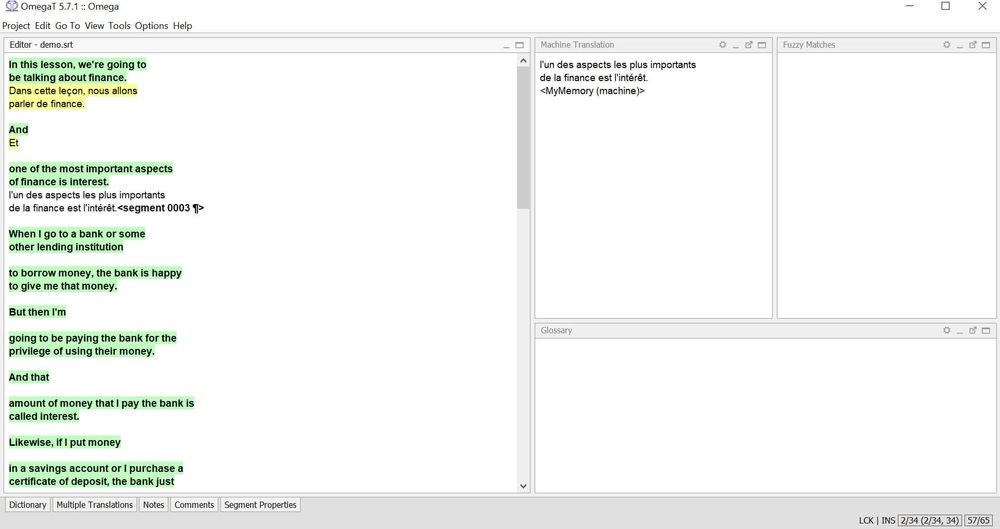 Terminology management

Translation quality assurance
The game-changer: It's quick to set up and fairly easy to use.
Easy to use, faster than any other CAT Toll we have always used. A large number of filters, and if you include the Okapi filters, you have a large number of file formats you can translate. QA features are easy to use, better and easier than what I have found in Trados.
GUI needs a more professional look. At this point, Omegat should have at least basic Project Management features. It also lacks the functionality of other CAT Tools such as the change of status.
CafeTran Espresso is particularly attractive to Mac and Linux users as, along with OmegaT, is one of the few free translation CAT tools compatible with these operating systems. On the flip side, the program is only free to use with translation memories or glossaries up to a certain size.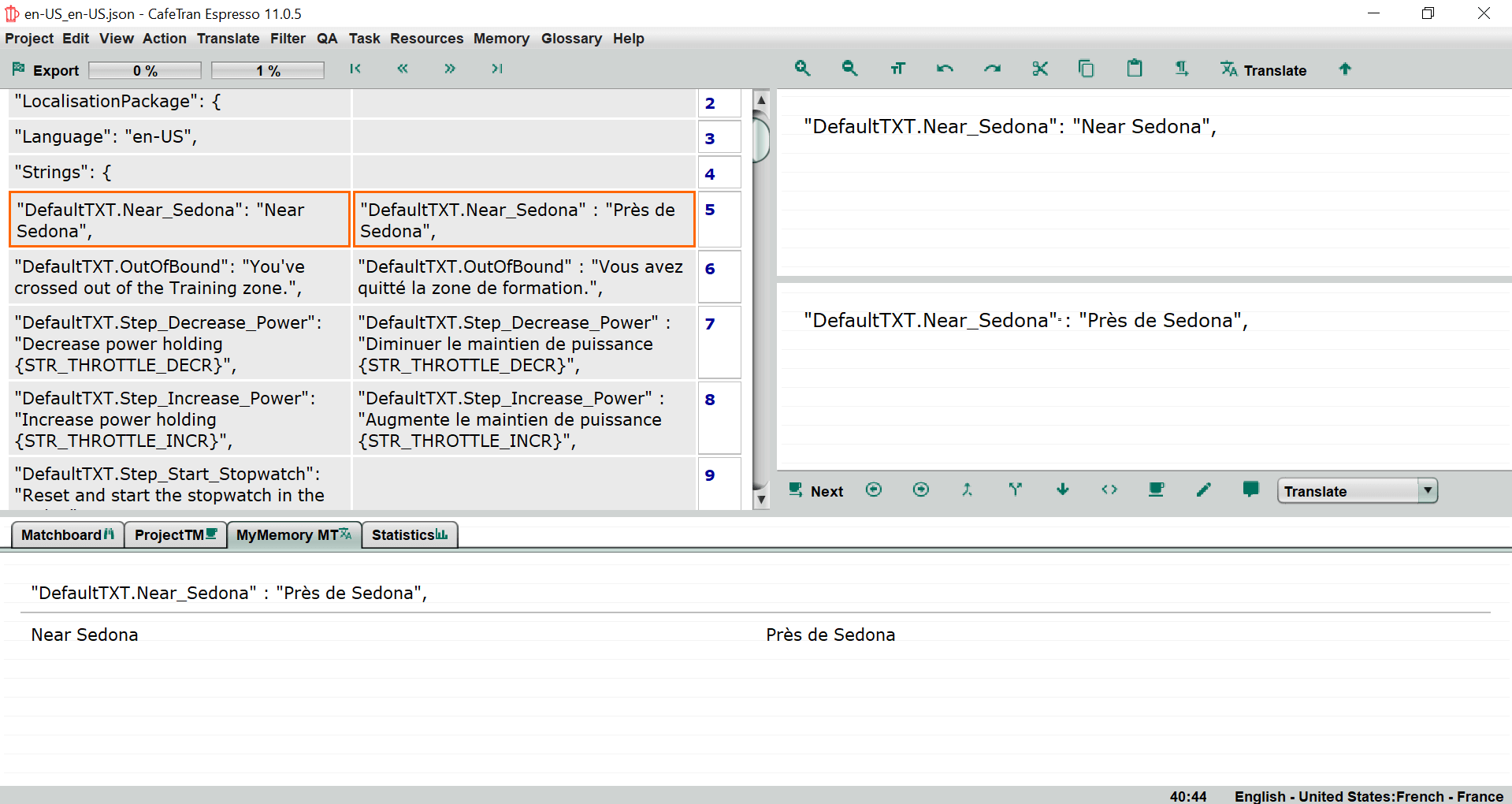 Terminology management

Translation quality assurance
Just in a few words, it is different. CafeTran's developer is not only a programmer but he is a translator as well, that is why he adds all those unique features helping translators. One pays EUR 225 only to upgrade from SDL Trados Studio 2009 Freelance to 2011 version but you can buy CafeTran at only EUR 80. Amazing!
Actually there are no negative reviews we are aware of, which is awesome!
Trados is the most widely-used desktop translation tool, especially among companies, LSPs, and translation agencies. It's comprehensive, feature-rich, and, most notably, everywhere — so whether you're a customer or a vendor, you can be reasonably confident that the other party will support it one way or another.
The biggest downside to Trados is that many users find it far too complex for what most translators need, which means there's a steep learning curve when you first start using it. Besides, it only runs on Windows, is costly, and does not support native collaborative work. The best you can get is a client-and-server solution, which leads to the usual "seat-counting" problems.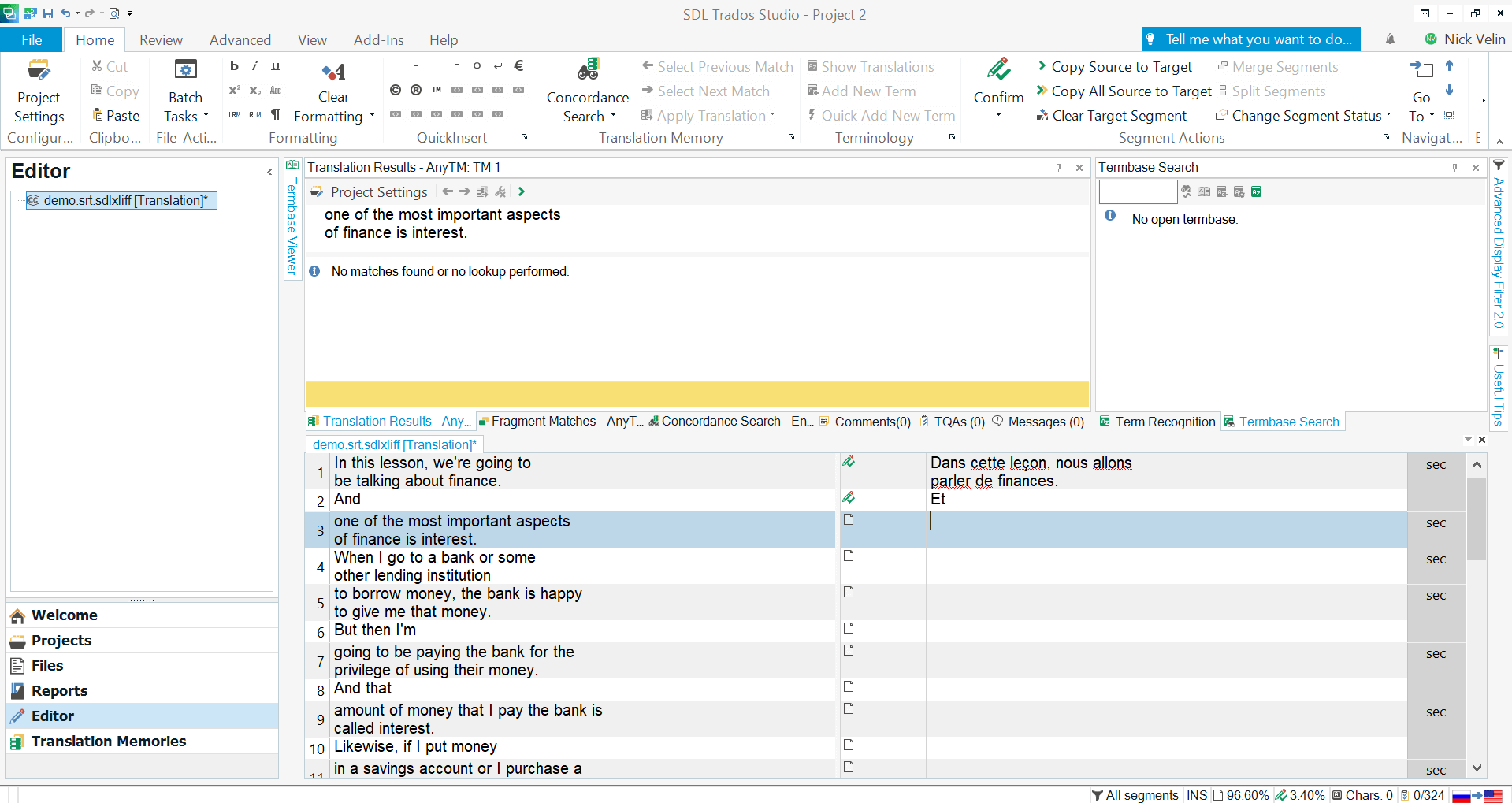 Terminology management

Workflow management

Localisation automation

Team collaboration

Project management automation
The game-changer: It's great for large agencies that manage many translators and want to sync their work on an hourly basis.
SDL Trados is a powerful CAT tool that allows you to increase your performances, and take care of all the formatting while letting you focus on the quality of your translation.
There's no Auto-save feature. If the software became unresponsive or the PC suddenly went off for any reason, all work done will be erased and couldn't be recovered.
MemoQ is probably Trados' biggest competitor as it is similar in functionality and performance. The main issue, again, is the steep learning curve before reaping the benefits.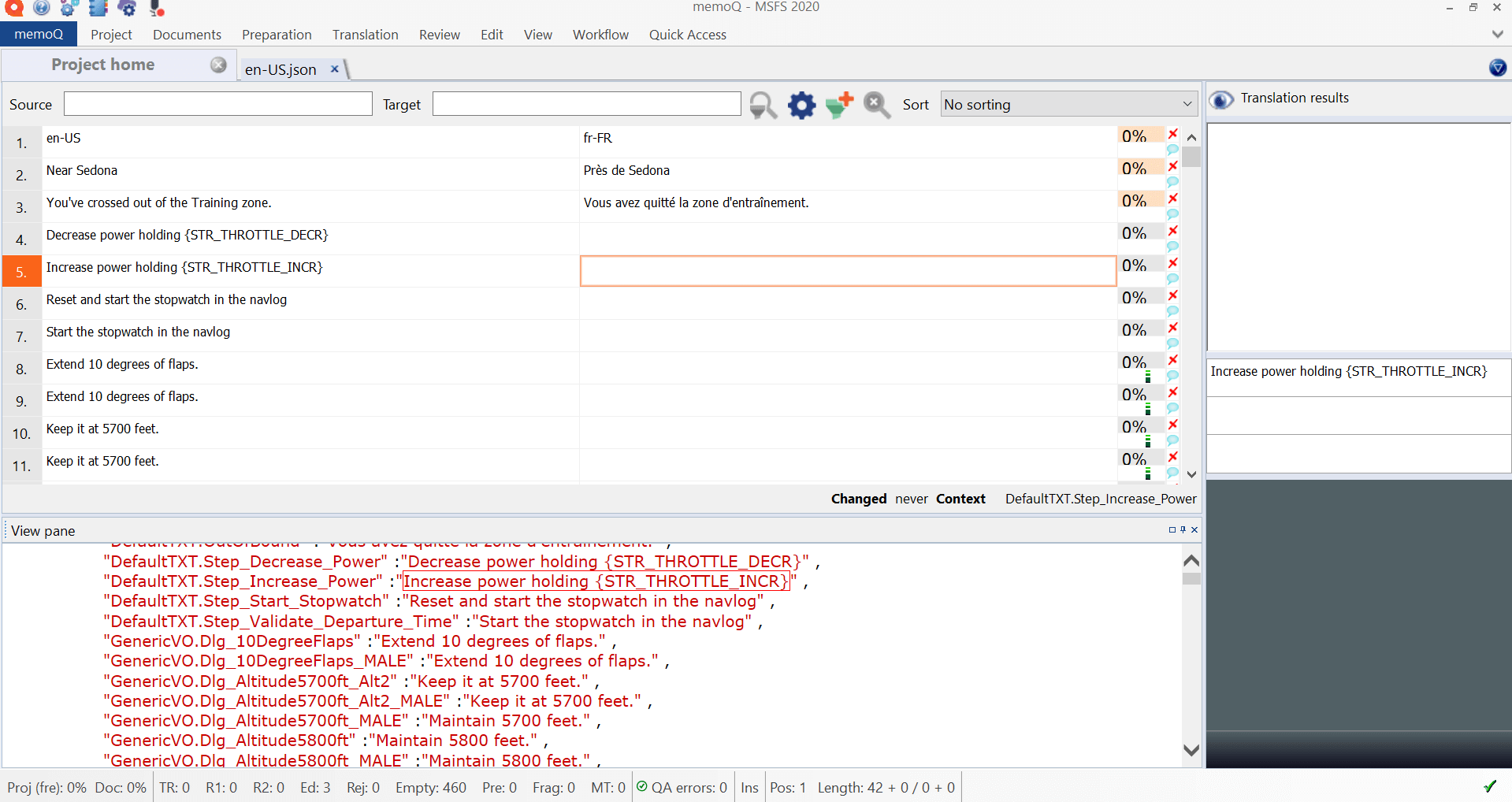 Terminology management

Localisation automation

Workflow management
The game-changer: A friendly interface complemented by various TMS functionalities.
Great translation CAT tool, has good memory and quality assurance features designed for translators.
And using the server version for one client didn't work at all, I had to ask the client to take it offline. The last straw for me was, when I had to install MemoQ on a new system after a crash."
A complete and reliable translation tool, Déjà Vu is especially strong as a terminology management solution. The downside is that the licence is a bit pricey for its functionality.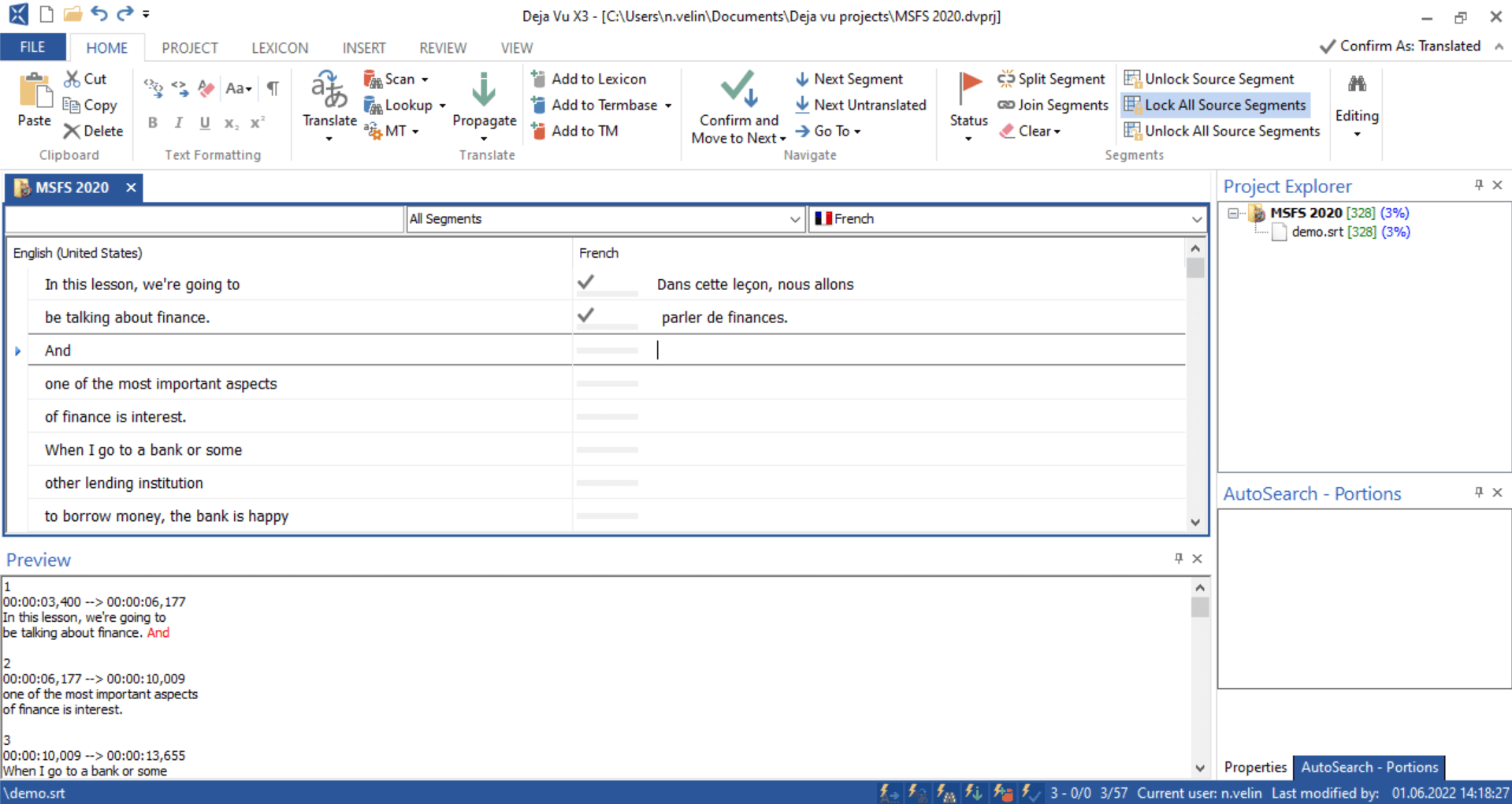 Terminology management

Localisation automation

Workflow management
The game-changer: All versions are fully compatible with each other.
The tool is direct meaning it doesn't have very hard-to-learn steps can can be easily put in use by someone with basic IT knowledge.
The software works on pay-as-you go method and the upgrades require additional monetary charges.
Across is a comprehensive, reasonably priced desktop CAT tool with basic features and an online marketplace. The pitfall is that installation and sometimes speed can be an issue.
Terminology management

Workflow management

Team collaboration
The game-changer: The cheapest in our selection of paid tools.
Use of the translation memory and of the terminology database is highly intuitive. However, some initial guidance is needed (and is provided in the documentation) to understand how external TMs and terminology databases can be imported (i.e. for a specific customer, project, subject, etc.).
The documentation is easy to understand and very comprehensive. Support is readily provided. If you experience a problem and submit a ticket, they will help you until your problem is really solved.
When the program isn't randomly crashing because you tried scrolling through the table of contents, or doing a search, or you looked at it funny, you're in the unfortunate position of having to use it.
Every single design choice is weird.
Why have 2 text windows plus an editing window? Why the asymmetrical Ctrl skip? Why the insane keybord shortcuts? Why aren't comments exported? Why no smart quotes and apostrophes? Why is the font application so random? Just... Why!
What's the Right Type of Translation Software Tool for You?
Cloud or desktop? What type of translation tool you go for will ultimately depend on your preferences and, perhaps, your freedom to choose. Let's take a closer look at their strengths and weaknesses.
Pros and cons of cloud-based translation tools
No need to free up any space or install any software on your computer.

You can work from any operating system, whether it's Windows, MacOS, or even a variation of Linux.

Translations are saved in real time so you won't lose any data. You may lose a sentence at worse, whereas everything can disappear on a desktop tool.

You can access it on any device with an Internet connection.

It's easier to collaborate with others online.

Updates and bug fixes are frequent and immediate.
Data may be hacked online. However, there is no consensus in IT circles as to whether the risk is higher on web-based platforms than on desktop programs, where data can be erased, stolen, or lost.

Highly reliant on an Internet connection. To remedy this, some software tools allow you to continue using most features if you go offline.
Pros and cons of desktop translation tools
You can work without an Internet connection.

No server issues like crashing or slowing down. As long as your computer works you can work.
You need to install software and use up space on your computer.

You can only use it on a designated computer, unless you have multiple licenses and install it on other devices.

Most only work on Windows PCs.

How safe your translation projects are depends on how safe your computer is. You can lose everything if your computer is stolen, damaged, or breaks down.

Fewer updates: it takes longer to release and implement bug fixes and updates than with online software.
Your ultimate choice should be based on your resources and how you need to work. Ideally, try out several tools until you find one that works for you.
We hope this article helps you make an informed decision! Here are more helpful resources on the topic:
Manage translations, hire linguists, and pay all suppliers with one invoice