As an IT professional, you might often be faced with the challenges of localizing your product and various related materials to many languages in a very short period of time.
Ruslan Ulukhanov, Localization Manager at Quadcode, an international IT company developing software for the trading and investment industry, found the answer in Smartcat. Here's how.
What localization challenges were you facing before you started using Smartcat?
We had a bunch of apps, sites, and landing pages that needed to be localized into a dozen languages, as well as various materials that needed to be urgently translated into another dozen languages every single day.
Back then, when we started, translation was done manually. I had to send each text to each of the many translators we worked with, then wait for a response (if we got one), then paste the translated text, then ask someone to proofread it, and so on.
Most texts would be translated by our employees who spoke foreign languages, as well as a few outsourced professionals we managed to find.
Obviously, in the long run, this approach led to a lot of mistakes, inconsistencies, and headaches.
How did Smartcat help you overcome these challenges?
My colleague Victor and I started using Smartcat in 2016.
At first, we had to build a permanent team of translators. Now I realize that this was probably the hardest part. We have quite specific texts, often with complicated terminology, so we worked by trial and error. Today we have a great team of native speakers who are very familiar with our specifications.
It goes without saying that with a good translation environment where you can see how the translation is progressing, discuss the context with the translators, and use the translation memory and glossaries, things have become much easier and more convenient. Plus, payments to translators on the platform are automated, so we don't have to waste time counting words and working out payments.
Why did you choose Smartcat over other localization solutions?
Before I started working at Quadcode, I used to get invited to take part in projects on Smartcat as a freelance translator. And it was my guess that on the other side someone had to create these projects and pay for them.
They couldn't just come out of nothing. And I was right. So we created a client account and have been using it ever since. Smartcat was free and familiar, so at the time we didn't think about other solutions.
Make translation simple, fast, and cost-effective with Smartcat
How did your workflow change when you started using Smartcat?
I import the texts that need to be localized into Smartcat and assign translators and editors from our team who have been with us for quite some time and no longer need to have things explained to them. My job is to give them context and answer their questions. If I need a new language or a new translator (as was the case recently with Zulu), I simply go to the marketplace to find someone available to take the job. When the translation is ready, I can download it in my preferred format. So I don't have to think about payments or anything else, and I can just focus on improving quality.
What are your favorite features? How are they helpful?
I'm glad that now I can invite multiple freelancers at once by clicking just one button. It really saves time compared to before. When you have two dozen languages and the same translators every day, it makes no sense to manually assign them every day.
Another great feature is the list of placeholders. With it, you can be sure that your variables will not be corrupted or damaged during translation. The only downside is that the list of options is quite small, and you have to erase old placeholders to add new ones.
I think the most valuable features of the platform are the ability to comment on segments, insert pictures, and see the preview in context.
Of the things that could be improved, I would say the chat: it would be nice to get rid of system messages and speed up notifications a little.
What results did you achieve using Smartcat?
We have managed to create an environment in which we can work on projects in a friendly and pleasant manner, while meeting our deadlines and improving quality. There have been cases where we have had to translate huge batches of documents into all EU languages in just a few days, and we have always managed to do it without spending millions.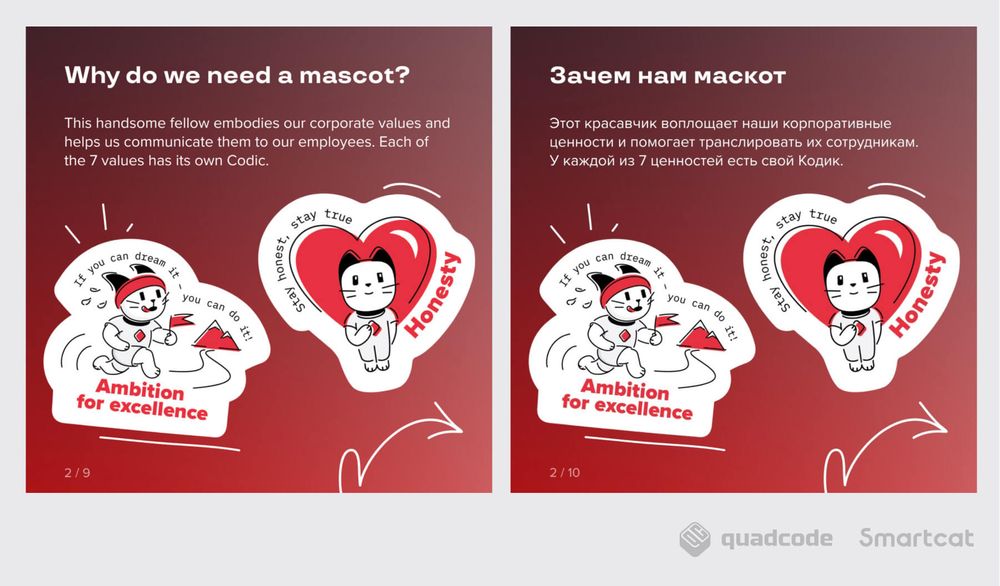 Share your localization tips and best practices that could be useful to other companies
Simplifying the source text is sometimes a good practice, especially when you have to translate into a large number of languages belonging to different language families. This includes polishing the source text and getting rid of ambiguities, redundancies, etc.
Always add comments or pictures to segments where necessary. However, I wouldn't overload a project with comments as this can sometimes overwhelm translators.
Of course, keep your TMs clean and up to date.
And most importantly, don't forget to show some love to your translators. Text them "take your time" and "it's okay" more often, and they'll surely love you back and text you "dude", "hahaha," and "thank you, Mr. Ruslan."
Anything else that you find important
I'd like to thank the Smartcat team and Aleksandr Bdaitciev personally for their support and attention to our comments over the years. It was nice to see that one of the latest updates implemented some of my suggestions on how to improve the platform.
And, of course, kudos to my dear translators, namely Geraldo, Frank, Elena, Veronica, Ali, Jesus, Ha, Varun, Sujoy, Yi, Annie, Waratha, Novi, Lee, and many others. You guys are the greatest!
You can hear more stories on how to make your product global at the upcoming LocFromHome conference.