As part of their localization strategy to help international end clients get the most out of their tools, the eCommerce team at Stanley Black & Decker wanted to translate their field training materials into several languages. To streamline the process, the company started using the Smartcat translation platform, quickly seeing the benefits when translation speed, spending, and quality improved. This success spurred more eCommerce team members to start using the platform for product content.
As a group, they realized that a centralized workspace – equipped with the latest AI translation technologies, workflows, and linguistic resources – ensured more effective spending, faster growth, and better quality overall.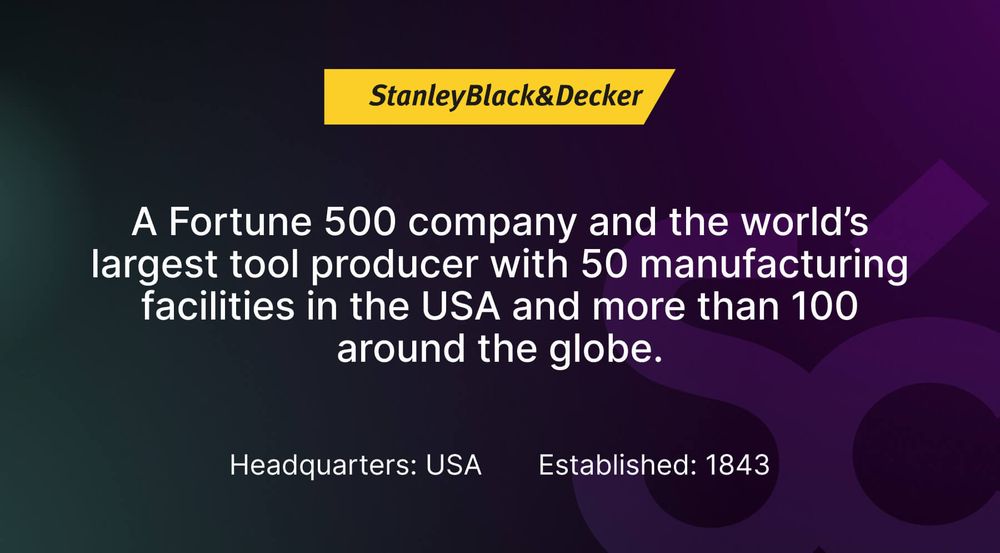 The challenge
Operating in more than 40 countries, Stanley Black & Decker's corporate mission marks content localization as a crucial step to ensure that global end users understand how their products fit their needs.
Their ultimate goal was to produce and distribute more training materials – much faster than before – across different demographics, in order to meet their overall corporate communication goals.
In 2020, they started seeing a growing need to scale their applied learning efforts internationally. They wanted to translate Learning and Development materials, such as online courses, quizzes, PDFs, Word docs, PowerPoint presentations, and P&P books with InDesign as well as localize emails. The aim was to translate into six languages.
Prior to using Smartcat, the eCommerce team at Stanley Black & Decker did not have a unified way of handling translations, including how to collaborate with stakeholders, manage resources, or store linguistic assets.
Problems were abound without having a comprehensive translation platform in place, including:
Translation costs were higher than necessary, often due to expensive agency rates or lack of a platform that learns from each translation and can reuse existing content where relevant

Processes were fragmented across several non-translation related software solutions

Manual work was excessive due to a lack of automation and integration with Stanley Black & Decker's existing tech stack.

Invoicing multiple suppliers was complex when dealing across regions with varying regulations.

There was no quality assurance process.

The solution
The eCommerce Team responsible for Learning and Development wanted to increase translation turnaround times in a significant way. They hoped that what they achieved in weeks could be cut down to a matter of days. After hearing about Smartcat automation, they decided to try solving their challenges using the platform to cover all of their translation needs. They believed that the combination of features and functions it offered would help them meet their goals more quickly:
AI translation: combined machine and human language processing for faster speed to market and budget optimization

Marketplace of 500,000 vetted translators: better collaboration with professional linguists, with suppliers available round the clock

Collaborative Translation Management System (TMS) workflows: improved efficiency and project transparency for stakeholders

Unified procurement platform: less time spent on accounting with only one agreement necessary and one invoice to pay suppliers
The team at Stanley Black & Decker found that two parts of Smartcat's platform, in particular, helped cover their needs for all markets:
Smartcat Automated Project Management
Smartcat's AI and automation technology will source the perfect translator for each project (based on your content and the skills and track record of the translator) and deliver the completed job with guarantees on budget, timeline, and quality.
Projects under Smartcat's Automated Project Management are monitored 24 hours a day with no downtime, and, like the rest of the platform, are data-protected. Companies have complete transparency throughout the process and are able to collaborate directly with translators in order to generate the highest quality results.
AI translations
This unique offering is a combination of adaptive learning algorithms, which take advantage of translation memories, glossaries, and brand voice/tone to produce the most accurate and high-quality results.
"Smartcat's AI translation is a fantastic tool. Our ability to source content from a central repository and benefit from adaptive algorithms which incorporate translation memories and glossaries across all project teams means the business as a whole gains from each team's translations. We continue to look for new and innovative connections with Smartcat and our wider business."
Transparent and flexible project management
With regard to workflows, the centralized nature of Smartcat's platform means all stakeholders are in sync and experience smooth communication. All the content and translation documentation is stored and accessible in one spot, making it easy for everyone to follow and understand the translation process.
Stanley Black & Decker also enjoys the simple, user-friendly UI, and flexible nature of the Smartcat platform, which has an unlimited seat model. With the ability to create separate project folders by market or business discipline and custom streamlined workflows for each business unit, Stanley Black & Decker can have their own workflow that still takes advantage of company-wide intelligence made possible by Smartcat's adaptive AI.
Separate projects also lets business units attribute the correct billing information to the specific cost center. For example, the company has operations in Benelux and the Nordics, which have their own cost center, so there's no longer a need to cross-charge internally.
File and document support
The team at Stanley Black & Decker also regularly use Smartcat's easy file translation feature. They found they could quickly upload or drag & drop documents of any format, such as Google Docs, Google Sheets, Word, VTT, Excel, InDesign, or PDF, and have it instantly translated, while keeping the document's formatting intact.
Website translations for eCommerce
Recently, more members of the eCommerce team in Europe have also started using the platform after seeing the Learning & Development team's positive results. They have been able to translate web pages, including product descriptions, features, and benefits, into 6 languages.
The results

Stanley Black & Decker have achieved noticeable results since switching to Smarcat for all of their translation needs including costs, internal resources, and turnaround time. They were able to translate digital learning modules and quizzes into six languages in days rather than weeks.
The key advantage is speed. Better still, we have not had to compromise on quality to gain better speed.
What's next?
The eCommerce team has big plans to expand into new markets and translate more websites to serve audiences. They've also already started to translate local product content.
Would you like to see similar results in your business?