"Yay, I got my first order in Smartcat! This is awesome but I need to get a few things straight... My client is from Berlin. He seems reliable, we chat and he answers any questions I have about terminology. The deadline is in a week. I can do the job but how do I get paid? Will I need to send him an invoice? Should I send him my bank details? Or maybe I should ask him to pay some of the money up front? How do I calculate the total price for the translation job? I live in Beijing/Pattaya/Anchorage. Will that be a problem?"
These are the types of questions we know freelance translators have when they start working in Smartcat. Being a freelancer usually entails some paperwork and calculations, especially when working with direct clients. And it can get particularly complicated if working with foreign clients.
We also realize that translators like to focus on translating a great deal more than the laborious financial processes associated with being a freelancer. This is why we work hard to simplify many of the routine tasks.
In this post, we'll talk about these tasks and the solutions that we offer to them.
Your move!
Once a translation is completed, just hit "Done" in the Editor. As there are specific collaboration rules set in Smartcat, there is no need for additional agreements to be drawn up. After the work is completed, the client will either approve the delivery and transfer the money or request that any necessary changes be made. If you are unable to deliver on time, it's best to give the client plenty of notice before the actual deadline. The deadline will most likely be extended or a part of the text will be assigned to another translator. In some cases, you may end up being penalized. For this to happen, the client must specify the maximum possible penalty on their Smartcat profile.

Get your work done
All work completed in Smartcat is paid after delivery — this is how most translation agencies work. Before accepting an invitation from a client, make sure you check the payment conditions on their profile. Some pay within 10 days of a project being completed, while others pay on a monthly basis. But any client must transfer money to the freelancer within a specified period. You can check the dates on the Payments page.
No need to calculate!
We have designed it so that you won't even have to calculate a price. It is calculated automatically based on the amount of actual work you complete. For work to be automatically included in the invoice, it is essential that it is carried out in Smartcat. You can find out the amount you will earn on the Payments page. If we look at it from the client's perspective, the cost of the translation is calculated as follows. First, you upload the document, and you can see how many source words it has including repetitions and TM matches. You then find a freelancer and invite them to your project. From then off, the freelancer sees the amount they will be paid for the translation in the invitation email. If you invite multiple translators to your project, the payment amount may vary. In these cases, both you and the freelancer will be able to immediately view the respective price on the project page.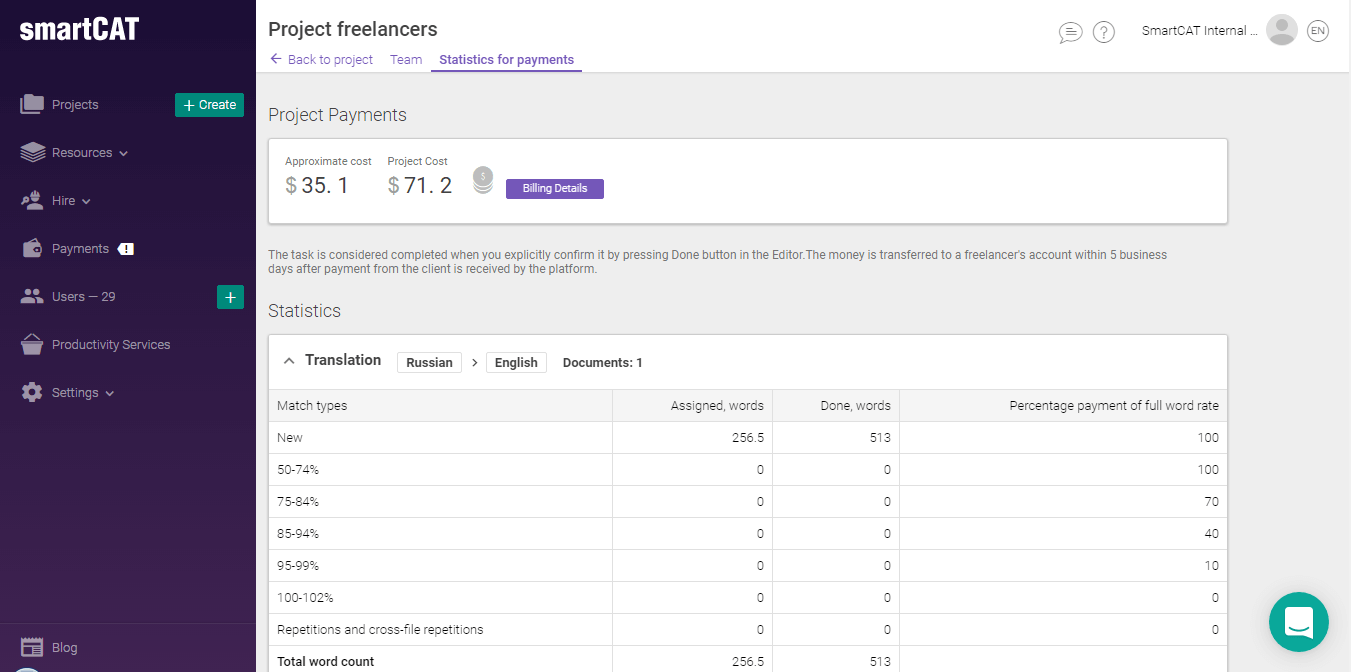 The distance between us
Even if your client is in London and you are in Tokyo, this won't affect the payment process.
We will calculate and accept the payment from your client, and then forward it to you — no different to if you and your client were in the same country.
In fact, many translators find this method so convenient that they invite their regular clients to participate. You can read about that in our recent post. The client can download a standard invoice form from the Payments page. As soon as it's paid, your payment will be transferred to your Smartcat account. You'll then need to withdraw it in a way that's convenient for you.
It's Money Time!
Have you completed a project? Congratulations, it's time for you to get your money! If you haven't specified a convenient withdrawal method yet, then don't worry, we'll send you a reminder email. Make sure our emails don't go in the spam folder though. The money can be transferred to your bank card, an electronic wallet of your choice or by wire transfer. We like the first method best, because we can transfer money to cards issued in almost every country in the world. For a complete list of countries, see Help. On this page, you can also find out more about the payment process as well as check out our FAQs. If something is still unclear, or if you have any comments or suggestions, you're welcome to contact us. We'll guide you through any issues you have and make a note of them for the future!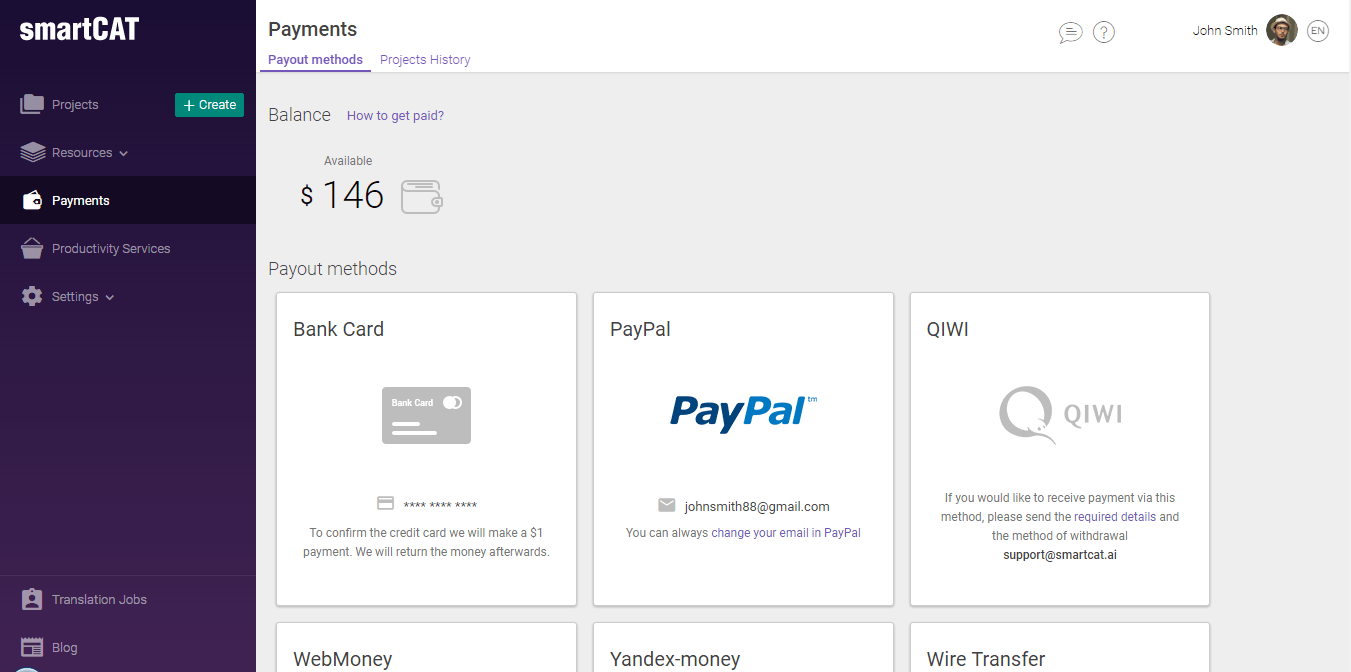 A well-oiled machine
We handle several hundred payments every day, which equates to roughly the same amount that an average translation company pays out in a month. Typically, the payment reaches its destination in 2–3 business days. This is possible thanks to internal payment automation, the work of our Finance Department, and close integration with our billing partner. Your bank card information is stored according to the latest security standards, so rest assured that everything is secure! We are constantly collecting feedback from our users and automating technical processes, including financial ones. In the coming months, we'll add more payment methods and also improve the processing of payments. If you're interested in learning more about our payment mechanism, make sure you subscribe to our blog and follow the latest news.
Send payments to your internal and external vendor via Smartcat