In the ever-evolving field of learning and development, it's key to stay up to date with the latest trends, best practices, studies, and more. To help navigate the wide array of choices out there, we've curated a list of the top Learning and Development conferences in 2023 where you can gain insights, explore cutting-edge technology, and share experiences with like-minded professionals. Make sure you bookmark this page as we'll be updating it regularly!
The Best L&D conferences still to come in 2023
High-quality AI translation of XLIFF files — try it free!
August 13 - 15, 2023

Hyatt Regency Jersey City

Invitation by request

In-person event
Bringing together corporate Learning & Development professionals across various global organizations and industries, CLO Exchange is the place to connect with fellow enthusiasts. During the event you'll have the chance to discuss the industry's biggest challenges, hear keynote speeches about hot topic areas and walk away with actionable insights.
Key focus areas at this year's event include:
Designing a state-of-the-art L&D strategy for the modern workforce

Developing core skills for a flexible workforce

Cultivating a coaching and mentoring culture at your company
October 2 - 4, 2023

Atlanta, GA

Ticket prices start from $1,299

In-person event
Experience true peer-to-peer learning with the wider L&D community at this year's Corporate Learning Week. Bringing together top speakers, thought leaders and professionals across a wide array of verticals, industries and locations, this event is a fantastic opportunity to connect, learn and grow while getting inspired.
Those in attendance will learn how to:
Increase performance and impact strategy

Maximize the relevance and ROI of their learning organization

Talent development and retention

Future-proof their organization for uncertain times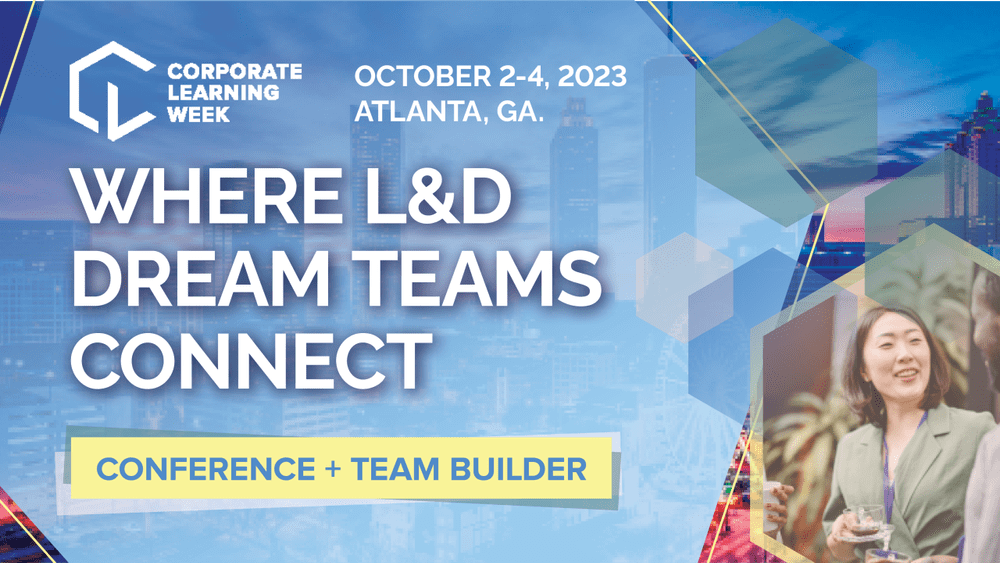 October 10 - 11, 2023

NEC Birmingham

Ticket prices start from £582.30

In-person event
A real must for senior L&D professionals, the two-day conference World of Learning combines extensive research with authoritative input to deliver an overview of the challenges facing the industry. Those in attendance will be treated to high-profile case studies, interactive seminars and discussion forums alongside first-hand case-study presentations, lively panel debates, and interactive workshops.
A few stand-out sessions include:
Balancing artificial intelligence and human ingenuity in Learning & Development

The role of neuroscience in learning and change

Learning to drive: a structured yet agile approach to personalized learning
October 11 - 13, 2023

Grand Hyatt Nashville

Ticket prices start from $1,499

In-person event
A must in training and development conferences is the Customer Contact Week that seeks to revolutionize and elevate your CX strategy. Expect specialist insights, and innovative solutions, alongside the opportunity to make meaningful connections with top industry professionals. A whole host of speakers will take the stage to explore the future of customer experience and L&D.
Program themes at this year's event include:
Customer experience & engagement

Digital transformation & innovation

Generative AI and emerging technologies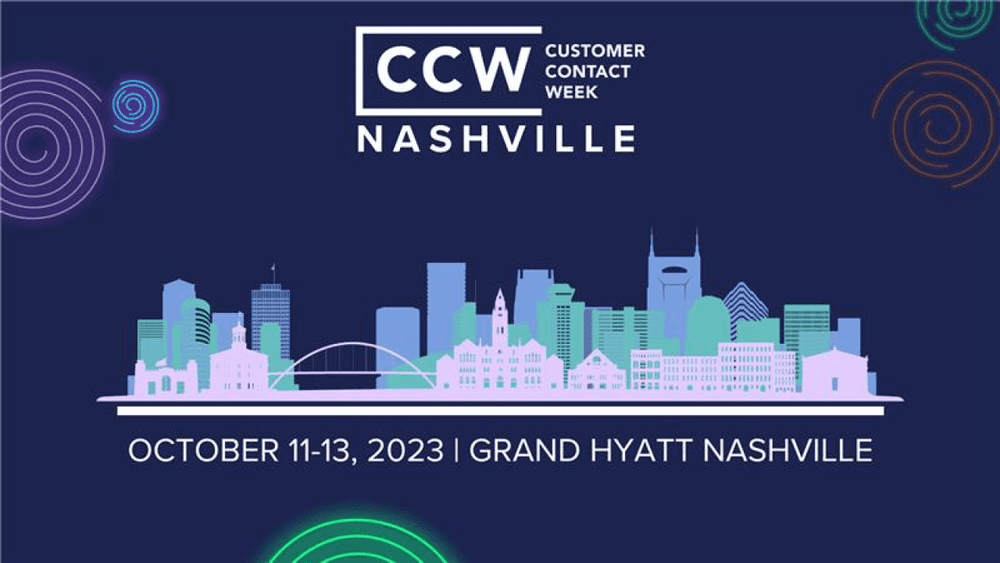 Learning Technologies Autumn Forum
12 October, 2023

ExCeL London

Email for registration fees

In-person event
The Learning Technologies Autumn Forum is an international conference on development and learning designed with an emphasis on learning in practice for professionals seeking to leverage technology for effective learning delivery. Join more than 500 attendees, alongside over 30 speakers and facilitators, who will gather to discuss, interact, and share experiences with the aim of improving the working life of learning professionals.
Conference themes this year include:
AI, data, and analytics: practical case studies and resources that will demonstrate the action L&D needs to take

Program implementation: examples and models of successful learning program implementation

Professional development: the resources and networks needed to develop individually and as a team
16 - 18 October, 2023

San Diego, CA

Ticket prices start from $1,995

In-person event
Join the annual Chief Learning Officer Symposium, to explore how Learning and Development leaders are building and promoting positive environments within their organizations and the challenges they face. A place for L&D decision makers to gather and exchange ideas, the event will showcase practical applications that will help you and your team achieve results.
TED-style talks, where learning leaders and executives discuss the future of learning

Panel discussions focused on how learning leaders are working to build a learning culture

Keynote speakers who inspire with personal experiences and valuable insights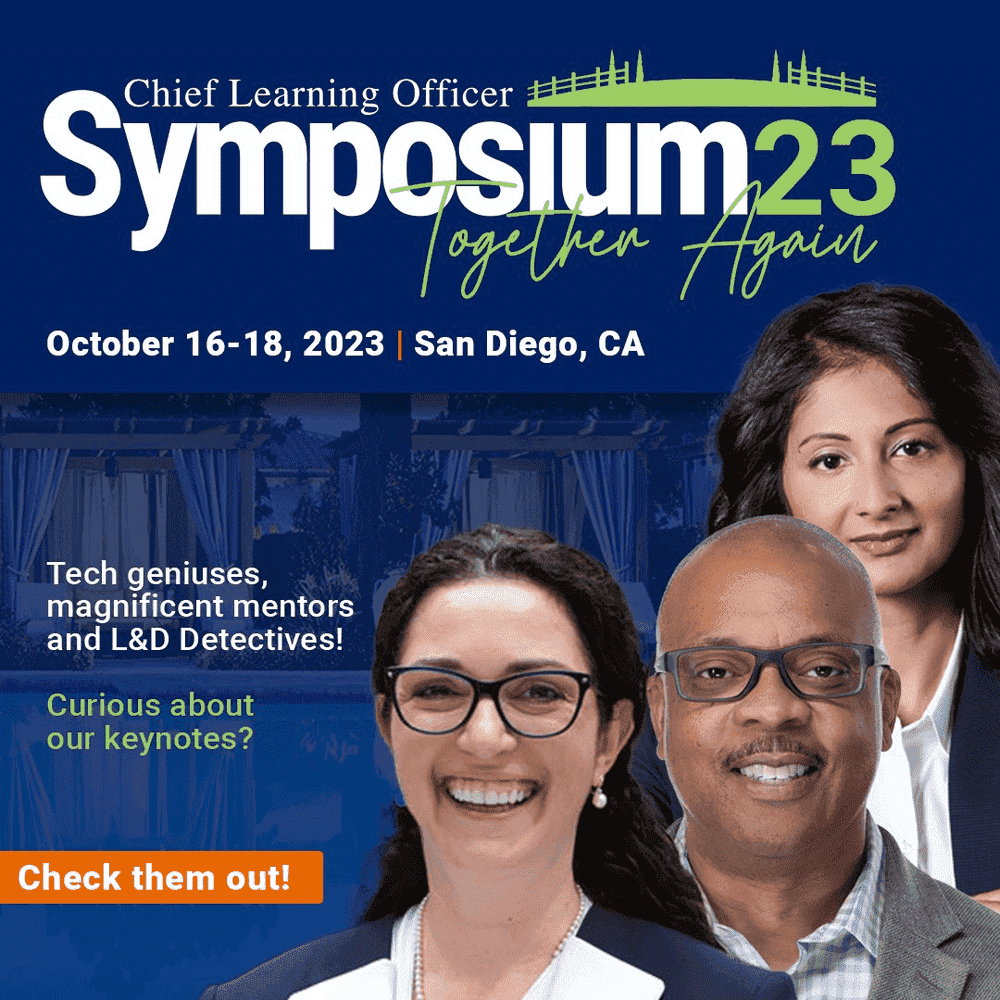 October 25 - 27, 2023

Las Vegas, NV

Ticket prices start from $1,895

In-person event
DevLearn is where professionals, educators, and tech enthusiasts come together to explore the latest advancements in corporate learning. Highlights at this year's event include keynote sessions, led by industry experts, with a focus on innovative learning strategies and immersive experiences. During the two-day event you'll have the chance to discover progressive tools, AI-driven platforms, and interactive simulations that can elevate your organization.
North America's largest learning technology event

150+ sessions to choose from

Lineup of visionary keynotes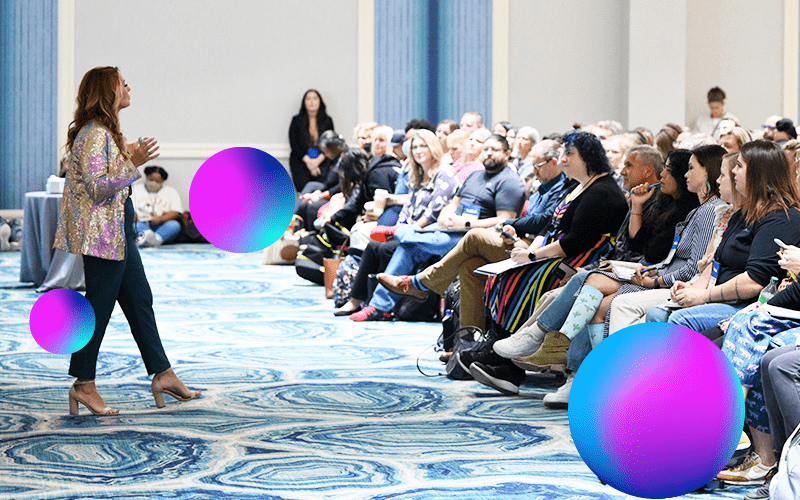 HR + L&D Innovation & Tech Fest
November 15 - 16, 2023

ICC Sydney

2for1 offer: $1,250. Standard registration: $2,500

In-person event
HR + L&D Innovation & Tech Fest is a unique learning and development conference that brings professionals together to explore the intersection of technology and learning. This event will delve into the latest tools, trends, and practices that enhance learning outcomes and drive organizational success. Make sure you don't miss this chance to learn more about how HR and L&D can collaborate to build a skilled and future-ready workforce.
Learn from industry leaders and difference-makers

Join over 1000 HR + L&D professionals

Named 'the global standard for HR + L&D events' by Amazon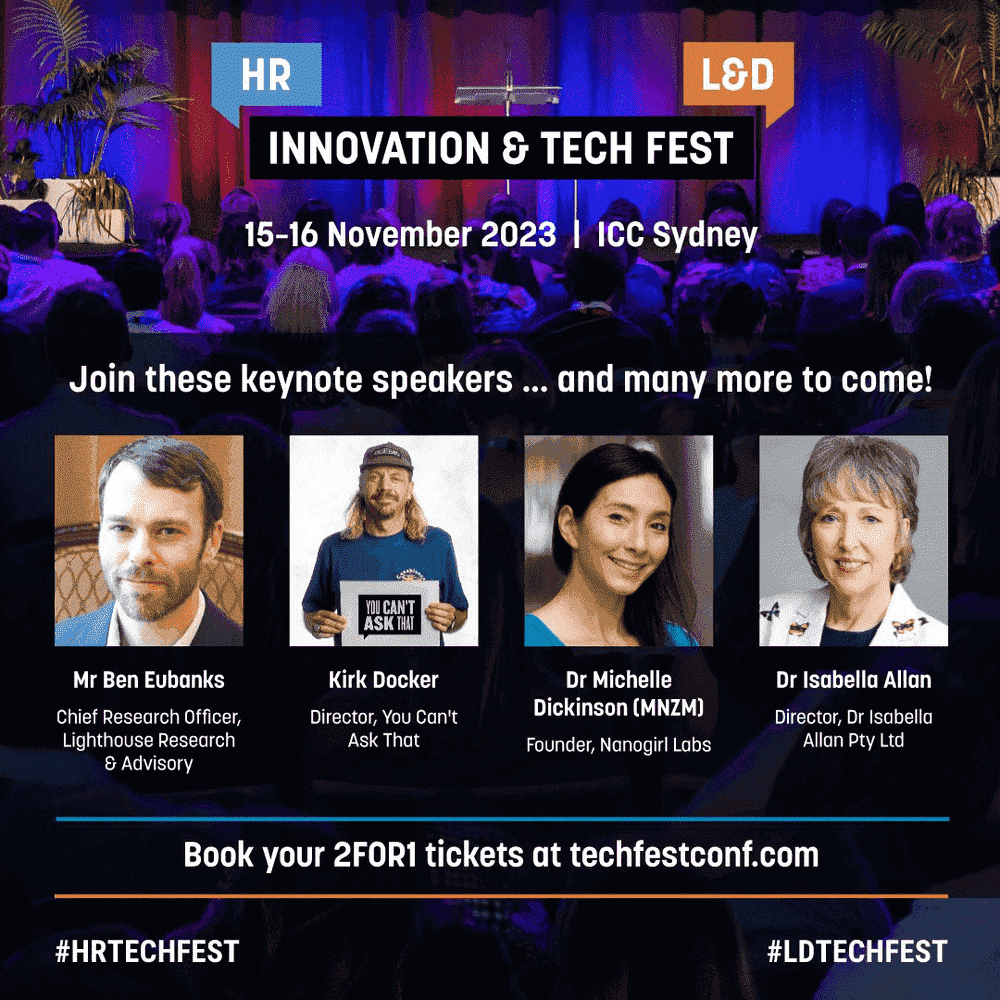 For two action-packed days in November, leading experts, innovators, and educators will come together to discuss the latest trends in Learning and Development. Online Educa Berlin attendees will be able to choose from more than 100 dynamic interactive sessions including keynote plenaries from renowned speakers, debates, panel discussions, and networking opportunities. Don't miss this event to gain valuable insight into the most up-to-date research and technology and hear inspiring stories from innovative practitioners. This year's theme will be 'The Learning Futures We Choose.'
December 5 - 7, 2023

Hilton Orlando Buena Vista Palace

Ticket prices start from $1,499

In-person event
Learning 2023 is a renowned conference that sheds light on the future of Learning and Development in myriad ways. During the three-day event, industry experts and thought leaders will share insights on emerging trends, advanced learning technologies, and transformative approaches to enhance learning experiences.
Whether you're looking to hone your leadership skills, sharpen your strategy, or upgrade your practices, Learning 2023's 100+ sessions on hot topics, emerging technology, and strategic challenges give you the chance to stay ahead in the ever-evolving L&D landscape.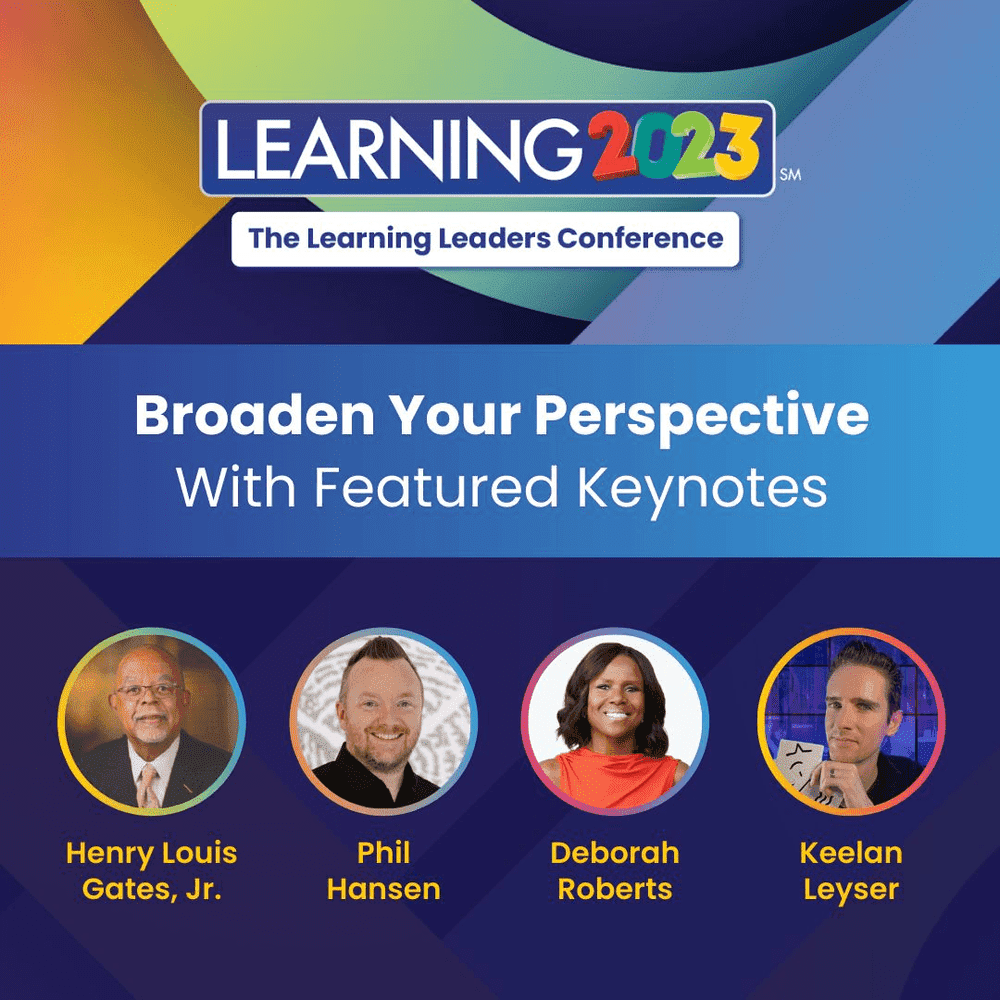 The go-to AI translation software for L&D professionals
What's more, Smartcat allows L&D managers to easily translate training video files into up to 280 different languages with subtitles and an AI voiceover. A first-rate and cost-effective solution that is exclusive to Smartcat.
It took around 10 minutes for us to have an Articulate course translated into many languages. Before Smartcat it could sometimes take a year.