This blog post was translated with the support of Autopilot technology. You can find the original text here.
Last year, I shared these 6 predictions on the marketing trends that would shape the year:
The decline in the use of corporate communications,

Mimicry in marketing becoming less and less effective,

Inbound Sales perfectly complementing Inbound Marketing,

Content marketing entering a new era,

Podcasts exploding,

Niche definitely becoming 'hype'.
This year, I present you 7 new ones:
'Content Distribution' becoming a major issue,

Nudge marketing taking hold in B2B,

Web conversion becoming crucial (customer experience),

NoCode becoming a 'must have' to be adopted without any delay,

Outbound Sales taking the dust off old B2B sales practices,

Influence Marketing setting up in B2B,

Uniting communities around an Academy becoming a great marketing and sales lever.
Let's take a close look at these 7 B2B marketing trends 👇
1. The issue is no longer the creation, but the distribution of content
So much has been said about creating value-added content.
To bring your B2B content marketing strategy to success, you should take care of your target audience needs and provide them with educational content.
Thus, you will be able to establish strong visibility, generate leads and then guide them through buying processes.
This principle forms the cornerstone of Inbound Marketing. I have a publication devoted to this methodology.
However, the problem is now shifting from creation to promotion of content.
There are several explanations for this.
This includes over-competitiveness in terms of publishing content:
Over 5 million blog posts are published every day,

60% of marketers create at least one piece of content per day,

952 posts are published on Instagram every second,

8,726 tweets are posted on Twitter every second,

Google responds to 3.8 million searches per minute.
As a result, we get a rapid decline in audience attention:
The average bounce rate of a blog is 74.8%,

The attention retention rate on the Web is considered to be 8 seconds.
Producing content is often time-consuming and costly.
Should your content be missed, it will have little impact on your sales
Waiting for the audience to come to you on its own and limiting yourself to posting your content on your website to get it referenced on Google is not a wise decision.
Today you need to develop a real distribution strategy.
How to set up a Content Distribution strategy?
Content distribution includes all processes associated with the publication and distribution of marketing content.
It is a strategy that focuses on getting your content to your audience through multiple channels and formats.
Which Content Distribution Strategy to use?
Content distribution channels are any media where you can publish or share your content.
Of course, some channels are limited to certain types of content (Apple Podcasts platform, for example, is reserved for podcasts publishing).
Your audience also drives the choice of certain channels. For example, Linkedin is a key tool for B2B.
To get a clearer picture, there are 3 main categories:
'Owned Media' stands for all communication channels owned by brands.
These can be websites, blogs, brand profiles on social networks, mobile applications, print media, newsletters, and email marketing...
'Paid Media' includes all paid communication channels: Display Ads, Social Media Ads, PPC, Influencer Campaigns, Sponsored Content...
It often makes more sense to use advertising budgets to promote your content than your offers.
Finally, "Earned Media" refers to all content, shares, and mentions around your brand generated by third parties.
There is no way to control these "words of mouth" but you can encourage them.
This POEM (Paid Owned Earned Media) triptych is a great way to organize your content distribution without leaving anything to chance By the way, SemRUSH wrote a quite interesting article on this concept, "The Ultimate 2021 Guide to Content Distribution (+ Infographic)".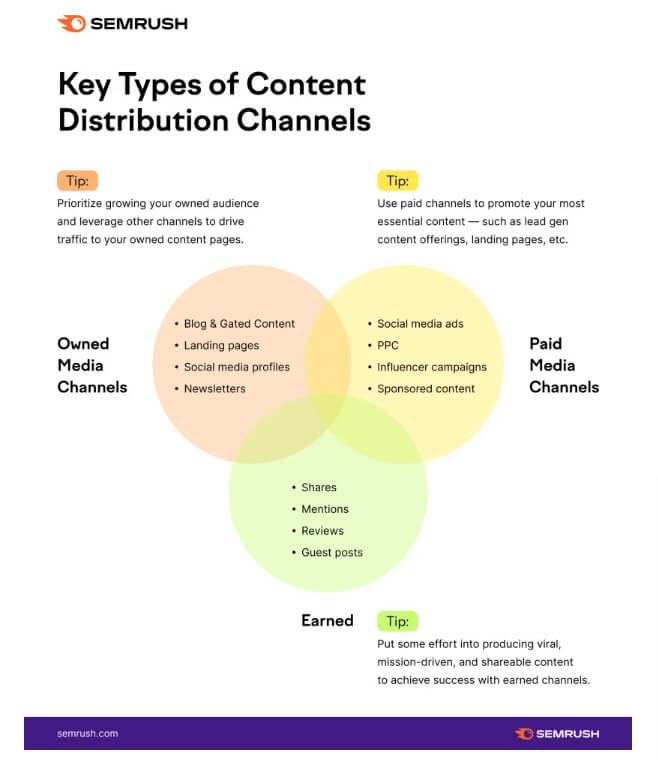 Still, we need to go even further in 2022 to win the battle for attention.
To do this, I propose 2 very specific approaches.
Recycle your content,

Motivate sales representatives to use content in their work.
Recycle your content
The idea is very straightforward.
It consists of:
updating your old content,

transforming the initial format into many others.
Update your old content, republish it on the day of the update and promote it like new articles.
Obviously, the effort required to update old content is much less than that required to create a new one.
Transform your content into multiple formats.
For example:
A blog post can be split into multiple "snacking content" for social media and optimized for SEO.
It can also be turned into a podcast. The visuals used for illustration can be used on Instagram or Pinterest if they fit.

A webinar on VOD. It can be transcribed into blog posts and podcasts. The PPT support can be broadcast on Slideshare.

A video can also be transcribed into a blog post.
With a little imagination, it is possible to effectively reuse content from your own media to provide more visibility on different channels, digital or not.
In the example below, starting with a simple white paper, we create:
Webinar,

Various blog posts optimized for SEO,

Articles to feed our Newsletter,

Some of them can be used to create podcasts,

Snacking contents extracted from the articles to fuel our presence on social media.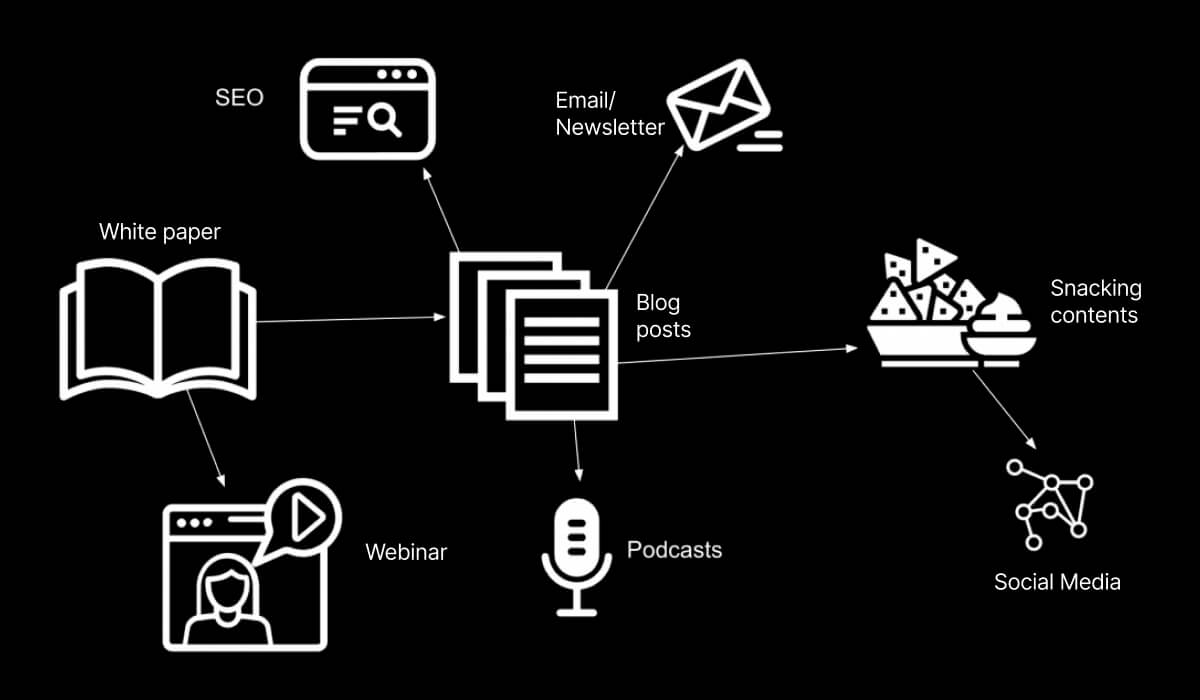 If we assume that a white paper can be divided into 6 articles, which in turn can be divided into 6 snacking contents, we get:
1 white paper,

1 webinar,

6 blog posts,

36 pieces of snacking content,

3 podcasts.
That is about 47 different pieces of content that help you to appear on Google, be visible on social media and YouTube, feed your newsletter, and be heard on podcast platforms.
To sum up, the trend in 2022 will be 'content recycling'.
Do more with less effort, that is my motto 😁
Translate your content quickly and easily with Smartcat
Encourage sales representatives to use content in their sales efforts
There is no better way than to teach your sales reps to use content in prospecting to make your content marketing strategy profitable and prove its impact on sales.
This is an absolutely essential tactic in your content distribution strategy.
Unfortunately, this distribution tool is too often neglected.
I personally believe in the ultimate importance of the latter.
Make it a priority in 2022.
How to motivate your sales staff to use your 'content capital'?
You should make your content a 'booster' for your sales.
In America, they call it 'enablement content'.
The power of content lies in the fact that it adds value to your audience.
Some approaches can be seen as intrusive: 'Emails Outreach', Linkedin messages, phone calls...
However, if these are introduced by offering valuable content that helps the targeted potential customers in their business endeavors, the intrusiveness is perceived as much less.
In other words, good content opens doors without having to break them down.
Look at the difference between the two emails below.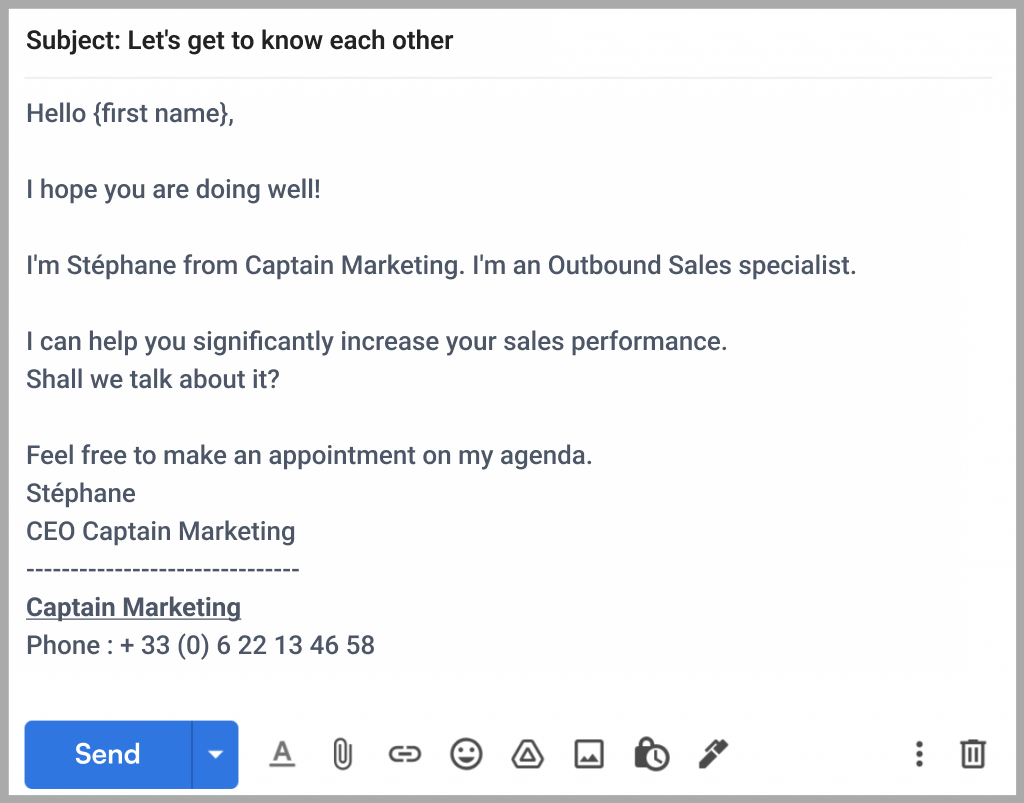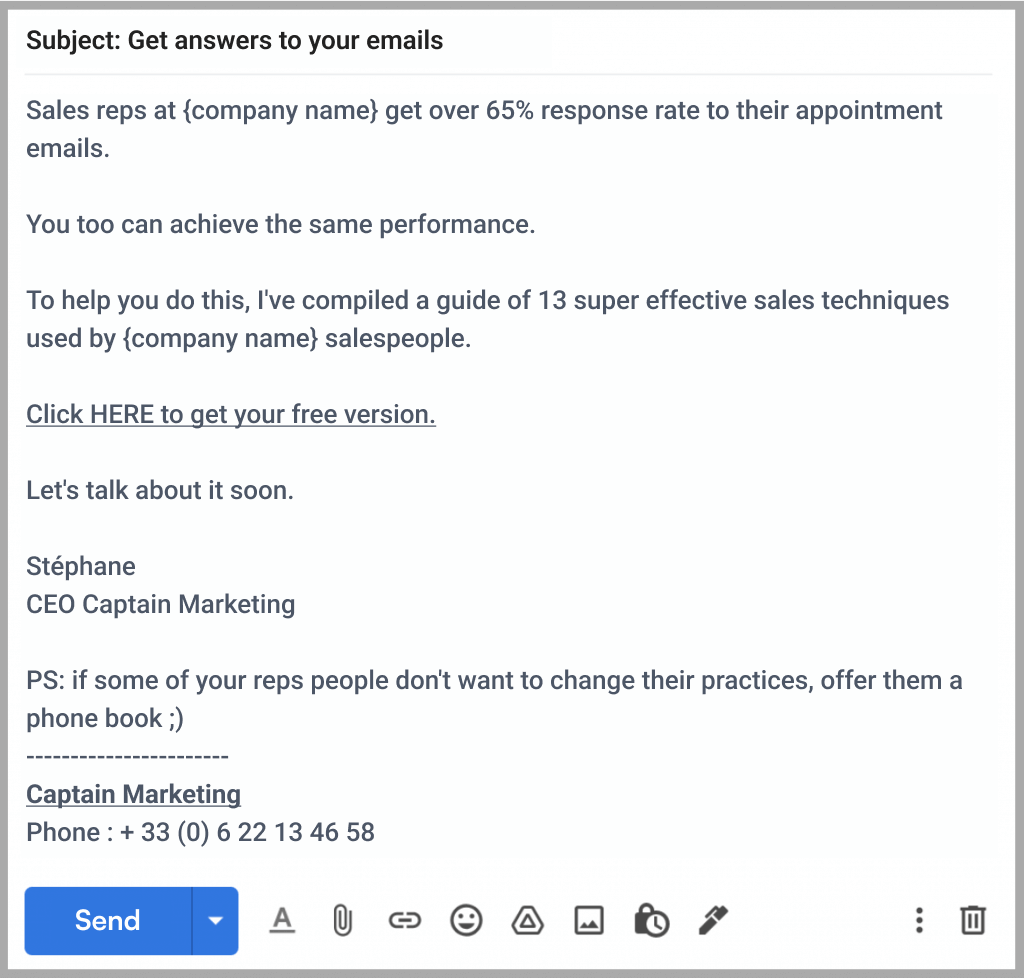 The first one is purely commercial, I offer nothing. I beg my contact to make an appointment.
The second offers advantages through content that might interest my contact.
This first step allows me to prepare a contact in an efficient and less "intrusive" way.
Of course, this content was prepared in advance by marketers and must also serve to generate an audience and leads.
2. Nudge marketing taking hold in B2B
The above-mentioned overload and thus the drastic decline in attention also leads me to predict that Nudge marketing will definitely be part of the toolbox of marketers and salespeople in 2022.
What is Nudge marketing?
Nudge marketing seeks to influence or incite consumer behavior delicately.
To nudge means to prod (someone) gently with one's elbow in order to attract attention. In French, we use 'coup de pouce' to say this.
The idea here is to use different levers involved in the decision-making process of customers.
In other words, the goal is to push them gently to make the right decision.
One of the most famous Nudges comes from the Amsterdam Schipol airport.
The men's restroom maintenance department at this airport was tired of spending so many hours keeping the facility clean.
They then came up with the idea of sticking fake flies in the urinal bowls.
This little hack encouraged men to 'aim' better. 😅
And the airport was able to reduce cleaning costs by 80%!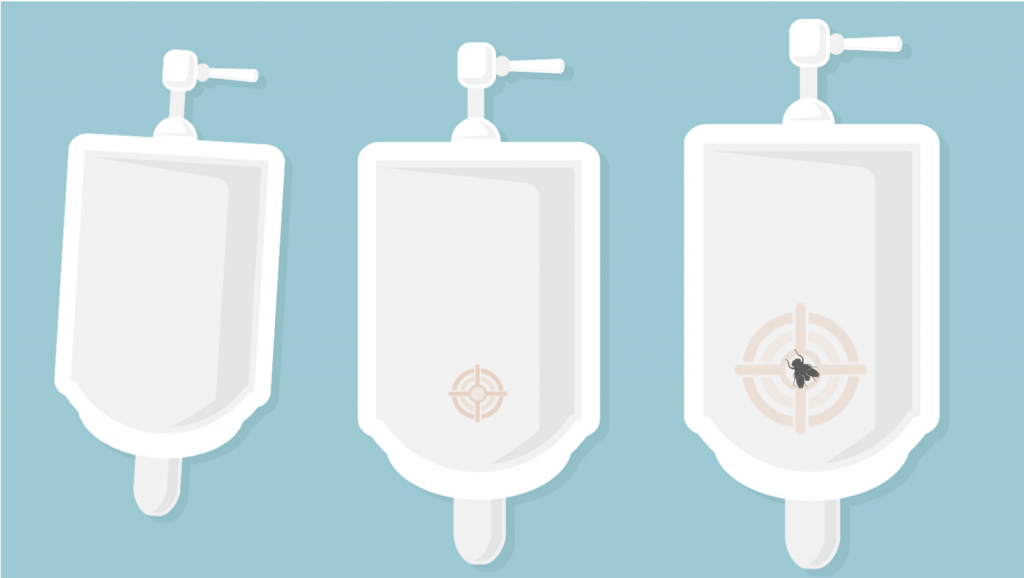 This is an example of how you can get your target audience to act and make the right decisions.
Of course, this is not marketing per se.
But we are talking about the same principles.
Be careful though, if you play on Nudge marketing make sure that the promise is kept. Otherwise, you will be involved in fraud... And should get ready for the boomerang effect.
Several formulas can be used to easily introduce Nudge into your marketing.
One of the best known is of course the AIDA formula.
AIDA
It implies you have a very clear idea of your contacts' needs.
And consists of 4 elements:
Attention: what can ensure that your content attracts ATTENTION?

Interest: you have attracted attention, now you need to generate interest. What will interest your audience?

You? Your offer? Definitely not.

Its needs? Its benefits? Probably.

Desire: what can make your value proposition desirable? Play with cognitive bias here to evoke an emotion: urgency, sense of lack, humor, change in status, etc.

Action: get your audience to take action with a simple and perfectly understandable value proposition. DO NOT demand any effort.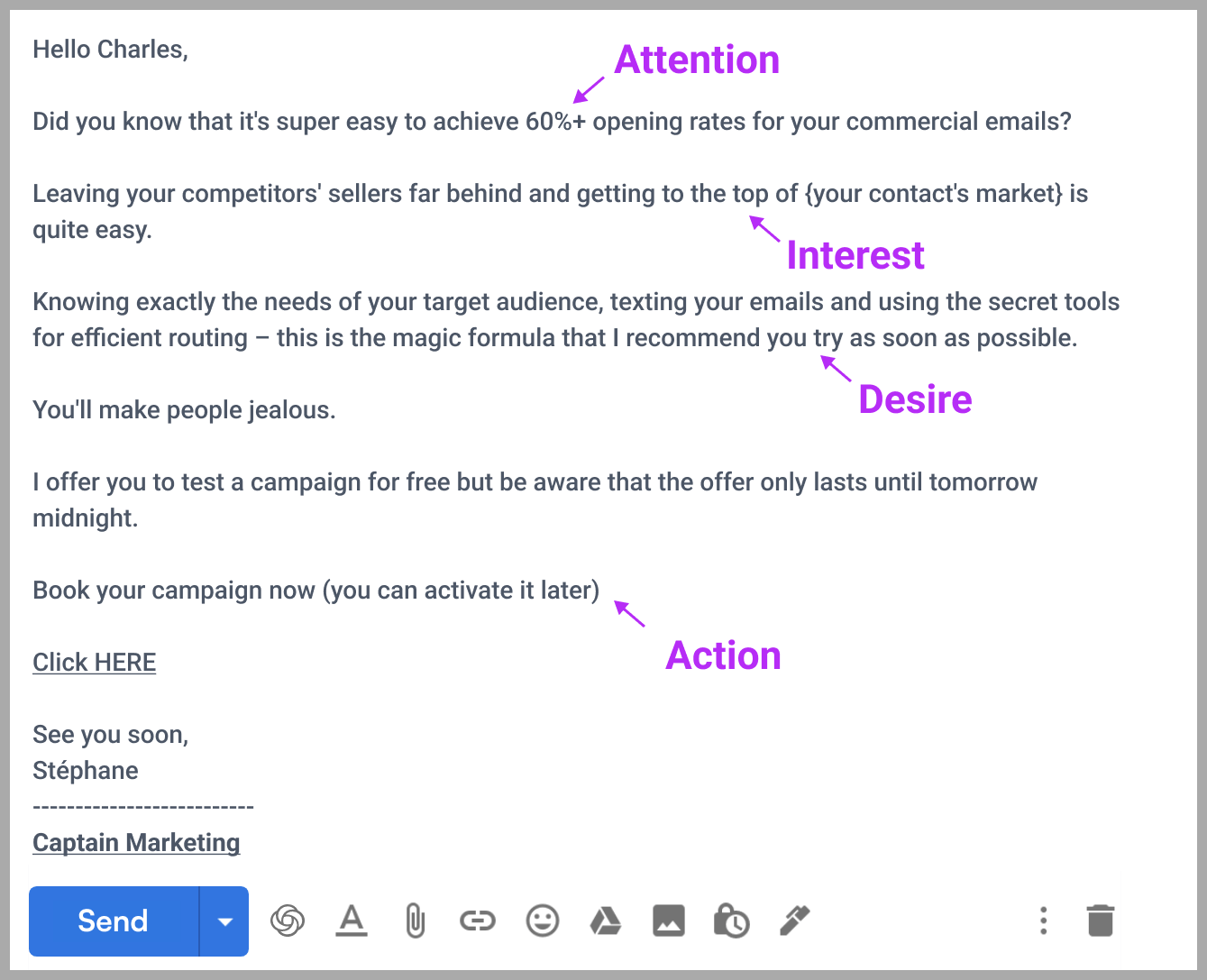 AB formula
Before: the situation of your lead is unpleasant, if not even worse.

After: the situation has greatly improved. Now the evidence is needed.

Bridge: you need to explain how your solution enables the transition from the bad initial state to the near-ideal final state.
And do not forget to finish with an attractive call-to-action!
Example 👇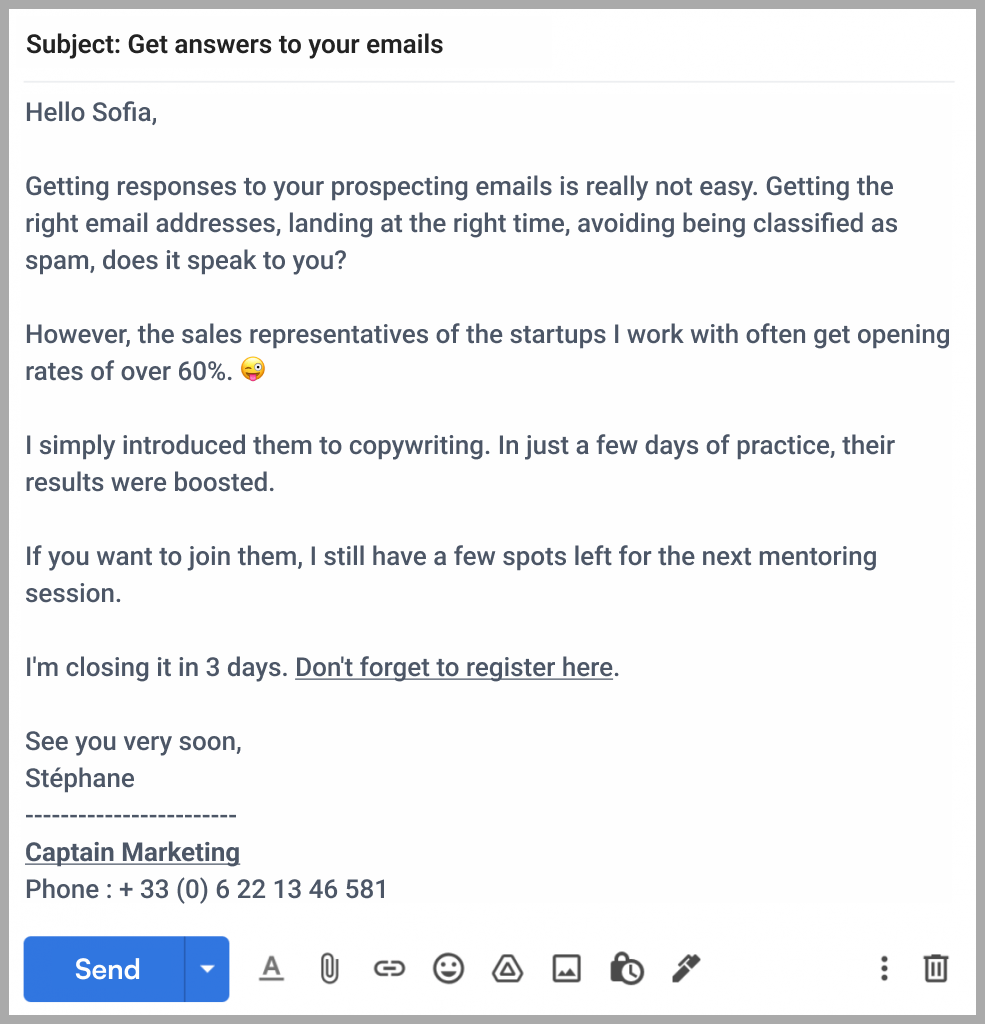 NB: this example concerns emails. However, you can perfectly transpose it for longer content such as blog posts or videos.
The PAS formula is probably the best known among copywriters.
It consists of:
Problem

Agitating (rubbing salt in the wounds)

Solution
In other words, we expose the problem, instill fear by providing evidence or insisting on the problem, and then we provide our contact with the solution.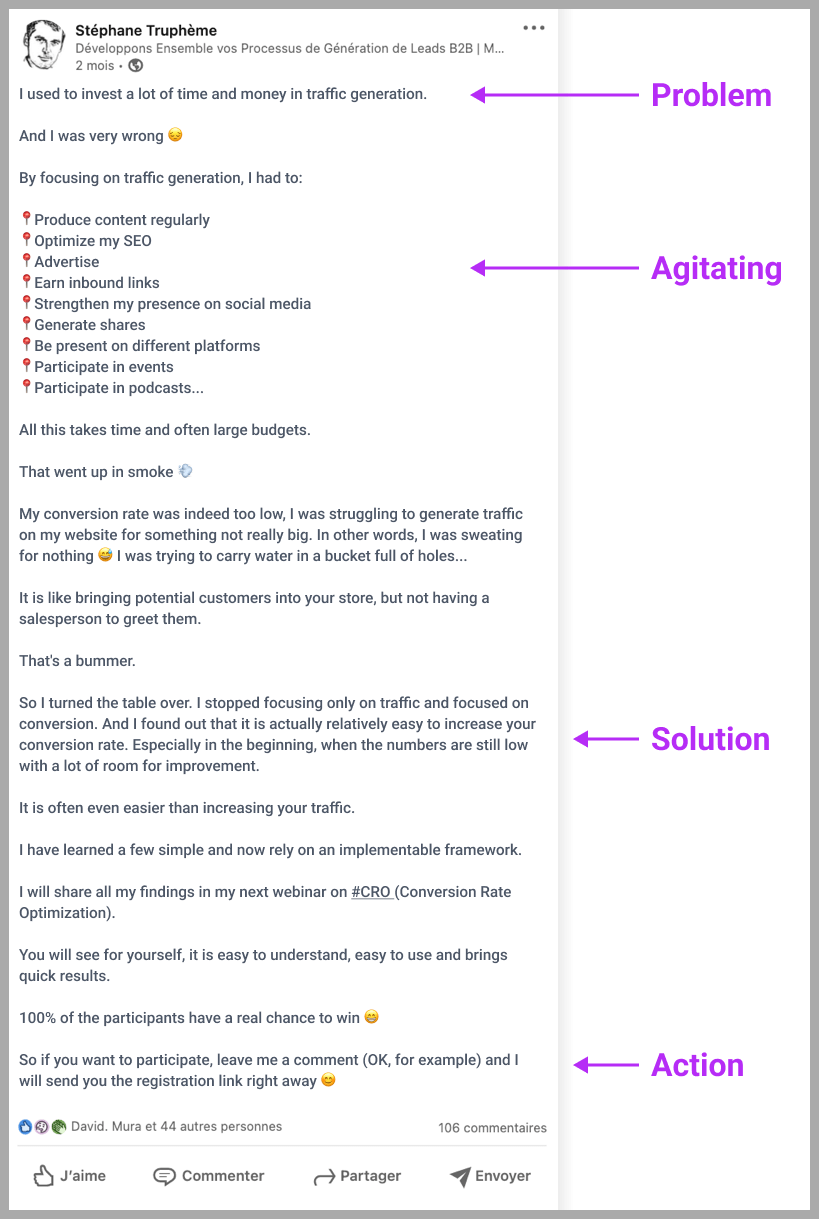 I use this formula quite often for my Linkedin posts, but also for my blog posts.
I used to invest a lot of time and money in traffic generation.
And I was very wrong 😔
By focusing on traffic generation, I had to:
📍 Produce content regularly
📍 Optimize my SEO
📍 Advertise
📍 Earn inbound links
📍 Strengthen my presence on social media
📍 Generate shares
📍 Be present on different platforms
📍 Participate in events
📍 Participate in podcasts...
All this takes time and often large budgets.
That went up in smoke 💨
My conversion rate was indeed too low, I was struggling to generate traffic on my website for something not really big.
In other words, I was sweating for nothing 😅
I was trying to carry water in a bucket full of holes...
It is like bringing potential customers into your store, but not having a salesperson to greet them.
That's a bummer.
So I turned the table over. I stopped focusing only on traffic and focused on conversion.
And I found out that it is actually relatively easy to increase your conversion rate. Especially in the beginning, when the numbers are still low with a lot of room for improvement.
It is often even easier than increasing your traffic.
I have learned a few simple and now rely on an implementable framework.
I will share all my findings in my next webinar on #CRO (Conversion Rate Optimization).
You will see for yourself, that it is easy to understand, easy to use, and brings quick results.
100% of the participants have a real chance to win 😁
So if you want to participate, leave me a comment (OK, for example) and I will send you the registration link right away 😊
There are many other formulas such as FOMO (fears of missing out), urgency, social proof...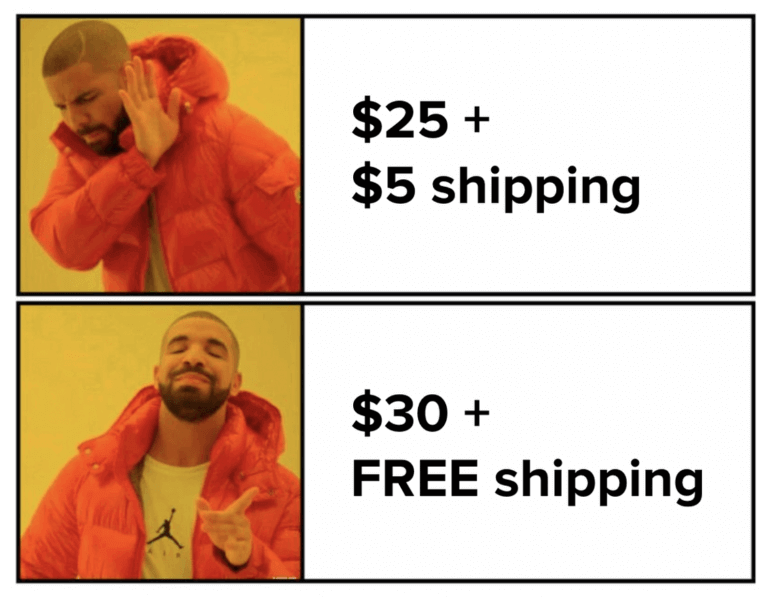 leave you with this last image. 👆
Tell me in the comments which version would move you to action?
Nudge works like a charm 😁
B2B marketers and salespeople need to learn how to deal with this to better exploit our cognitive biases and achieve better results.
Once again, using Nudge marketing does not mean deceiving your audience.
It is simply about maximizing the results of your content creation and acquisition efforts.
3. Web conversion becoming crucial
Web conversion is often neglected by B2B marketers.
We tend to focus more on traffic generation than on conversion.
A simple query on Google shows us that the keyword "web traffic" has a much higher search volume than the keyword "web conversion".
In reality, it is 260 monthly requests against 0!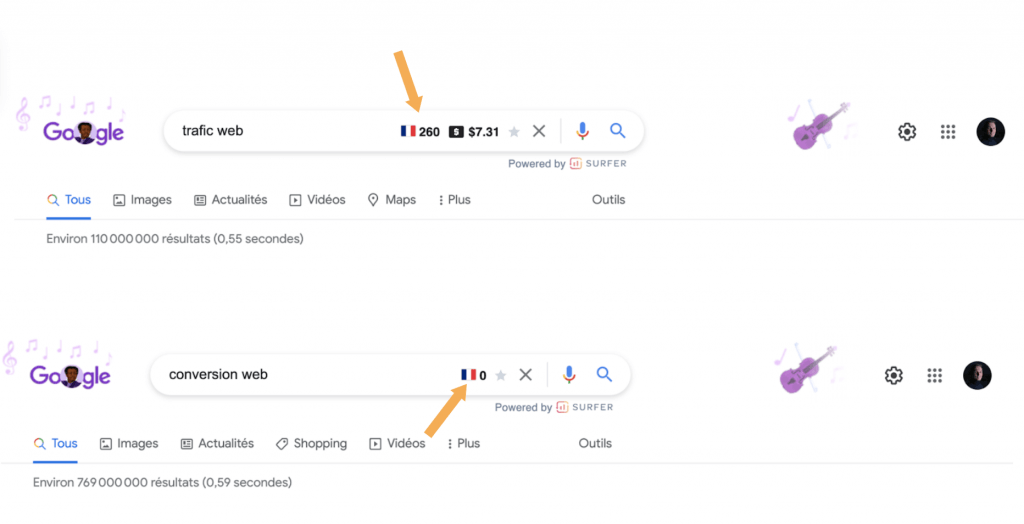 Why is the CRO essential?
Let's do the following calculation:
👉 You generate 5,000 visitors per month and your website converts at 1%, you get 50 leads (5,000 visitors x 1% = 50 leads).
👉 Now your conversion rate increases to 3%, you get 150 leads (5,000 visitors x 3% = 150 leads).
If you want to get 150 leads with a 1% conversion rate, you would need to generate 15 visitors.
Now, what is easier:
Going from 5,000 to 15,000 visitors?

Or going from 1% to 3% conversion?
Of course, the answer is clear: "from 1% to 3%".
A few small optimizations on your website can have a big impact on your web conversions.
In the example below, simply removing the distraction of social media share buttons results in 11.9% more clicks on the action button.
Web Conversion allows you to achieve better results with much less effort.
4. The NoCode becoming a 'must have' to be adopted without any delay
Whether we like it or not, marketing has become eminently technological.
It's all about the technology. Every email you send, every web page you edit, every piece of content you post on social networks involves tens of thousands of lines of code.
In recent years, we have seen an explosion of software solutions designed specifically for marketers or salespeople.
Recently, a new kind of platforms has appeared: no code tools.
What are no code tools?
No code tools are development platforms without "code". With these platforms, it is no longer necessary to learn how to code in order to develop software solutions that are perfectly tailored to your needs.
They also make it easy to automate repetitive processes or treatments that were previously done manually.
In other words, they are powerful tools to increase your productivity and flexibility.
Forms, databases, automation, websites, productivity, workflow, design... everything is included. You are sure to find at least one tool that fits your needs.
If you have not already done so, be sure to take a look at these tools. I use, for example, Wisepops to manage popups on my website.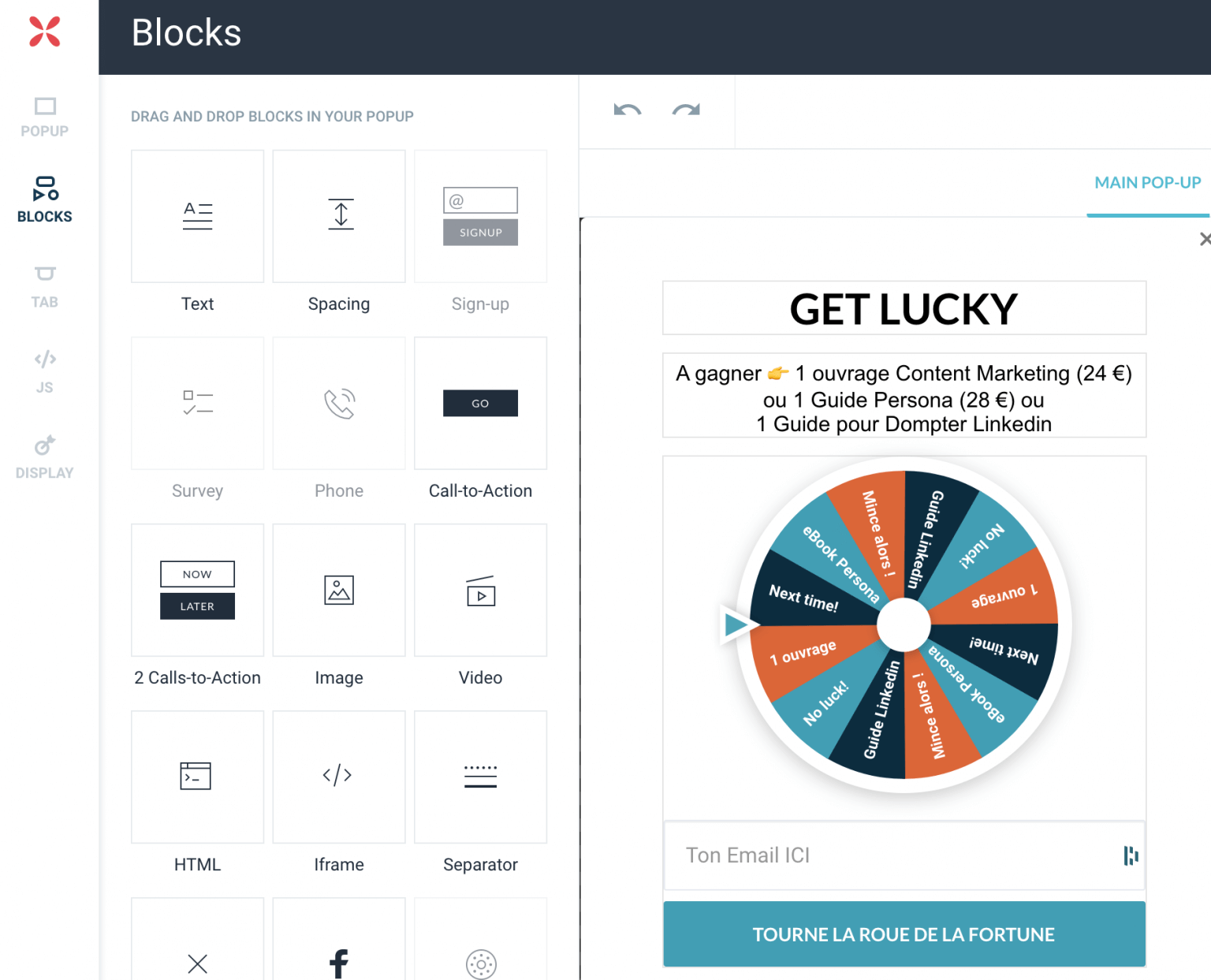 I can design the popups in a few minutes and have full control over their performance.
Zapier allows me to easily connect various tools I use (Unbounce, Wisepops, Livestorm...) to my marketing automation solution.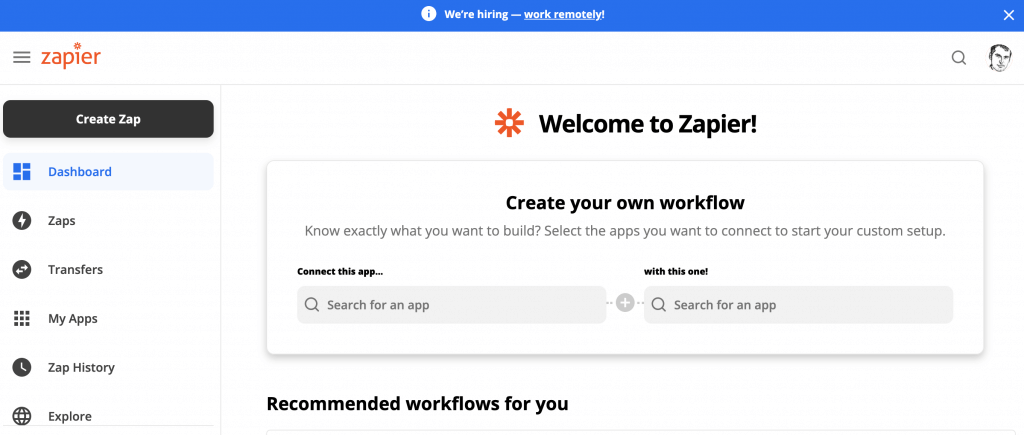 Again, it only takes a few minutes to integrate tools and avoid tedious and risky data imports and exports.
Unbounce lets me build my landing pages and publish them in just a few hours. What takes the longest is not the landing page itself, but its content.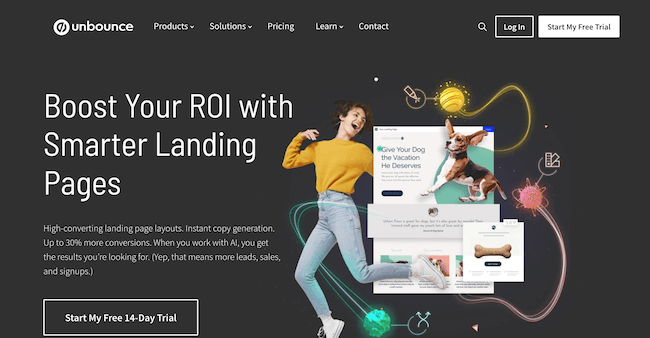 I still use many other tools: Google forms, Notion, Airtable, Dorik...
Switch to no code in 2022, it's mandatory 😉
5. Outbound Sales taking the dust off old B2B sales practices
Inbound consists of attracting your potential customers by offering them content with high added value. We call this inbound marketing or permission marketing.
Outbound is the opposite. This term represents all "outbound" tactics that aim to 'fetch' the prospect.
Outbound Sales include, in particular, telephone prospecting, cold emails, automated sequences on Linkedin...
We might think that there is nothing new under the sun. After all, traditional business practices are "outbound" in essence.
That is absolutely true, except that they have been completely changed by digitalization.
We no longer practice 'hard calls' or email prospecting as we used to.
The salesperson has adapted to the new requirements:
Demands of customers who expect personalized messages that offer real added value, and that are delivered at the right time

Requirements due to competitive pressure. We have never received as many commercial messages and inquiries as we do today. Under these conditions, what makes it more likely that your message will be perceived?

Finally, the demands of algorithms that are increasingly less compliant with spam-like tactics.
Outbound sales can therefore be likened to haute couture. We no longer play on the volume but on the transformation rate.
In a nutshell, Outbound Sales aims to target fewer people, but better, thereby increasing sales results.
Whether you are in marketing or sales, be sure to get used to these new practices if you missed them.

6. Influencer Marketing setting up in B2B
Influencer marketing is widely used in the B2C sphere.
Far less so in B2B.
However, it is an essential activity, since a customer trusts more easily the words of his counterpart than the arguments of the brands
Influencer marketing is a powerful sales lever.
In B2B, it is often about the famous "success stories" or customer testimonials at events.
This is good, but far from sufficient.
There is a myriad of opportunities to leverage influencer marketing in B2B today:
Customer feedback,

Google My Business,

Sharing on social media,

Social Selling,

Score NPS,

Newsletter…
All these approaches allow for the activity of nano or micro-influences.
It is a sum of small "weak signals" that may or may not reassure your potential customers.
These kinds of 'little things' can quickly destroy your marketing and sales efforts.
Which is quite sad.
It is therefore highly advisable to invest in influencer marketing in 2022. This can be achieved through very simple actions.
A customer spontaneously expresses his satisfaction. Ask him to testify to this by a simple comment.
Applications such as Trustfolio save time and allow you to be extra flexible in collecting feedback.
Try to renew the traditional "Sucess Story" by innovating. For example, a podcast can be an opportunity to talk to your customers about how they solved a particular problem your audience is facing.
In short, by finding ways to amplify your customers' voice on digital channels, you can develop your influencer marketing strategy.
Of course, working with "dedicated" influencers (bloggers, journalists, Youtubers...) should not be ignored.
7. Uniting communities around an Academy becoming a great marketing and sales lever
Your offer is intended to solve a problem.
All B2B offers to owe their existence to the fact that there is a problem to solve.
But often your offer does not represent the entire solution to the problem.
For example, a marketing automation solution aims to solve the problem of automating repetitive tasks and marketing agility, i.e., sending the right message to the right person at the right time.
However, automation is only part of the problem. Content production, promotion, data, stack marketing, social selling, etc. are other elements that make up the equation.
We can well imagine that an editor of a marketing automation solution is fully legitimized to talk about all these topics.
This is the very foundation of a good content marketing strategy: helping your audience solve their problems.
You have most likely invested budgets in marketing content.
Why not 'repackage' these contents to feed an "Academy"?
The benefits are numerous:
You provide additional value to your offer,

Your educational content can be used to better engage your new customers and provide them with a streamlined experience,

It can also be used to better train your employees to make them more 'effective' and strengthen your employer's brand,

You will attract a new audience potentially buying your products and services,

You "educate" the market in the desired direction,
In a few words, there are many benefits in favor of an online academy.
How do you go about developing it?
The first rule is to detect a major pain point in your potential customers.
A Persona work is therefore essential to secure your investment.
The more "acute" the pain point, the more likely you are to interest your potential audience via your academy.
Once the pain point is found, review all the content you have already created that can be relevant to your audience's questions.
Design your training program so that your audience can progress from "ABC to expert mode" at their own pace.
Recycle your existing content in short formats and if possible in video.
Create the missing content.
Supplement it with quizzes, MCQs and practical exercises if relevant.
Adopt an e-learning platform such as Podia for example.
Plan 'live sessions'.
Embody your training through a teacher.
Promote it as if it were a separate offer.
You can then decide whether you want to combine different access modes (e.g. free for customers, paid for non-customers).