Localization is an area requiring many skills, and finding people proficient in more than one or two skills isn't always easy.
Localization projects can vary in volumes of work and deadlines can be tough. In other words, you need to build a strong team if you want projects to run smoothly.
Here are five quick tips that will help you put together an efficient team with Smartcat. Or, if you already have a team, these tips will help you foster collaboration and improve team efficiency.
Tip #1. Define responsibilities
The first question to ask yourself is "Who should I have on my localization team?" There can be several roles and professionals depending on the size of your business and projects. Here are the most common: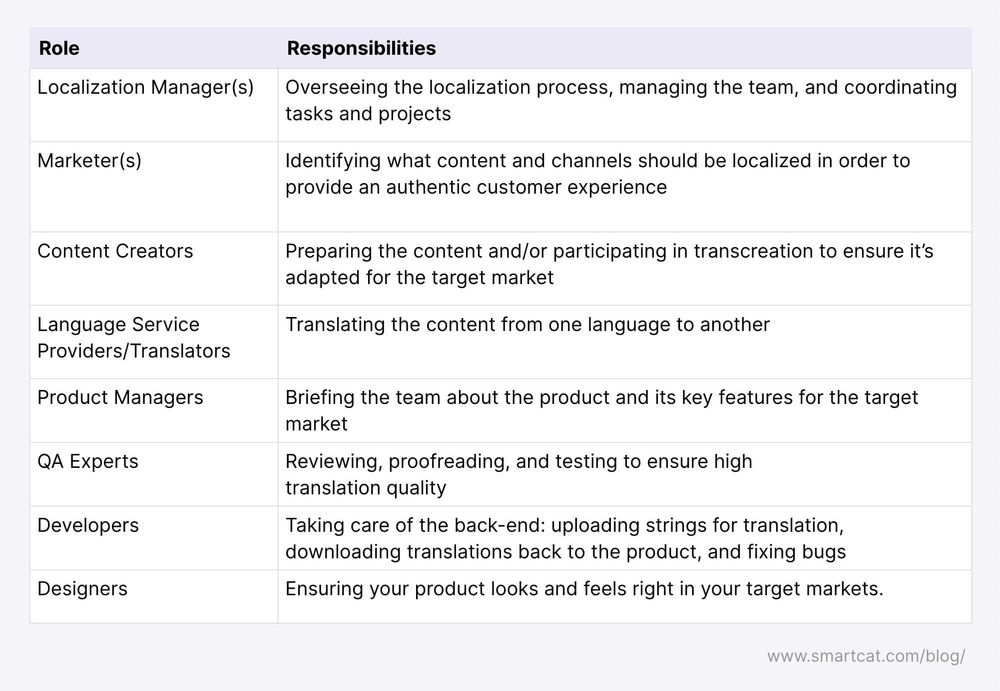 As you can see, there can be quite a few people involved in the localization process. Project managers have to coordinate all moving parts and often face challenges including:
Knowing how many resources you have at your disposal.

Finding a flexible, cost-effective way to expand your localization team when necessary.

Assigning responsibilities between intersecting roles, such as localization managers and quality assurance professionals.
By handling all your translation projects in Smartcat, you can see all the team info (roles and emails) on one page, so you can easily check who's available, both inside and outside your organization.

You can invite professionals to collaborate from inside Smartcat via email or by sharing a link.
You can assign different roles to your teammates and organize groups depending on how much responsibility you want to give them.
You can hire language service providers via the Smartcat Marketplace in a few clicks and add them to your team.

Team members can edit any text simultaneously without affecting each other's work.
Tip #2. Structure your team
The second pain point is deciding where and how your localization team should work. The usual approaches are:
An in-house team as part of the marketing, content, or product teams.

An in-house team as a standalone department.

Outsourcing services to freelancers or a translation business.
Each approach has its pros and cons, but the biggest issues arise when you're trying to combine all three. Here's what can happen:
Lack of transparency: some people get more tasks than others and can't handle the workload, as nobody knows who's doing what.

Lack of communication: people don't know that they're working on the same project.
How Smartcat can help
All teammates assigned to your workspace can access the relevant project details and see the different roles.

You can always see who is the project owner and can reach out to them if necessary.

You can always check the history of a translation to see who has made any specific changes. You can also restore previous versions, ask questions, or leave comments for others in the Editor.
Tip #3. Provide access to technology
The third aspect is that your team needs the right kind of technological infrastructure to ensure everything goes to plan. This can include translation management software, access to machine translation and translation memory databases, and other tech.
Apart from requiring less human effort, technology helps eliminate human errors and lets team members focus on more specialized tasks. The only issue here is that if everyone uses different systems or products, this can lead to problems including incompatible file formats, messed-up layouts, and inconsistent terminology.
How Smartcat can help
We have your team needs in one place – and more!
Our intelligent routing technology chooses the best translation engine when you work with machine translation.

All the segments that have been approved in the editor are saved in the translation memory and are automatically inserted into new texts when similar fragments need to be translated.

All the workspace members have a shared Smartwords balance controlled by you, which means that they can access machine translation and translation memories at any moment.

You don't have to do anything to keep the original file formatting intact, it's also done automatically.
Tip #4. Keep an eye on the budget
The next key point to bear in mind is that localization involves a variety of different stakeholders. Some of these may not be part of your team, but still have an impact on timing and costs by approving or not approving spending. It's important, therefore, to factor in how to manage that comfortably.
How Smartcat can help
Smartcat offers Smartwords, which not only let you maximize machine translation quality and save on professional editing services but also serve as units to keep track of how many words you can use for machine translation or translation memories.
You can easily see your Smartwords balance and set up notifications for when you are running low to ensure your work is never interrupted.
Tip #5. Prepare for future scalability
As your business grows you're likely to need more machine translations, more translators, more editors, etc. And a well-defined project management system will help you scale your localization team when you're ready.
How Smartcat can help
As you outgrow the demands of an individual user, you can smoothly transition to a manager role, which lets you run bigger multi-stage projects, hire translators and LSPs, send payments, and even automate the whole process from start to finish.
If your goal is to build a solid localization team, Smartcat will facilitate the entire process, as any team member or stakeholders involved can use it.
Smartcat is a unified communication tool that helps:
Facilitate communication across the localization team,

Eliminate version control issues,

Introduce agile localization and development by keeping track of all translation edits.
Ready to get your localization team up and running, or give your existing localization team a real boost? We hope you find these tips useful and wish you the best of luck with your team.
Improve translation speed and quality with Smartcat