Translating is fun, but it doesn't mean it cannot be made funner. Today we'll see how you can bring more entertainment to your usual tasks and chores with Habitica, the gamified task management app.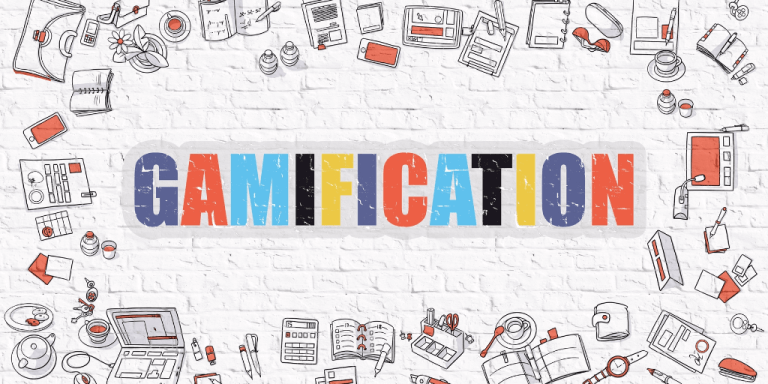 Habitica is a web app that lets you gamify any task. The benefits of gamification are pretty well-described, so I won't touch on them here. I'll just say that at least for people who are as disorganized by nature as myself, it can be a real game changer. In a nutshell, Habitica lets you earn points, gold and other "perks" by completing tasks that you set for yourself. Tasks can be one-off, recurring, or "habitual." All tasks are placed together on a game board, which looks, in my case, like this: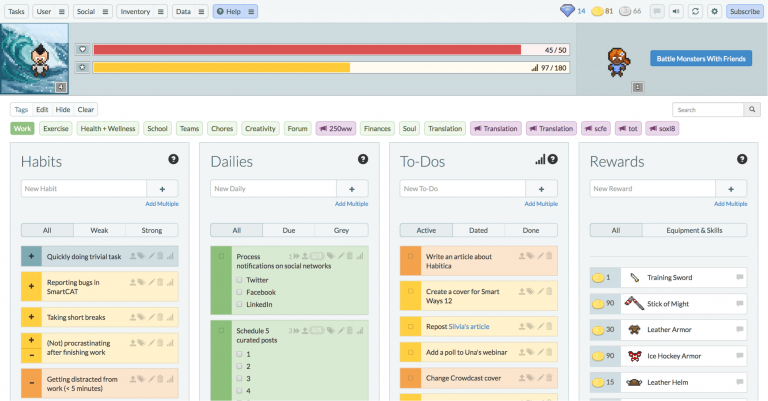 The first to-do is so meta.
After spending a while gamifying my community management tasks, I switched to translation-related ones, and found out that Habitica was a great fit for them as well. Here are just some initial ideas that I came up with.
1. Translating every day
We all have periods of overbooking and we all have low seasons. But a translator who does not translate is like a fish that does not swim. That's why you can commit to translating at least one page (250 words) every day: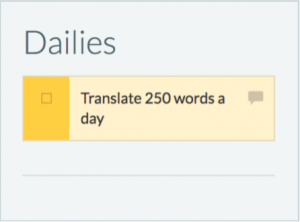 Completing this task every day adds points and increases your streak count. Seeing that you have been translating for 10 days in a row is a great motivator to keep doing so. (And you can configure the task to only apply on weekdays.)
2. Following healthy work habits
Spending long hours in front of your screen with your brain working at full speed can be damaging to health. So encouraging habits that help you stay healthy helps you, er, stay healthy. I came up with something like this: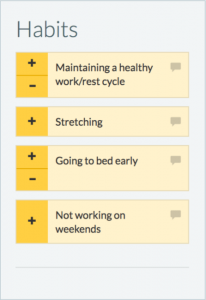 The first one, for instance, refers to the Pomodoro technique: Each time that you take a short break after 25 minutes of work, you click "+". If you work for more than 30 minutes in a row, I click "-". The best thing about healthy habits is that they also increase your productivity — so you get two for the price of one!
3. Keeping things in order
Let's admit it: not all translators are great managers. But to thrive in today's translation business environment, you just have to have a tight grip on your affairs. So I came up with three simple but effective tasks to do during the week: plan your work ahead on Mondays, reach out to clients on Wednesdays, and clean up work-related stuff on Fridays: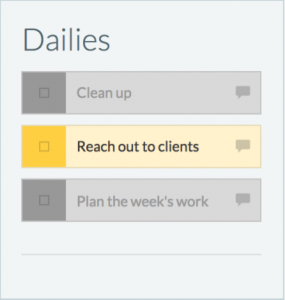 When the day comes, the respective task turns from grey to yellow, and you know that you have to complete it today. Handy!
4. Being an active community member
Translating is mostly solitary work — but that does not mean you are alone! There are thousands of translators tweeting, blogging and otherwise (e-)hanging around. Community activities not only help you feel part of something bigger, but also improves your visibility and inbound marketing. The key here is being persistent and consistent in your social presence, and here's where Habitica can come to help:

So, in this specific example, you would click "+" every time you publish an update (helps encouraging it as a habit), check off the daily task if you have posted at least one update that day, and also mark the to-do once you publish a blog post. Note that the three tasks can have different difficulty levels (resulting in differing points awarded for completing them): for instance, the habit above is "Trivial", the daily task is "Easy", and the to-do is "Hard".
5. Developing professional skills
The translation ecosystem is changing so fast these days that translators who want to be (or stay) successful just have to invest in their professional growth. Luckily, there are many useful webinars and other CPD events going on (including the ones on Smartcat Academy). Adding fixed-date to-dos in Habitica lets you keep an eye on the events that you have signed up for a while ago: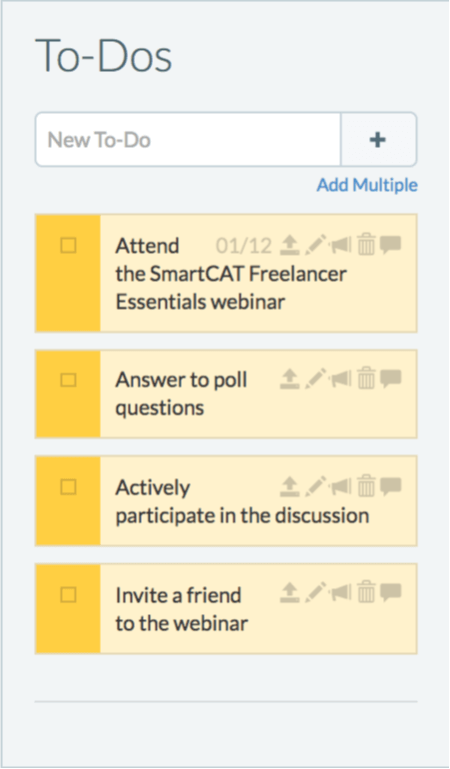 When the day comes, you will be sure not to miss them!
Iloved the idea of gamifying translators' work with Habitica so much that I created special challenges (with the above tasks) that you can embark on together with your peers: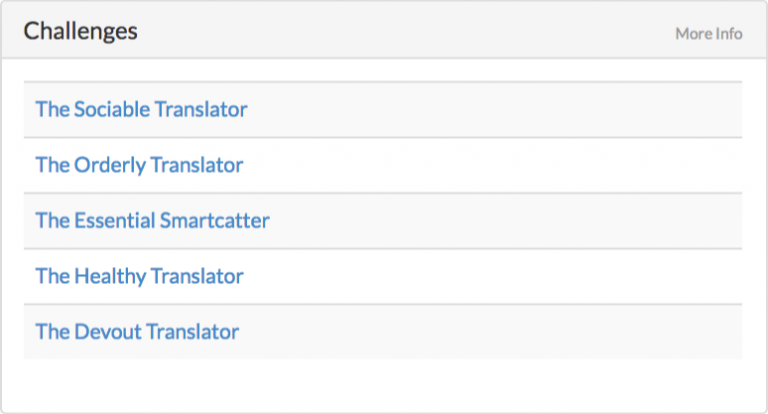 Do you want to try what it is like to turn your work into a game? Then sign up with Habitica, join the Order of XL8, and see you in the game! What else translation-related tasks can be gamified? Let us know in the comments!