The best thing about translating PDFs automatically is the lack of hassle in the process. Who wants to edit texts, shuffle paragraphs from one document to another, and so forth? Exactly, no one.
Question is, which tool will be the right one for the job? There are dozens of them out there, some more simple, some more complex. It's a tricky question, and that's why we've decided to make a shortlist of popular PDF translation tools. All of them are free to use. Oh, and you can find some useful tips and tricks below as well - on the house.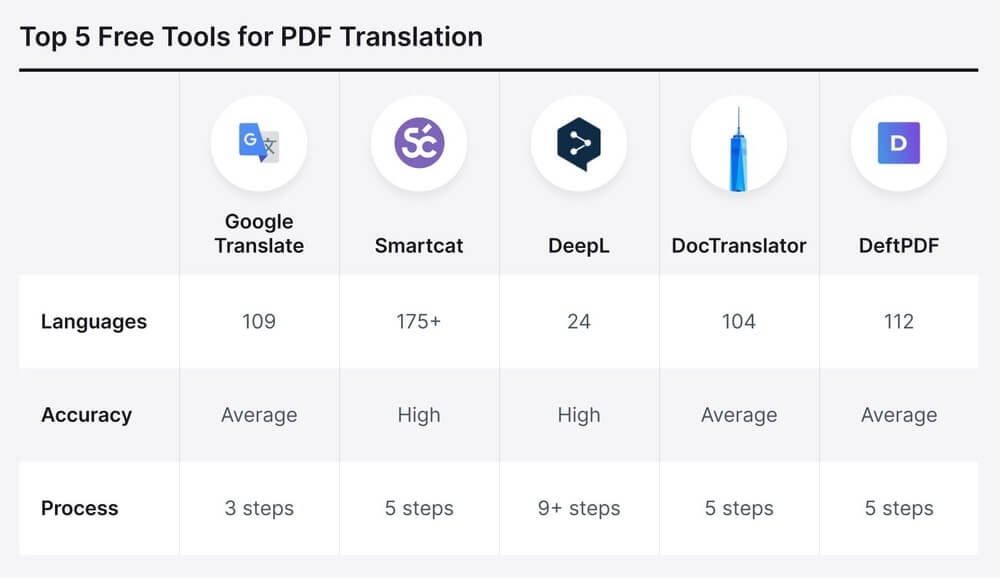 High-quality AI translation of PDF files — try it free!
Top 5 Free Tools for PDF Translation
Our choice of PDF translation services is based on potential personal and business needs that are crucial when choosing the tool:
The number of supported languages: it's important to make sure the tool in question can process the languages you need to translate

Technology: the way the file's texts are extracted and translated plays a role in what you can expect to get as a result.

Ease of use: not every tool is as plug-n-play as it gets, so it's best if you know ahead if you need to register first, how many steps (and thus, time) it will take to start the process, and how long the files are translated on average.

Accuracy: the precision of text field reading and processing depends if it is processed by optical character recognition or some other technology, and how it performs its job.

Layout intactness: the document will probably be of little use to you if it's all garbled upon translation.
Google Translate
| Overview | Google Translate is as simple as it gets, and it's one of the most popular machine translation tools out there. It's easy to use in day-to-day life and it helps people to communicate all over the globe. |
| --- | --- |
| Supported languages | 175+ languages |
| Technology | Machine translation, OCR |
| Ease of use | It's possible to start without registration. Once the translation is done (which takes seconds), you will see the processed file, which then can be saved via Print > Save as PDF. |
| Accuracy | Google excels at formal topics and translating languages to or from English. |
| Pros | Fast, smooth, and reliable when it comes to translating documents from just about any language. Up to 10MB files are accepted. |
| Cons | Precision drops sharply when it comes to translation of other language pairs that do not contain English, Chinese, or other commonly used languages. |
| Wow features | Translation history, translation memory, crowd-sourced translation quality improvement. |
| Best suited for | Day-to-day use and simple communication |
Smartcat
Overview

Smartcat is an all-in-one package when it comes to just about any translation needs. It's possible to translate PDF and other files for free, hire freelancers on the marketplace, perform post-editing, and much more.

Supported languages

175+, depending on the translation technology you can choose in the settings.

Technology

Machine translation, human editing, AI technologies, OCR

Ease of use

All you have to do to get started is create a new project, upload the file, and select language pairs.

Accuracy

The accuracy is flexible and can reach top results available on the market. Smartcat combines translation technologies from multiple providers (Google, Amazon, DeepL, Baidu, Microsoft), and suggests the best one, based on your language pair and content type.

Pros

Quick, highly customizable, and can be used to translate from just about any language out there. It's possible to upload files up to 30 MB in size.

Cons

Requires to log in, free machine translation has certain

Wow features

Possibility to edit the file and download it in the .docx format

Detection of typical errors and automatic corrections

Integrated Marketplace with professional translators and editors (in case if you want to improve your translation quality)

Best suited for

Specialists with any level of expertise: from private use to pro translation
DeepL
| | |
| --- | --- |
| Overview | DeepL is a highly accurate translation service, powered by a supercomputer located in Iceland. |
| Supported languages | 24 languages |
| Technology | Convolutional neural network, OCR |
| Ease of use | To use DeepL for PDF translation, a few extra steps must be taken. Since DeepL accepts only .docx files, it will be necessary to convert a PDF into .docx, translate it by uploading in the service, and then convert it back to PDF. |
| Accuracy | DeepL is best suited for long texts - the more context it can get to provide a translation, the more accurate it'll be. |
| Pros | Top-of-the-line precision is available for most of its supported languages. |
| Cons | Extra steps are necessary to convert PDFs. The file size is limited to 5 MB and/or 100,000 characters per document. |
| Wow features | Desktop version, integrations, translation glossary |
| Best suited for | Heavy-duty translation work of big texts |
DocTranslator
| | |
| --- | --- |
| Overview | DocTranslator is a free-to-use machine translation tool based in the US. |
| Supported languages | 100 languages |
| Technology | Machine translation, OCR |
| Ease of use | DocTranslator requires a login to begin translation of PDF files - either via Google or by registering an account first. |
| Accuracy | DocTranslator claims 80-90% translation accuracy depending on the language pair. |
| Pros | A high number of available languages, very good layout preservation |
| Cons | Takes a while to translate and has a limit of 2,000 words on the free plan |
| Wow features | Excel files can also be translated, no file limit |
| Best suited for | Good choice to get started with simple PDF translation |
DeftPDF
| | |
| --- | --- |
| Overview | DeftPDF is a multi-tool of document translation, capable of processing many file formats. A chrome browser extension is available to speed things up even more. |
| Supported languages | 112 languages |
| Technology | Machine translation, OCR |
| Ease of use | No registration is required to get started |
| Accuracy | Above average, although it is difficult to determine |
| Pros | Slick interface and accessibility |
| Cons | Free to use without limits |
| Wow features | Built-in PDF editor that allows making many different changes to the file on the fly |
| Best suited for | Editors and those who translate PDFs with complex layouts frequently |
PDF Translation Tips
Translating PDF files is often tricky, so it's not about only choosing the right tool. Here are a few handy tips and tricks that will help you translate documents efficiently and with minimum hassle:
Check that your document is not password protected - this will prevent the translation service from processing your file otherwise.

If the translation process fails, that might indicate that some of the pages in your file contain too many complex vector objects. Flattening vector objects into bitmaps (or removing pages that takes a while to load) will help.

Make sure you've added any hyperlinks before you begin translation - that includes looking out for links that merge with non-linked text (i.e no line break). Download and review your PDF outside of the Print window to make sure the link alignment is proper.

Double-check all images that contain text field post-translation, as it's very likely that some texts occupy more space or become aligned differently.

The best way to preserve the layout of your PDF file is to convert all vector objects into bitmaps. Basically, flatten everything that doesn't seem to work when it comes to objects.
And now, you've learned how to translate PDF files correctly and have a full arsenal of free PDF converter tools to get the job done. Happy trails!
Translation Industry Report: get key insights on the global linguistic supply chain