Unlocking the full potential of a business calls for a workforce that is equipped to evolve and adapt to an ever-changing landscape. This is where Learning and Development (L&D) comes in. L&D professionals play a key role in the success of any ambitious organization by enabling employees to excel, enhancing productivity, and fostering a culture of continuous learning.
Learning and development statistics in the spotlight
In our latest blog post, we dive into ten key L&D statistics that underscore its role as a key business driver. From boosting employee engagement and retention rates, to significantly impacting the bottom line, we explore how L&D is not just an investment but a strategic imperative.
High-quality AI translation of XLIFF files — try it free!
1. The global workplace training industry is set to surpass $380 billion
A recent report by Statista – a leading provider of market and consumer data – predicts that the global market size of training and development will exceed $380 billion in 2023, following consistent growth since 2009. Published by Statista's Research Department early this year, the data is a clear indication of the increasing importance organizations place on nurturing their workforce's capabilities via L&D.
Part of this expansion can be attributed to the challenges related to employee wellness, motivation, and productivity caused by the pandemic. In response to these hurdles, companies have recognized the importance of bolstering talent availability within their ranks by focusing more on progression opportunities and promoting employee engagement.
As the market continues to expand, driven by the growing need to equip employees with versatile skills and knowledge, investing in L&D remains a strategic imperative for businesses seeking to enhance their performance, foster employee growth, and stay competitive in a highly competitive world.
2. Businesses could see an employee turnover rate as high as 24% in the years to come
Gartner, the American technological research and consulting firm, has stated that total annual employee turnover could jump up to 24% in the near future.
"New employee expectations, and the availability of hybrid arrangements, will continue to fuel the rise in attrition," said Piers Hudson, senior director in the Gartner HR practice. "An individual organization with a turnover rate of 20% before the pandemic could face a turnover rate as high as 24% in the years to come. For example, a workforce of 25,000 employees would need to prepare for an additional 1,000 voluntary departures."
In the face of such a bleak forecast for employers, effective L&D is a valuable weapon in the fight against an exodus of workers. To enhance employee retention rates in 2023 and beyond, business leaders should leverage effectiveness learning to form connections with their teams. Regardless of whether work is in the office or conducted virtually, there are numerous learning strategies to help create a happy and productive workforce that inspires loyalty and commitment.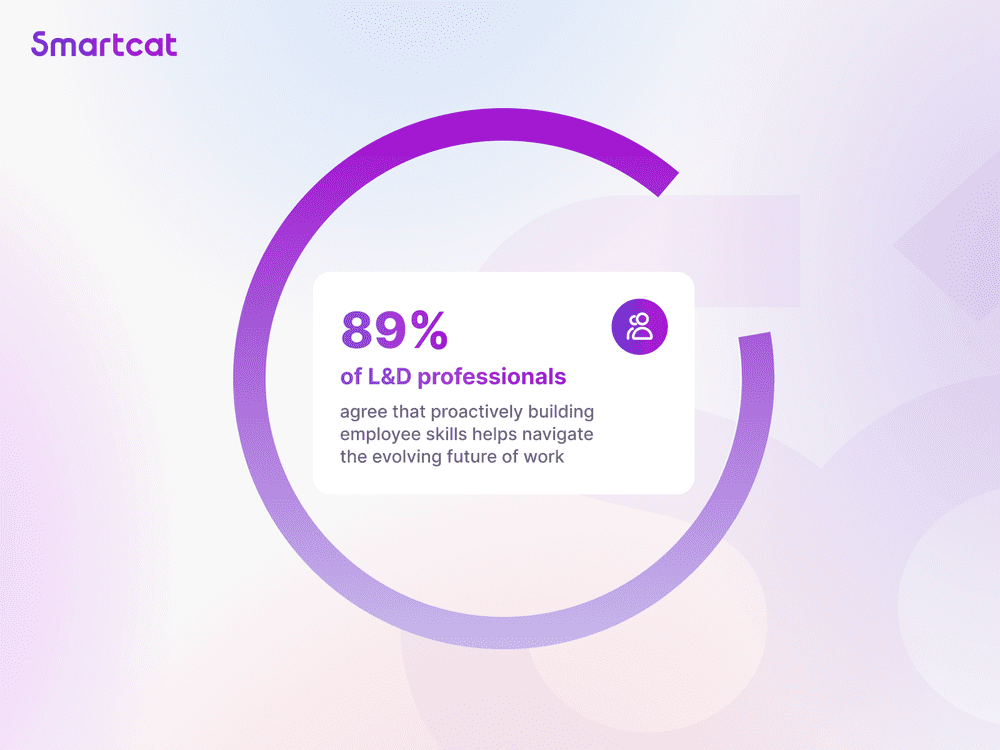 3. 89% of L&D professionals agree that proactively building employee skills helps navigate the evolving future of work
LinkedIn Learning's 2023 Workplace Learning Report highlights the fact that L&D puts people and skills at the center of organizational success. Filled with intriguing insights, statistics and forecasts, the report shows that learning leaders need to work across HR to ensure everyone has the tools, the career paths, and the skills to successfully navigate their future work.
A key takeaway from this year's report is that macro trends drive opportunities. With the talent disruption and skills shortages that followed the disruption of COVID-19, L&D is perfectly positioned to help with training employees so they have the skills required to rise to new challenges and better equip them for unchartered territories.
As L&D becomes more critical than it has ever before, many leaders now recognize the value of large-scale upskilling and reskilling initiatives to create an engaged workforce, boost retention and build workforce skills.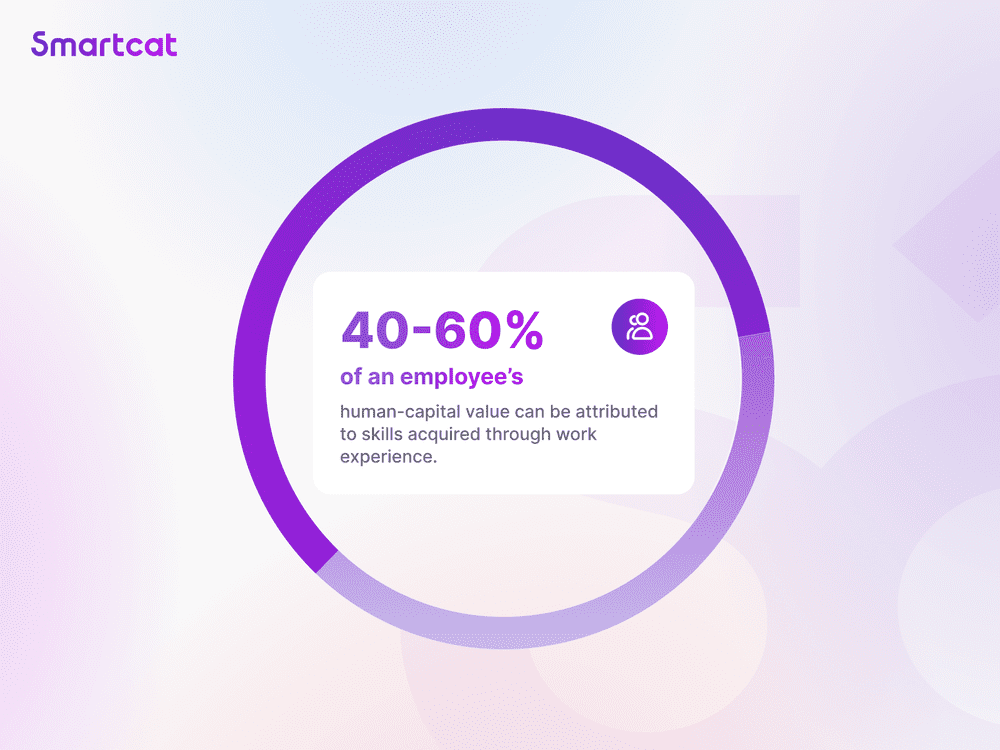 4. 40-60% of an employee's human-capital value can be attributed to skills acquired through work experience
The global management consulting firm McKinsey & Company published an article earlier this year which dives into how reimagining people development can help organizations overcome talent challenges. Their research found that companies that prioritize people development attract the growing number of employees who want to build their knowledge and networks. With 40-60 % of an employee's human-capital value (knowledge, attributes, skills, and experience) attributed to skills acquired through L&D, the value of this business area is clear to see.
The firm's research led them to propose eight imperatives for reimaging people development which organizations can pick and choose from to ignite their learning content. These include a thoughtfully designed six- to 12-month onboarding journey, a state-of-the-art learning experience and centralizing a fragmented learning landscape.
5. Only 31% of employees feel their organizations provide enough support for professional expansion
The Association for Talent Development (ATD) completed a survey where less than one-third of respondents felt their organizations provide the requisite support for learning new skills and expanding their professional capabilities and goals.
In light of this, ATD suggests that a framing structure that helps to systematize the reconciliation process is a promising way forward. They've found that refined learning technology can provide this structure, especially programs that enhance contextual understanding, situational awareness, and deep capabilities across a workforce.
ATD's research confirms that organizations investing in strategies and tools that offer this type of online learning could have the competitive edge. The Association posits that investing in context-driven L&D technologies that help employees build capabilities is a positive step towards a more connected, collaborative and aligned workforce.
6. 93% of companies recently stated that they're worried about keeping staff
Amidst the aftermath of the pandemic, numerous companies faced unparalleled employee attrition. Despite certain high-profile layoffs lately, skill scarcities and turnover threats for vital personnel remain challenges tackled by talent development experts.
The LinkedIn L&D Research paper surveyed companies and found that 93% of them are worried about keeping staff and plan on investing more in L&D moving forward. Furthermore, all age groups consider challenging and impactful work, alongside career growth, to be the most important aspect when considering a new job position.
The report also states that the number one way that organizations are doing their best to improve retention is by "providing learning opportunities.
"Career Development is fundamental to our employee value proposition, and learning is a key business metric."
- Rajnish Borah. Global Head of Organization Effectiveness & Learning, WNS Global Services
7. Disengaged employees lead to 15% lower profitability for a company
What is at stake when companies don't engage their employees in some shape or form? This can also impact business results as well. According to Forbes, 15% lower profitability for a company equals to 34% of a disengaged employee's salary. If the average salary is around the $47,000 mark, the company can lose close to $16,000 per disengaged employee per year.
According to a Gallup survey, 85% of responses said that the following elements would improve their job satisfaction: engagement or culture, pay and wellbeing.
8. Only 32% of overall U.S. employees were engaged in 2022
Global analytics and advice firm, Gallup, also shared that in 2022 only 32% of full- and part-time employees working for organizations were engaged, while 18% were actively disengaged. On a more positive note, the firm noted that some organizations have more than doubled this percentage.
Gallup's 2022 Exceptional Workplace Award winners (for example) averaged 70% employee engagement – even during highly disruptive times.
These organizations boosted their engagement rates by using their organizational culture, values and L&D initiatives to guide business decisions and equip managers with the skills and tools to have meaningful conversations with team members. Gallup pinpoints the fact that by clarifying expectations with employees – as well as sharing their intended cultural values and strategy in the new world of work – companies greatly increase their chance of rebounding in 2023.
9. U.S. training expenditures passed the $100 billion-mark for the first time in 2021-2022
Shared in Training magazine's 2022 Training Industry Report, this milestone represents the significant increase in large companies' budgets, inflation, and organizations continuing to invest in virtual training technologies, alongside the return of in-person training. The report also found that the average training expenditures for large companies increased from $17.5 million in 2021 to $19.2 million in 2022.
Looking ahead, the report states that the most frequently anticipated purchases are learning management systems, authoring tools/systems, online learning tools and systems plus content development. All of which point to the organizational need to invest time, money and effort into an effective and competitive L&D program moving forward.
10. 86% of HR managers believe training aids in retention and 83% said recruitment tool are to thank
Shared by The Society for Human Resource Management (SHRM), this striking statistic is a clear indication of how valuable employee investment is in the current climate. However, it's not simply a matter of investing more money; how an organization delivers L&D is crucial to navigate your way to success.
"Organizations must maintain a steady growth of knowledge and skills among their workforce if they wish to succeed—both from a business standpoint and to attract the right talent," said Jim Link, CHRO at SHRM in their 2022 Workplace Learning & Development Trends report.
SHRM also found that 76% of employees said they are more likely to stay with a company that offers continuous training. Another clear indicator that when executed effectively, organizations can reap the rewards of their L&D practices.
Take control with quality translated L&D content
The power of effective learning and development cannot be underestimated in the pursuit of business success. Investing in employee growth, upskilling, and instructor-led training is a sure-fire way to boost productivity and performance.
To maximize the impact of these initiatives the translation of workplace learning materials (such as training programs, e-learning modules and learning management systems) is the key to engaging a global workforce and generating a cohesive learning experience. From improving employee retention, course completion and performance reviews, to closing skill gaps and increasing the number of new skills learned per user (across all locales), effectively translated L&D has enormous potential.
Book a meeting to learn about L&D translation
It took around 10 minutes for us to have an Articulate course translated into many languages. Before Smartcat it could sometimes take a year.